It has been a while since we've seen a good, old fashioned murder mystery. So many of them feel like stock recreations of previous films. There's a painful lack of originality that simply results in a lot of average film experiences. Luckily, this is not the case with Taylor Sheridan's film, Wind River. While it's not as fun as something like Baby Driver or as classically whimsical as Beauty and the Beast, we can honestly say that Wind River is one of the best films we've seen so far this year.
The film was written and directed by Sheridan who only has one previous directing credit for 2011's Vile. Though, Sheridan is the man responsible for writing 2015's Sicario and last year's Hell or High Water for which he netted himself an Academy Award nomination for Best Original Screenplay. With this new film, Sheridan continues his streak of great storytelling with powerful characters, a compelling plot, and a look at places unfamiliar to most people.
The film opens with the discovery of a dead body on the Wind River Indian Reservation in Wyoming. 18 year old Natalie Hanson (Kelsey Asbille) is discovered by United States Fish and Wildlife agent Cory Lambert (Jeremy Renner) while he's trying to track mountain lions. FBI agent Jane Banner (Elizabeth Olsen) is assigned to the case and teams up with Cory and Tribal Police Chief Ben (Graham Greene). Jane rules the death a homicide due to the victim's lengthy distance away from shelter, her lack of shoes, and blood stains on her body. From here, Cory uses his skills as a tracker to point Jane in the proper direction to find Natalie's killer.
Back in May, we discussed how the two main talents in the film seemed a bit "uninspired." Jeremy Renner is usually solid as a supporting cast member but, in Wind River, he definitely shines as a leading man. Although he's relatively quiet, there's emotional depth to his character that can be felt even before learning of his history. His nuanced and somber performance fits right in with the rest of the film's tone. Elizabeth Olsen also does a good job even if she looks a tad too young to be an FBI agent. It's not a glaring issue but it's worth mentioning. Gil Birmingham has a small role in the film as Natalie's grieving father and is easily one of the best and most memorable things about the entire film. Again, there's a lot of emotional depth to the characters without too many words.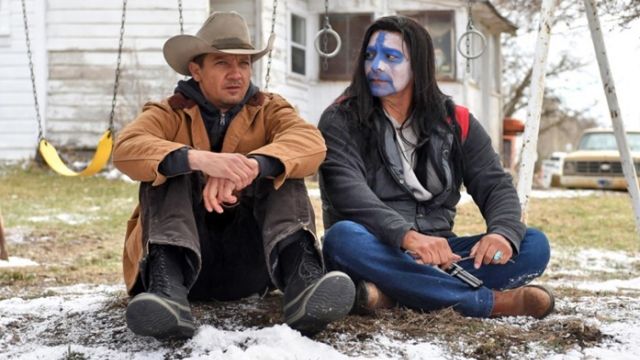 As for Wind River's overall story, it's told beautifully. It legitimately feels like a mystery. Sheridan's screenplay takes you on a journey for answers and doesn't give you much of anything until the film's climax. As a viewer, you basically know only what Cory and Jane know. The only clues available are often only tracks left in the snow from either footprints or snowmobiles. It's an intriguing plot device that could only work in a film like this. The characters' dedication to the case and their respective histories enhance the overall plot as well.
The shooting locations for Wind River are absolutely wonderful. As previously mentioned, in his work, Sheridan has been very good at bringing unfamiliar places to life. The terrain is cold yet beautiful to look at. There's an overall chilling atmosphere to the film. Though Sicario and Hell or High Water were not directed by him, Wind River has the same type of feel in its location. All three films center on a particular area that only its residents can understand. For an outsider like Jane, the reservation is a brutal change of pace from her daily life in Las Vegas. She doesn't even bring the right clothing to survive the harsh temperatures. The other characters that inhabit Wind River frequently speak about how they're trapped there and it's the life they know.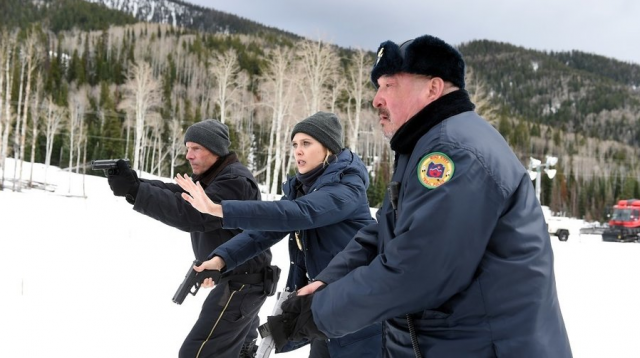 There isn't much to talk about in terms of criticism but there's one small issue with the film's ending. Obviously, our reviews are spoiler free so we'll keep it somewhat vague. When the audience is finally let in on the details of Natalie's death, it's very effective. Yet, it's safe to wonder how/if the main characters ever understand the whole picture themselves. While their understanding may be somewhat irrelevant, this is a story about justice. If the main characters never fully comprehend what happened to Natalie, it feels like there would never be an entirely satisfying feeling of justice for them. Again, it's hard to explain without spoiling anything but it's definitely something to think about while watching the film.
Our Score
Even with the very minor problem with the ending, which is still really great regardless, Wind River is one of the best films of the year so far. It feels different than a traditional murder mystery and has characters that you truly sympathize with. Even some of the more villainous characters have emotional breaking points that convey a sense of loss, helplessness, and, simply, humanity. Writer/director Taylor Sheridan has proven himself to be a capable screenwriter in the past. Now, he's proven himself as a capable director. He should certainly be a director to watch for in the future. With Wind River, Sheridan crafts an emotionally heavy experience with great acting and a raw look at potential real-life struggles.