You're such a tease, Game of Thrones. After the agonizing yearlong wait for a new season of HBO's dominant fantasy drama, it's all over just like that. Unfortunately, Game of Thrones Season 7 dropped from the standard ten episodes to a mere seven this year. The series as a whole will be ending with six episodes during Season 8. While it's depressing, there's no doubt that the series will go down as one of the greatest shows ever made. Season 7 maintained the show's high standards and brought about weekly water cooler talk for millions around the world. For as many great shows there are out there, there just aren't any quite like Game of Thrones.
For those who've been living under a rock since the show's start in 2011, it's adapted from George R.R. Martin's A Song of Ice and Fire novels. Each of the first five seasons covered roughly one book of material with some overlap here and there. At this point in time, Martin's sixth novel has yet to be released. Beginning with Season 6, showrunners, David Benioff and D.B. Weiss, were tasked with carrying on with little reference. Though, Martin supposedly did relay some important details to them that are planned for his novels. Benioff and Weiss have written nearly every episode of the show and HBO has done a great job at maintaining consistency in this respect.
With Game of Thrones Season 7, the oncoming war between the living and the dead ramps up to unprecedented levels. Also, the groundwork for the war of wits between the two golden haired queens, Daenerys Targaryen (Emilia Clarke) and Cersei Lannister (Lena Headey) is laid. Stuck in the middle is the new King in the North, Jon Snow (Kit Harrington). While Daenerys and Cersei plan to battle each other, Jon meets with Daenerys to discuss the more pressing need to defeat the Night King and his army of White Walkers approaching from north of the wall.
Back in the newly reclaimed Winterfell, the three remaining Stark children, Sansa (Sophie Turner), Arya (Maisie Williams), and Bran (Isaac Hempstead Wright) reunite after each of them has been through hell and back in their own respective ways. Of course, the Starks aren't the only family that gets reunited. Cersei, Jaime (Nikolaj Coster-Waldau), and Tyrion Lannister (Peter Dinklage) finally come face to face once again as well. Tyrion remains on the outs with his sister after he murdered their father back in the Season 4 finale. It seems that there's no love lost between the two either.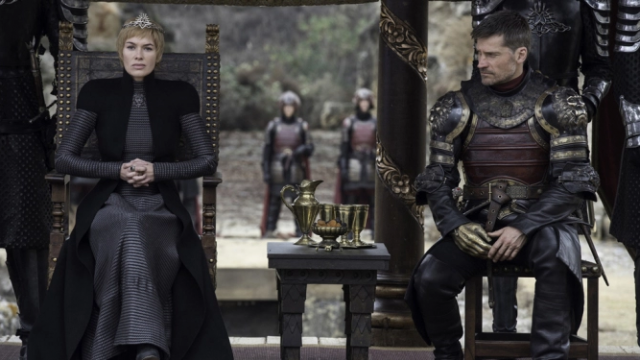 While many people were down on Seasons 5 and 6 for being "slow," there should be plenty in Game of Thrones Season 7 to reinvigorate viewers. As we mentioned in our Season 6 wrap-up last year, everyone had become a bit spoiled by Seasons 3 and 4. Sure, 5 and 6 featured a lot of buildup for what will certainly be the payoff and climax of the entire series, but 3 and 4 were nonstop mid-series thrill rides. For the show to continue on the trajectory of those seasons, there wouldn't be any characters left at this point. The buildup from the previous two seasons has been perfect in providing an entertaining seventh season.
Finally, the White Walkers have been acknowledged and established as a true threat to humanity. Save for a handful of moments in the past, they've been a slight afterthought due to growing tensions throughout Westeros. Cersei doesn't care one bit about saving/protecting anyone but herself in the battle between the living and the dead. (Would you ever expect her to?) Even though she's a despicable character, she's also one of the best in the series if not in all of television in general. In contrast, her lone confidante, her twin brother, Jaime, appears to slip farther away at every turn. While it was easy to hate Jaime early in the series, he's stuck in a tough spot with his allegiance. Although, that hasn't stopped him from striking a colleague/potential enemy down in the past *wink wink.*
It's also intriguing to see battle lines being drawn and characters joining forces for the eventual showdown(s). Seeing a group made up of Jon Snow, Jorah Mormont (Iain Glen), Gendry (Joe Dempsie), Tormund (Kristofer Hivju), and The Hound (Rory McCann) battle a neverending supply of White Walkers before a triumphant rescue by Daenerys on the back of a dragon is worth the price of admission alone. The reunion of the Stark children is also heartwarming but somewhat bittersweet. All three have been through so much in the show that they clearly are not the same people as before. This is especially true for Bran since he barely has human emotions since becoming the all-seeing three-eyed raven.
Of course, what would Game of Thrones Season 7 be without its jaw-dropping cliffhangers? While we won't blatantly give them away here for those that may not have watched the new season (shame on you), they must be alluded to. Watching Daenerys exert her wrath upon her enemies in battle is an insanely awesome moment in Season 7. She has certainly grown from the young girl forced to wed Khal Drogo in Season 1. Even after Cersei believes she finds a way to harm the dragons, they still can't be stopped. Though, the fate of Daenerys' dragon, Viserion, a few episodes later is arguably one of the season's best moments and a true game changer in the upcoming war. Also, Jon's alliance with Daenerys will most certainly be challenged once all of the characters find out that he's a true Targaryen and rightful heir to the iron throne.
So, is there anything wrong with Game of Thrones Season 7? In all honesty, no. It's seven hours of pure entertainment. The plot remains stellar, the characters are as phenomenal as ever, and the show is building to an epic climax. There's a reason why seemingly every person in the world talks about this show. It truly is that good. It's unbelievable to think that there are only six episodes remaining in what has been one hell of a ride. There's no doubt that it's one of the best shows of all time and its legacy is only strengthened in Season 7. Whether it premieres in 2018 or 2019, all of our eyes will be glued to our televisions for the next, and final, season of Game of Thrones.