You like food, right? Who doesn't? With films like Julie & Julia, Ratatouille, and Chef, the world of cooking hasn't gone without representation in cinema. What happens, then, when you mix cooking with religion? It's kind of a strange combination of ideas to incorporate into one film but, lo and behold, director Fernando Grostein Andrade does just that. Despite some issues, Andrade paints an enjoyable tale of a young boy's struggles to appease his family while living out his passion in his new feature film, Abe.
The film centers on a twelve year Jewish-Muslim boy named Abe (Noah Schnapp) who lives in Brooklyn with his parents, Rebecca (Dagmara Dominczyk) and Amir (Arian Moayed). Abe's parents constantly argue back and forth with his grandparents about which religion Abe should be raised under. They go so far as to even call him by different versions of his name based on their respective heritage. Abe tries his best to make both sides of his family happy but his real interests lie in food and cooking. He meets a chef named Chico (Seu Jorge) who runs a pop-up food stand where he mixes food from different cultures into his own unique dishes. To hone his craft and also unite both sides of his family, Abe convinces Chico to take him on as his protégé.
The story of Abe starts out pretty simple and straightforward. Andrade's storytelling and tone is mostly straightforward as viewers learn about Abe's conflicted family life. With Abe's passion for cooking and his interest in both his Muslim and Jewish ancestry, it's easy to see where the film is headed from the beginning. Obviously, Abe intends to bring his family together with the "fusion" cooking he's learning about under Chico. The film's first half hour or so is fun and lighthearted as Abe starts from the bottom by washing dishes and manning the lemonade at the pop-up stand. Seeing all the different types of food is sure to make anyone hungry and the developing relationship between Abe and Chico feels reminiscent to Daniel and Mr. Miyagi in The Karate Kid.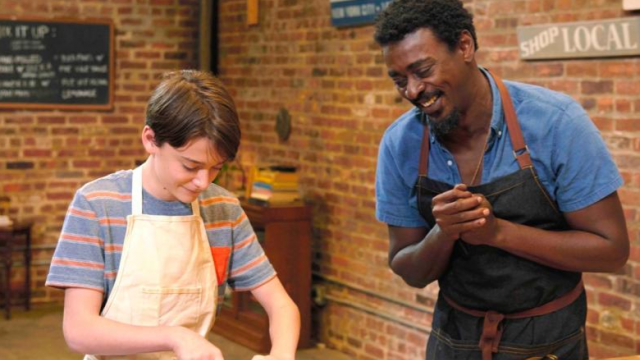 However, as the film continues, the tone takes some massive shifts as it bounces back and forth between entertaining food preparation to drab religious talk mixed with hostility. While Abe's religious woes should certainly play a part in the film, it's too often that they take center stage. As is evidenced by the film's first act, Abe is about acceptance and compromise. Though there's some of that, it tends to feel lost in the shuffle. The most likely culprit for the film's confusion is that there are five(!) people credited for the story. Frankly, that's a lot of cooks in the metaphorical kitchen. It definitely shows when the film goes from being entertaining and lively to bitter and indifferent from scene to scene. Again, there's definitely a spot for religion in the context of Abe but the storytellers here maybe tried to get a little too heavy handed at times.
It's unfortunate because there's some very good character work here. Noah Schnapp in the title role shows that he can handle lead duties after remaining in more of a supporting role in Netflix's Stranger Things. Though, Abe doesn't have a ton of character development as you'd expect. He's basically the same throughout the entire film as it's the characters around him that go through changes. Seu Jorge as Chico is possibly the best part of the film. He has a lot of charisma and Jorge and Schnapp have onscreen chemistry as a teacher/student duo. Unfortunately, given the tonal and focus shifts, Chico also suffers from a lack of development as the family and religious aspects are thrust into the forefront.
While Dagmara Dominczyk and Arian Moayed are solid as Abe's parents and Tom Mardirosian, Salem Murphy, and Mark Margolis all play crucial roles as the grandparents, the film really paints them all to be very unlikable characters. Poor Dagmara Dominczyk as Rebecca is especially is made out to be almost a villain at times and it's hard to understand why her character acts so harshly. Sure, they all have their moments of repentance but there are moments in the film where you get sick of seeing them because everything involving them is so negative. It's not because of their performances as they all do a very good job. Murphy's Aida and Margolis's Benjamin especially come across as the two disapproving figureheads on both sides of the religious argument within the family. Again though, it's these shifts in the story where Abe goes from a family friendly romp to a fierce family drama where viewers may feel alienated.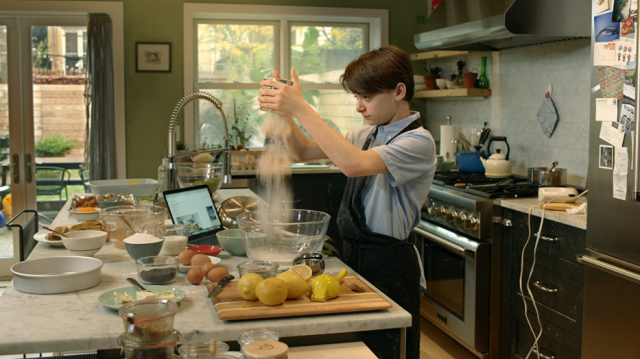 While it may sound like we're hating on Abe at this point, that's not entirely the case. There really is a lot to like here and the film is a breeze to watch. The most rewarding moments are in the food preparation and relationship between Abe and Chico. You can see where the film wanted to go with Abe unifying the opposing religious outlooks in his family not only through his fusion cooking but from his relationships with his elder family members as well. Even though it doesn't completely stick the landing here, Abe does get the idea across. On top of everything, the film is very well made from a technical standpoint. Every scene is loaded with detail and, of course, seeing all the food will make viewers' stomachs rumble. There's also some spirited music from Gui Amabis that perfectly fits the film's lighter moments.
Our Score
All things considered, Abe comes with a recommendation as an entertaining, family friendly food movie. Yes, there's more to it than that with its ideas of acceptance and compromise but the film is at its best when it's focused on being fun. That's not to say that people shouldn't take note of Abe's message as Andrade and company clearly have something to say. That particular message just may not come across as well as it maybe could have when all's said and done. With its talented filmmaker and cast, Abe is definitely worth a watch for the foodies out there. Just don't watch on an empty stomach.
*Abe is currently available for rent or purchase on video-on-demand platforms like Amazon, YouTube, and Vudu. Check out the trailer below.*