In a day and age where violent acts are constantly spotlighted on news stations, in print, and social media, it's no surprise that film and television would follow. With the seeming regularity of mass shootings and violent outbursts, it's fair to question whether violence is at an all time high or access to media has just enlightened the population more now than in the past. Either way you look at it, most see violence as ugly and senseless. Yes, it's wrong for people to hurt and/or murder one another. Though, you often don't see the side of the perpetrators or that of the families affected by such acts. It's here that Hate Crime, Steven Esteb's first feature length film in 17 years, is able to effectively show the heartbreaking fallout of one violent flare-up and how it can cripple two families and change their lives forever.
The film opens by showing the final moments of a scuffle that results in Raymond Brown (Jordan Salloum) beating a young gay man to death. The story then picks up with Raymond's parents, Tom (Kevin Bernhardt) and Ginny (Amy Redford), as they try to live their quiet lives on their farm. Though, they're harassed by frequent phone calls and people showing up on their property. As the hour of Raymond's execution approaches, the strength of their marriage is tested as they reach a breaking point. On the other side of things, the victim's parents, John and Marie Demarco (John Schneider and Laura Cayouette respectively), remain calm and collected following the death of their son. John intends to witness the execution of Raymond and his relationship with Marie suffers in the wake of the crime as well.
Hate Crime isn't the first film to ever focus on the collateral family damage following a tragic event. Films like Rabbit Hole, Beautiful Boy, and the compelling documentary, Dear Zachary, have crafted touching portraits of the people who live on as opposed to the crime itself. This is one area where Hate Crime excels. The details regarding Raymond's act are kept minimal but effective. Instead, it's the impact this event has on both sets of parents that is the emotional crux of the film. Most of the film's runtime is spent on the crumbling relationship between Tom and Ginny. Tom tries to keep things as normal as possible while Ginny is slowly breaking under Tom's lack of acknowledgement. Eventually, she confronts Tom and tries to force him to see things as she does. The cracks in the Demarco relationship are somewhat different as John seeks vengeance while Marie wants to move on.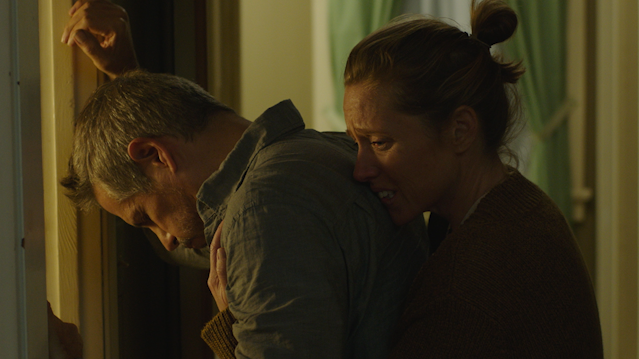 While this is about what you'd expect in a film exploring this kind of tragedy, the character work sets it apart. The cast is simply fantastic. Even though it seems like John Schneider and Laura Cayouette take something of a backseat, their presence is felt throughout. Specifically, Schneider as John Demarco is part of one of the most riveting scenes in the film as he comes face to face with his son's killer. Speaking of which, Jordan Salloum as Raymond doesn't have a ton of screentime but he makes the most of it. From the opening scene, you can see the sheer horror of what he has done on Raymond's face. As previously mentioned, most people see violence as something unforgivable and heinous. Here, you see that there's sometimes another side of it in grief and remorse. Amy Redford, daughter of Robert Redford, puts in an excellent performance as Ginny. At first, she's your typical depressed mother but when she starts lashing out at Tom, her performance becomes legitimately uncomfortable to watch. Years of pent up frustration are unleashed for her husband's inability to see his son for who he was before the crime.
Redford would be the standout of the film if it wasn't for Kevin Bernhardt as Tom Brown. Bernhardt hasn't had a consistent film career with most of his notable work in the mid 1980's to mid 1990's. Yet, he's an absolute star in Hate Crime. For much of the film, he's quiet and reserved as he settles back into life in the only way he knows how. As tensions mount and Ginny puts more pressure on him, Tom snaps. Instead of releasing years of disappointment and resentment on his spouse, he seems to accept his role in the lead-up to Raymond's violent act. Though, he refuses to believe that he had absolutely no understanding of his son. The best thing about all of the characters is how real they feel as people. No one can really understand the extent of a relationship between two people other than the two that share it. Much of Hate Crime is spent exploring this idea and showing that human emotions and interactions are complex. Everything isn't always black and white but in shades of grey.
This is the ultimate testament to Jonah Tapper's script. The characters and their dialogue isn't phony or contrived. These sound like real people unleashing their emotions on one another in a time of tragedy. Tapper perfectly captures this throughout his entire script and doesn't pull any punches with the audience. There are a few revelatory moments that won't necessarily shock or wow. Though, they get the job done and, again, feel like real things that could happen between these groups of people. One of the bigger reveals is actually quite predictable but it still doesn't hurt the film. It helps you to better understand and provide more character depth.
Our Score
By the film's end, the only word that really comes to mind is "powerful." Hate Crime is a powerful story with powerful characters. It's an exercise in misunderstanding and suppression. Even the name of the film isn't an accurate depiction of what any of the characters go through. It's moreso a perception than reality. The only real negative of the film is that the beginning does drag very slightly but, once it starts to crescendo, it doesn't let up. You could also argue that the twists are predictable but it's hard to say if they were really intended to be traditional twists in the first place. Ultimately, Hate Crime is a very good film with a terrific cast, an engaging and relevant story from Jonah Tapper, and solid direction throughout from Steven Esteb. This is one that you definitely shouldn't miss.
*Hate Crime is available to rent or purchase on video-on-demand services like Amazon, DirecTV, and Vudu. Check out the trailer below.*