In recent weeks, there hasn't been much praise being thrown around for feature films on this site. From an underwhelming experience with Netflix's recent attraction, Black Mirror: Bandersnatch to the colossal disappointments of films like Replicas and Glass, 2019 isn't off to a good start. However, there's the case of a Latvian independent film that has marked a sudden change in fortune. With his debut feature, Kriminālās ekselences fonds AKA The Foundation of Criminal Excellence, writer/director Oskars Rupenheits crafts an amusing crime caper reminiscent of films from Martin McDonagh and the Coen brothers.
The Republic of Latvia is a country located in the Baltic region of Northern Europe. While not necessarily a hotbed for cinema, the region has produced films for decades with a handful of titles being released on a yearly basis. The first Latvian feature, Lāčplēsis, was released in 1930. Titles such as 1981's A Limousine the Color of Midsummer's Eve and 2013's Mother, I Love You regularly appear when searching for some of the more well known films from the region. In 2018, five films were released out of Latvia with four of them landing in the top ten at the national box office for attendance. One of them, of course, is Rupenheits' The Foundation of Criminal Excellence.
The film follows the mishaps of two dysfunctional friends, Imants Veide (Lauris Kļaviņš) and Harijs Kuharjonoks (Andris Daugaviņš ). Imants is a screenwriter whose recent script follows some con artists who scheme to rip off unsuspecting targets. Focused on capturing the authenticity of the schemes, Imants convinces Harijs to help him perform the acts for real. Throughout the film, the duo encounter a colorful cast of characters consisting of Imants' Neighbor (Jana Rubina), Dulkis (Māris Mičerevskis), Alge (Armands Brakmanis), and Mr. Vintage (Juris Riekstiņš).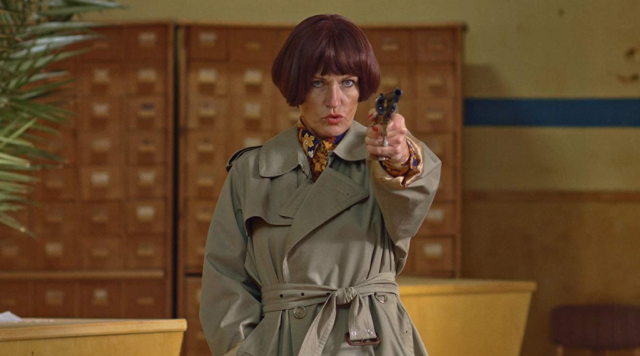 While films about screenwriters aren't entirely original, they always seem to work for some reason. Films like Barton Fink, Adaptation., and Trumbo have all touched on the subject and achieved high levels of success. In this regard, The Foundation of Criminal Excellence is no different. Askold Neumann (Raimonds Platacis) is brought in from the United States as a director for Imants' script. In stereotypical fashion, Askold pushes the idea of featuring excess instead of Imants' creative vision and his aforementioned authenticity. This leads to some awkward interactions between Imants, Askold, and the television executives in charge of the film. In addition, Harijs constantly talks about wanting to appear in commercials and even schemes to coax a commercial director into casting him. In the case of American cinema, films of this type would normally be set in Hollywood. Yet, The Foundation of Criminal Excellence maintains the same ideas and execution while being set in a completely different part of the world.
The majority of these interactions lead to some great comedic bits. This is a huge credit to the novice cast of the film. Assembled completely from non-professional actors, the performances from the cast are natural and hilariously impassive. Watching Askold promoting his version of the story with guns, prostitutes, and nudity along with seeing Imants' deadpan reaction is absolute gold. In other cases, you have Imants and Harijs trying to scam people with many of the scams backfiring on them. As a screenwriter and hopeful commercial actor, neither man is equipped for the challenges behind their criminal activity. Instead, they're like a bickering couple that borders on the absurd with the addition of other supporting characters. Mr. Vintage, with his backwards jacket, is added in as a third wheel and the schemes become even more convoluted and difficult to pull off.
The crux of the film certainly is the relationship between the two lead characters of Imants and Harijs. In most cases, their relationship plays for comedy. Initially, though, it takes a little bit to get into The Foundation of Criminal Excellence. The comedy is a bit offbeat and quirky so, at first, it doesn't register. It's only after you continue watching the film for a while that you really start having fun with it. As previously mentioned, many of the films from the Coen brothers and Martin McDonagh are the same way. Films like The Big Lebowski, Burn After Reading, and Seven Psychopaths come to mind in terms of similarities. Even Shane Black's 2016 film, The Nice Guys, is reminiscent to Rupenheits' film with its "strange bedfellows" pairing of characters.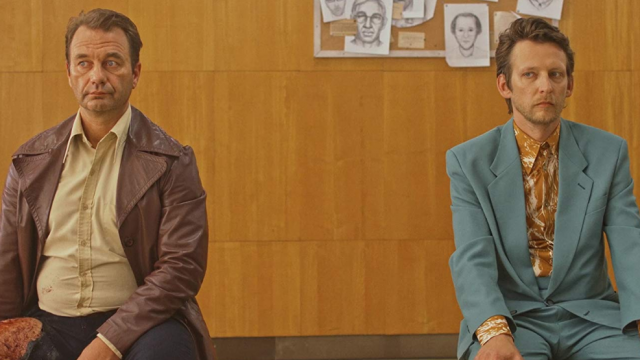 For the most part, The Foundation of Criminal Excellence is a wholly enjoyable experience. There are only a few tiny issues that bring it down ever so slightly. Once again, the film initially doesn't feel as much like a straight comedy as it does later on. For the first half hour or so, you may be waiting for some more laughs but, rest assured, they're certainly delivered. It's also in the first half of the film that viewers may not entirely know where the story is headed. It feels more like a chronicling of successive events than one cohesive story. There doesn't seem to be a logical progression early on. Even though the film never bores, it does drag a little up through the 45 minute mark. Luckily though, that's when the stakes begin to ramp up and the film delivers some truly laugh out loud moments.
Our Score
Again, the negative aspects of Oskars Rupenheits' The Foundation of Criminal Excellence are extremely minor. For the majority of the runtime, viewers will find themselves enthralled by the quirky tandem of Imants and Harijs. Their interactions with each other as well as with the rest of the cast are simply excellent and there's always something to chuckle at. What's even more impressive about a film like this is its non-professional cast and the fact that it was completely crowdfunded. Just as Imants strives for in the film, Oskars Rupenheits has his creative vision realized with The Foundation of Criminal Excellence. For fans of straight-faced foreign comedies, it doesn't get much better than this.