In independent cinema, it's sometimes shocking how many turn to an exploitation/grindhouse style of cinema. Focusing more on sexuality and violence, exploitation films have made something of a comeback since Robert Rodriguez and Quentin Tarantino's double feature, the aptly titled Grindhouse, back in 2007. Films like Hobo with a Shotgun and Rodriguez's Machete series have followed but there have also been a number of indie titles infused with their own brand of exploitation. On this site, films like Richard Chandler's Parts Unknown and Joe McReynolds' Inhumanity have received favorable scores. Writer/director Orson Oblowitz's debut feature, The Queen of Hollywood Blvd, can be added to that list as well.
The film centers on an aging Los Angeles strip club owner, Queen Mary (Rosemary Hochschild). On her 60th birthday, Mary is visited by Duke (Roger Guenveur Smith) who comes to collect on a 25 year old debt that Mary owes to the mob. Though, Duke doesn't intend to take a cash settlement. Instead, he wants Mary's club but Mary, unwilling to part with it, defiantly retaliates with violence. Mary is led down a dark path as Duke presents her with another task after his muscle, Punk Rock Charlie (Matthew Berkowitz), fails to retrieve the keys to the club.
One of the first things you'll notice about The Queen of Hollywood Blvd is its influences. As one could probably imagine, there are many instances in which Oblowitz channels Quentin Tarantino. From the locale, to the soundtrack, to stylistic choices, there are shades of Tarantino all over this film. Though, it's never overdone or feels like a straight ripoff either. Of course, Tarantino's love of grindhouse films has led to the resurgence of the exploitation style in general so most filmmakers dabbling in this particular style owe some gratitude to him. One influence that may escape some people, though, is that of John Cassavetes. Specifically, Cassavetes' 1976 film, The Killing of a Chinese Bookie has many similarities to The Queen of Hollywood Blvd. From the Hollywood club and the mob debt to the acts of violence, The Queen of Hollywood Blvd is practically a new spin on The Killing of a Chinese Bookie's story.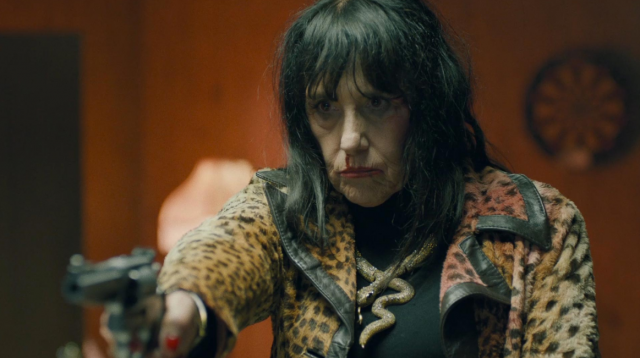 The acting throughout the film is quite good overall. Rosemary Hochschild looks the part of an aging Mary. Over the years, times change and have seemingly passed her by in some regard. Yet, she proves herself capable of defending her turf and the people closest to her. Though, there are a few moments where her acting can be a little melodramatic. Hochschild is at her best as the subdued, yet vengeful, club owner. Roger Guenveur Smith's Duke is as sleazy as can be while also having a sort of menace to his character. The film also marks the final onscreen performance of Michael Parks, perhaps coincidentally a Tarantino regular. Parks, of course, passed away in March 2017. As always, he delivers one of the film's more standout moments as Chet, a colleague of Mary's, in an uncomfortably touching moment.
The Queen of Hollywood Blvd's best quality overall, though, is in its technical aspects. The soundtrack is great and the usage of songs are always appropriate to the events onscreen. Even former Manson Family member Bobby Beausoleil's "Lucifer Rising Part II" is used in the film. Beausoleil is currently serving a life sentence for his participation in the murder of Gary Hinman. In addition to the music, the cinematography is truly a sight to behold. It boasts some excellent usage of color that brings to mind recent films like The Neon Demon and Atomic Blonde. There's also some wonderful camerawork and editing that accentuates some of the film's crucial moments. In particular, there's an early scene in which Mary is lighting a cigarette and the Hollywood Walk of Fame is reflected in the lenses of her sunglasses. It's a superb shot and one of the most memorable of the entire film.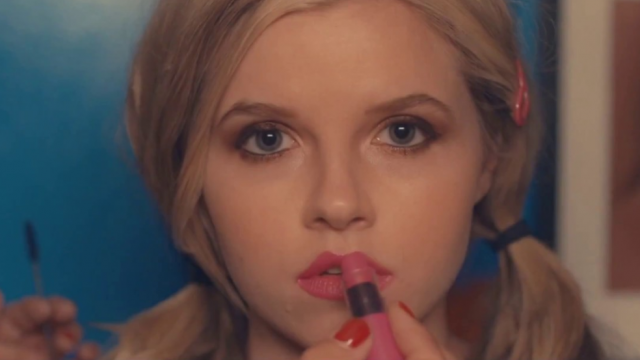 Where The Queen of Hollywood Blvd tends to lack is in its overall storytelling. No, it's not all that confusing to follow but there just doesn't seem to be much at stake. It's as if the characters take turns in shaking each other down simply out of spite. Duke does attack people close to Mary but then Mary retaliates and there don't seem to be any repercussions. Even the film's climax is kind of blown off quickly and leaves much to be desired. Ultimately, it doesn't seem like any of the characters take their issues too seriously and there's no sense of urgency among them. Sadly, this comes across to viewers as well who may find it hard to care about the events onscreen when it seems like the characters don't either.
That being said, The Queen of Hollywood Blvd still gets favorable marks here. Like the aforementioned The Neon Demon and Atomic Blonde, which were both light on story themselves, the technical aspects and the acting are worth the price of admission. At a brisk 90 minutes, the film doesn't meander despite its iffy storytelling. The visuals, the music, and the acting are all very good and the film's influences don't mimic as much as pay homage to films of old. For a feature length debut, Orson Oblowitz doesn't knock it out of the park but it's a very strong first outing regardless. Oblowitz already has another film, Hell is Where the Home Is, on the horizon with another in pre-production for a supposed 2019 release. It will be interesting to see how the writer/director fares going forward in his young career.
*The Queen of Hollywood Blvd is currently available for rent or purchase on video-on-demand platforms like YouTube and Amazon.*