It's kind of strange to get the feeling that someone is underrated when said person has been nominated for Academy Awards and has received critical acclaim throughout the course of a career. Yet, this is the exact case with writer/director Steve McQueen. No, we're not talking about the late "King of Cool" actor. We're talking about the British director who has wowed film fans with his work for a decade now. Oddly enough, McQueen has only been mentioned once briefly on this site since its inception. That's about to change as McQueen's newest film, Widows, hit theaters this past weekend.
McQueen began his career in the 1990's as an artist. His early short films were often projected on walls in art galleries. It wasn't until 2008 that McQueen would write and direct Hunger, his debut feature about the 1981 Irish hunger strike. At Cannes Film Festival, he became the first British director to receive the Caméra d'Or Award for his work. From there, McQueen wrote and directed the 2011 sex addiction drama, Shame, before receiving Oscar nominations for his 2013 period drama, 12 Years a Slave. In addition to directing, McQueen became the first black British producer to win an Academy Award for Best Picture.
McQueen's Widows is based on a British television series of the same name. Crime writer Lynda La Plante penned two six part series of the show with one airing in 1983 and the other in 1985. In addition, a four episode American remake series premiered in 2002 with Brooke Shields and Rosie Perez in starring roles. In March 2015, a feature film was announced with a screenplay by Gillian Flynn and McQueen. Flynn, of course, is responsible for writing the novels Gone Girl and Sharp Objects. The former was made into a feature film in 2015 and the latter was released as an HBO limited series this past summer.
The feature film adaptation of Widows begins with a botched robbery. Harry Rawlings (Liam Neeson) and his three crew members, Carlos (Manuel Garcia-Rulfo), Florek (Jon Bernthal), and Jimmy (Coburn Goss), retreat to their hideout where a SWAT team is waiting. All four criminals are killed which each of them leaving wives behind. The story also focuses on an alderman election campaign between Jamal Manning (Brian Tyree Henry) and Jack Mulligan (Colin Farrell). Manning threatens Harry's widow, Veronica (Viola Davis), and tasks her with recovering the $2 million stolen from him by her husband and his crew. After discovering her husband's notebook, Veronica tracks down the other widows, Linda (Michelle Rodriguez), Alice (Elizabeth Debicki), and Amanda (Carrie Coon) to help her with a heist that will benefit them all. Though, Amanda chooses not to participate.
If there's one thing that can't be disputed about any of McQueen's films, it's that the acting is top notch. Simply look at the aforementioned talent in the film. Viola Davis, in her first film role since winning an Oscar for 2016's Fences, proves herself once again here as the cerebral main protagonist. Michelle Rodriguez provides a physical toughness for the wannabe heisters. Her "tough chick" persona she has become known for fits into the film quite well. Elizabeth Debicki's Alice initially appears to be a weak link in the group but her cunning and survival instinct prove to be essential to the plan.
Liam Neeson shows up to deliver a typically solid performance as Veronica's thief husband. One of last year's Best Actor nominees, Daniel Kaluuya, shows off some range as a ruthless henchman and Jamal Manning's brother. Then, you have Robert Duvall and Colin Farrell as a father-son tandem trying to snag the alderman role for the younger Mulligan. As you'd expect with such an ensemble cast, not everyone gets their just due. Both men are solid but their personal history feels a bit incomplete. Also, Jon Bernthal has a blink-and-you-miss-it appearance as one of the thieves. It's a shame that an actor with Bernthal's talent didn't get a bigger role.
For anyone that has seen a Steve McQueen film, it's no surprise that the camerawork is great as well. McQueen is able to turn the mundane into something special with his interesting shot choices and tight script. None of the scenes feel like they drag on or meander too much. This is impressive especially when one of the shots consists of a mounted camera on the front of a vehicle inside of which two characters have a lengthy, unseen conversation. It may not be everyone's cup of tea but, for fans of McQueen, you'll hang on the deliberate pacing and the words spoken.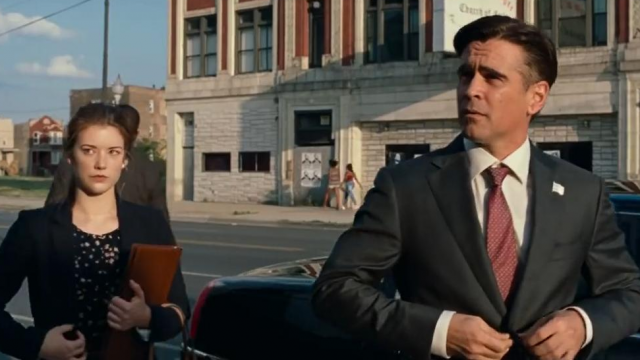 Sadly, though, Widows doesn't quite meet the lofty standards set by McQueen's previous work. While definitely not a bad film by any means, it fails to match the emotional weight of Hunger, Shame, and 12 Years a Slave. There's also something that feels a little too generic about it. The cinematography is pretty basic and lacks any type of flair. There's nothing too revelatory about the story either. Sure, there are twists and turns throughout but nothing will completely catch any regular moviegoer off guard. It's hard to pinpoint one specific thing that drags the film down but, ultimately, it feels like something we've seen many times over.
Our Score
Perhaps a rating this low is unfair given that Widows is certainly not a bad film in any way. It's not poorly written, acted, or shot. In fact, it's the opposite in all of those categories. Though, it's easily Steve McQueen's worst film. There's something about the entire experience that feels too homogenized from what McQueen usually dishes up. The story is about a group of women with seemingly nothing to lose but you don't really get that impression. It always seems like there's an easier way for the women to get out of the predicament they're in. Instead, they step into the shoes of their husbands despite having no preparation or experience with the tasks at hand. When all's said and done, it doesn't take the chances that films like Hunger and Shame did. It lacks the hopelessness and emotion of 12 Years a Slave. There's no doubt that Widows is a good film overall. Just don't expect to be blown away.