There's something unique about small town crime dramas that just set them apart from others. There's something about them that's more personal and tight knit and everyone's seemingly in on the crime. If you're looking for a small town crime drama in 2020, most people look to Netflix's popular television series, Ozark. However, Amazon dropped a somewhat unheralded gem on their Prime Video streaming service back in March. Bridget Savage Cole and Danielle Krudy's Blow the Man Down is a story of two sisters covering up a crime in their small town with a darkly comic flair.
In Amazon's valiant attempt to corner every conceivable market, they've done quite well with their original films. To date, they've released over 50 titles under the Amazon name to varying degrees of success. However, most of their earlier films were co-distributed with other studios. Following the success of their breakout, Oscar nominated hit, Manchester by the Sea, Amazon has been setting out to prove that they don't need help from other studios. Within two years, Amazon has gone from co-distributing nearly every film to handling distribution duties by themselves either under their Amazon Studios or Amazon Prime banners. Given the overwhelmingly positive reactions to Blow the Man Down, they again prove that they don't need any help from outsiders to make a solid product.
The film opens in Easter Cove, Maine, where the Connolly sisters, Mary Beth (Morgan Saylor) and Priscilla (Sophie Lowe), mourn the death of their mother. After a verbal confrontation about potentially losing their house, Mary Beth storms off and gets drunk at a local bar. There, she meets a man named Gorski (Ebon Moss-Bachrach) who she eventually leaves with. She ends up crashing Gorski's car but the two flee the scene back to his place where Mary Beth discovers something sinister about the man. Their encounter results in bloodshed and Mary Beth returns home to seek aid from Priscilla. From here, the two try to cover up the crime while exposing the seedy underbelly of their small town.
The plot basically starts out with a germ of an idea that continues to expand over the course of the film's quick 91 minute runtime. Initially, Mary Beth's actions towards Gorski are out of self-defense. Yet, the plot continues to thicken as new wrinkles to the story are exposed. As it turns out, the event basically throws an entire town into disarray. Dark secrets come to light as the local police force discover a body in the water. Though his young protege, Officer Justin Brennan (Will Brittain), is committed to the case, Officer Coletti (Skipp Sudduth) mostly turns a blind eye to any wrongdoing in Easter Cove. This is especially true when it comes to local brothel owner, Enid Nora Devlin (Margo Martindale), who's looked down upon by the other women in the town. The encounter between Mary Beth and Gorski has an unintentional ripple effect that threatens the integrity of Easter Cove.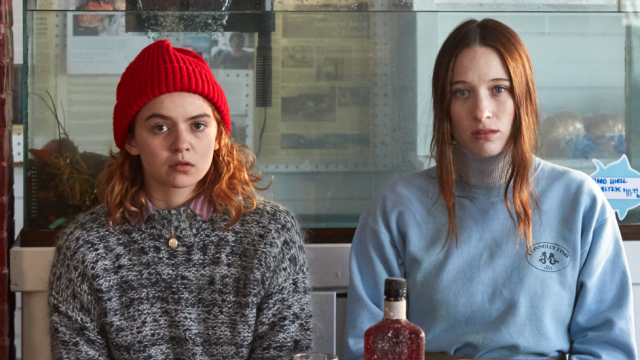 When it comes to influences, Blow the Man Down seems to have many. One of the most obvious ones that comes to mind is the Coen brothers' 1996 film, Fargo. Both films employ black comedy to go along with their grim tales of death and deceit. That being said, Fargo is certainly more funny than Blow the Man Down but there are some genuinely humorous moments in the latter film. It can also be compared to Debra Granik films like Down to the Bone, Winter's Bone, and Leave No Trace. While Granik takes a much more serious approach, her work all has that small town feel to it. The relatively small casts coupled with dark subject matter give each of the films a real, human feel. Cole and Krudy's Blow the Man Down has the same idea. What the Connolly sisters go through feels like something that could and has happened somewhere. There's also a splash of Taylor Sheridan's 2017 film, Wind River, in there with the plot and sense of dead end community.
Though the intriguing plot and picturesque seaside town may attract viewers, it's the film's characters that will suck them in. Morgan Saylor and Sophie Lowe as the Connolly sisters are excellent lead characters in the film. Saylor's Mary Beth is college bound but, due to the death of her mother, remains stuck in Easter Cove for the time being. Lowe's Priscilla is the new pseudo-matriarch of the family as she's always cooking, running the family fish market, and looking out for Mary Beth. The two are very different characters but work great as a sisterly tandem. Margo Martindale as Enid is also a standout. Early on, her story is separate from the girls but they slowly start to intersect as the film continues and she becomes a true villain. Annette O'Toole, June Squibb, and Marceline Hugot are the three headed foil to Enid in "town elder" type of roles. They monitor everything going on in Easter Cove and make their voices hear to everyone. You also can't forget Gayle Rankin as one of Enid's girls, Alexis. She's mostly in the background but has many moments to shine over the course of the film.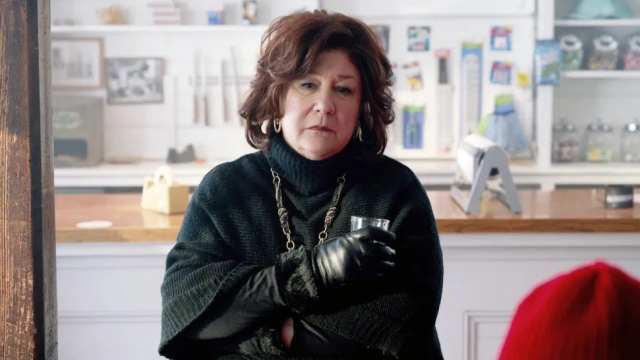 While there's nothing majorly wrong with Blow the Man Down, there's one recurring issue and it's in the film's tone. Described before as having that black comedy aspect reminiscent of Fargo, the film doesn't quite have enough of it either. It also seems to lack in the usual crime drama suspense too. So, what is this film if it's not funny enough to be a comedy and not suspenseful enough to be a thriller? It's hard to say because everything is done so well. It just feels like Cole and Krudy didn't want to jump fully into comedy and take away from the more serious aspects of the film. Yet, they didn't want to be overly serious and provide a generic crime drama either. Again, this mixing of tones isn't a deal breaker by any means. The film is perfectly enjoyable as it is and it's hard to say that the writer/directors were wrong in the approach they took. It's just something that some viewers will probably notice.
Our Score
Either way, Blow the Man Down is a wonderful small town, crime drama, comedy flick. When it's funny, it's funny. Then, when it needs to be serious, the film does that too. It establishes the seaside locale of Easter Cove as a nice little place to live until you know the dark secrets behind the town and its residents. Morgan Saylor and Sophie Lowe as the two leads represent youth in a town built on loyalty to the community. It's a tough spot to be in and their predicament tests everyone even remotely involved. If you're a fan of the aforementioned films in this review or are just looking for a good time, Blow the Man Down should do the trick. Even better, it's currently available to stream for free for Amazon Prime members.