One of the biggest appeals of the ongoing stay-at-home orders nation and worldwide is being able to catch up on films, television shows, video games, etc. that you may have missed. It's true that many people are going stir crazy but there are also plenty occupying their time inside. Over the past two weeks, we covered some poorly timed new release films that hit video-on-demand platforms due to the closure of movie theaters from COVID-19. With most upcoming films postponed indefinitely, it's time to cover more of the ones we missed in recent years. Case in point, the beauty of these stay-at-home Lockdown 2020 Reviews is experiencing gems like S. Craig Zahler's 2017 sophomore effort, Brawl in Cell Block 99.
While the film isn't Zahler's newest work, it's probably his most well known despite being severely underrated. Zahler got his start as a writer on 2011's Asylum Blackout before writing and directing his first feature, 2015's Bone Tomahawk. That film has also been on the Cinema Smack backlog for quite some time and will be getting a watch hopefully soon. Zahler followed it up with his acclaimed Brawl in Cell Block 99 and last year's Dragged Across Concrete. His three feature length efforts have all received positive reviews from critics and show a filmmaker on the rise. Given the acclaim of his work and, specifically, the quality of his 2017 film though, it seems Zahler's impending accolades may already be overdue.
Brawl in Cell Block 99 follows Bradley Thomas (Vince Vaughn), a former boxer and drug mule, as he returns to a life he had sworn off. After being laid off from his job at an auto repair shop and discovering that his wife, Lauren (Jennifer Carpenter), has been cheating on him, Bradley sets out to fix his life and marriage. He returns to his former boss, Gil (Marc Blucas), and agrees to start running drugs for him once again. Eighteen months later, Bradley and Lauren have rebuilt their relationship, moved into a new home, and have a baby on the way. Then, Gil introduces Bradley to a new business associate, Eleazar (Dion Mucciacito). A pickup goes badly due to Eleazar's men and Bradley finds himself with a prison sentence. His actions cost Eleazar a lot of money and he's tasked with getting himself transferred to the horrific cell block 99 to murder another inmate. In addition, Eleazar kidnaps Lauren to make sure Bradley gets the job done.
Over the years, we've seen countless "prison movies" released. Titles like The Shawshank Redemption, In the Name of the Father, and Hunger have all offered unique takes on what filmmakers can do with these types of films. Luckily, Brawl in Cell Block 99 isn't like any of them. It's probably more akin to something like Nicolas Winding Refn's 2008 film, Bronson, but even that would be a stretch. When it comes to Brawl, it's more like a Korean revenge film like Oldboy mixed with Refn's Drive. There's a fair amount of backstory to get Bradley back in the swing of things but, once the plot is set into motion, it's pretty straightforward. Bradley will do whatever's necessary to make sure his family is safe. This is even at the expense of throwing his own life away in the process.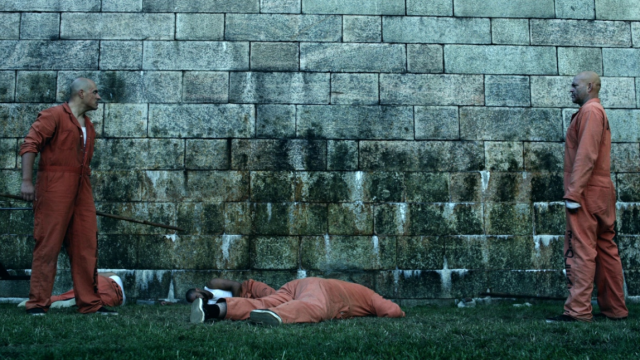 For the film, Zahler goes for a type of grindhouse style while skipping out on the low budget aesthetics. The cinematography from Benji Bakshi provides a bleak and hopeless feel to the film. Obviously, this is appropriate given the subject matter. Bakshi has also worked on Zahler's other two films and it's easy to understand why when you see something that looks as great as Brawl in Cell Block 99. The grindhouse comparisons come from the film's ruthlessness. Bradley is a man not to be messed with as you see early on when he basically rips a car apart with his bare hands. Needless to say, he doesn't hold back on his fellow man either. There are some absolutely brutal fight scenes in the film that aren't for the faint of heart. There's also plenty of blood and gore to go around as Bradley pummels his way into the maximum security Redleaf prison and, eventually, its cell block 99. The level of violence is pretty extreme so, if you're not into that kind of thing, definitely stay away.
While the violence and brutality is definitely going to appeal to some viewers, Zahler doesn't slouch on his characters either. Vince Vaughn gives the performance of his career as Bradley Thomas. Many people will probably overlook this film due to Vaughn's top billing and reputation as a comedic actor. Simply put, Vaughn isn't playing for laughs in Brawl in Cell Block 99. He's deadly serious and believable in the role. After the first few minutes, you kind of forget that it's Vince Vaughn and just settle in for the ride. The supporting cast around Vaughn is very good as well. Despite her infidelity, Jennifer Carpenter's Lauren is very likable which is a bit unique for her type of character. You can understand why Bradley stays with her following his discovery. Mustafa Shakir has a brief but memorable role as prison guard Andre who suffers an encounter with Bradley. Dion Mucciacito as Eleazar is quite good but maybe we don't see enough of him overall. Finally, we can't go without mentioning Don Johnson as Redleaf's Warden Tuggs. Johnson's roles in films like Django Unchained and last year's Knives Out have stolen the show and, as Tuggs, he almost pulls it off again. Though, like Mucciacito, he's not in the film as much as maybe one would like. He still leaves a lasting impression and does an excellent job with the time he has.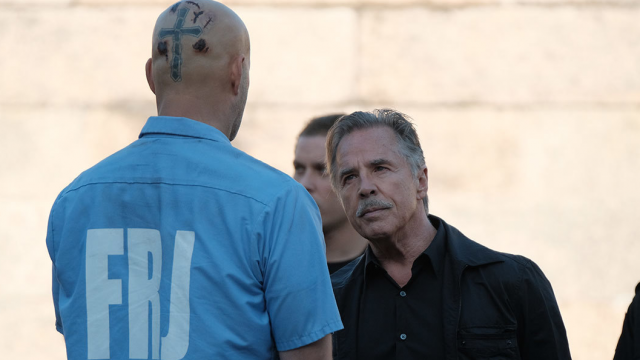 As is the case with all films, Brawl in Cell Block 99 isn't perfect. Though, it comes pretty close in our estimation. The twist ending isn't completely unexpected and it lacks the punch (figuratively speaking) that Zahler was going for. Also, the standout characters like Johnson's Warden Tuggs and Shakir's Andre give way for less important and memorable ones as Bradley descends deeper into the savagery of Redleaf. Going hand in hand with this is the violence. While some viewers will love it (ourselves included), others certainly won't appreciate it. On top of that, as satisfying as it is for fans of the film, some of the violence lacks creativity. Perhaps this is a stylistic choice as Zahler isn't looking to go the fantastical route with the film. Yet, you tend to notice when the same things start happening in multiple fight scenes.
Our Score
Still, S. Craig Zahler's Brawl in Cell Block 99 is excellent. Had we seen this back when it was released, it surely would've landed on our Best of 2017 list. Even being a bit late to the party, that's the beauty and purpose of these Lockdown 2020 Reviews. There are so many films released every single year that it's impossible to see everything. After finally crossing Brawl in Cell Block 99 off the list, Zahler's other efforts are now essential viewing. If you appreciate some brutal violence and missed this film as we did back in 2017, do yourself a favor and check it out. What's even better is that it's currently available to stream for free on Amazon Prime as we speak.