Who doesn't love a good thriller? There's just something about a film keeping you on the edge of your seat and messing with your expectations that moviegoers can't get enough of. Here, in the early part of 2020 with very few new films on the immediate horizon, it's time for audiences to start looking to indie films to get their fix. Released back in February, Pedro C. Alonso's feature length debut, Feedback, is a perfect place to start for those searching for a new dramatic thriller with a splash of horror to go with it.
The film follows British political talk show host, Jarvis Dolan (Eddie Marsan), who was recently kidnapped and released by angry listeners. Because of this, his boss, Norman Burgess (Anthony Head), wants Jarvis to lighten the mood and do a show with his former co-host, Andrew Wilde (Paul Anderson). Jarvis goes live but experiences technical issues when trying to go to commercial. It's here that he discovers two masked attackers have invaded the radio station and taken hostages. They force Jarvis to keep the show going while forcing him and, later, Andrew to relay a long hidden secret on the air.
The plot of Feedback is simple but effective. It's basically a home invasion film like Panic Room or The Purge set in a radio station. The setting works great for this type of story and everything that happens throughout feels logical. The setting gives the film a unique flair that your typical home invasion flick may lack. It also mixes elements of titles like Phone Booth, Hard Candy, and Money Monster. The masked men have complete control over the situation and they let Jarvis and company know it. Their respective lives have been altered by past actions and they force their hand to get confessions and accountability.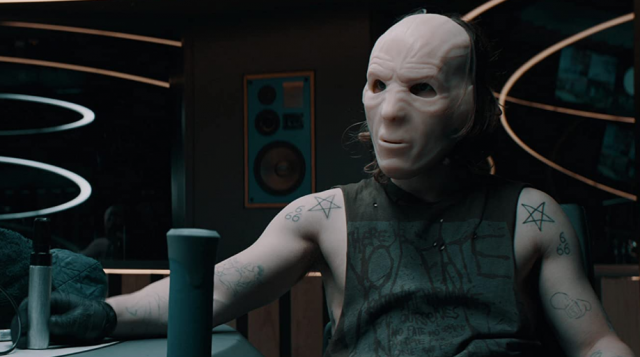 Feedback certainly doesn't slouch in its drama or thrills either. There are a number of twists and turns throughout the story whether from the kidnappers or Jarvis himself. As the plot continues, viewers discover more information  about each of the characters and the film will make you question your loyalties. This is something you don't always see in these types of films. While it's true that antagonists usually have a legitimate reason for their actions, you tend to side with the underdogs. With Feedback, you do find yourself on Jarvis's side. However, there are plenty of moments that'll have you second guessing. From my own personal standpoint, there were plot twists that would leave me lukewarm and take me out of the experience. Then, to my surprise, new information would be introduced about the secret night in question and pull me back in. The film is a metaphorical rollercoaster and makes it difficult to fully trust anyone.
This is a testament to the wonderful cast bringing these characters to life. Eddie Marsan is a name that casual audiences may not know offhand. However, Marsan's filmography is all over the place and it's likely you've seen him in something before. In the past few years alone, he's been in films like Deadpool 2, Hobbs & Shaw, The Gentlemen, and even the Oscar nominated Dick Cheney biopic, Vice. He has almost exclusively been a supporting actor throughout his career but does a fine job as the lead here in Feedback. He's controversial and compelling as a character but you also feel for him in his unfortunate situation. Paul Anderson, who's better known as the lovably unhinged Arthur Shelby in the BBC series, Peaky Blinders, is a welcome addition to the cast and makes the most of his screen time. Anderson's scenes are some of the best that the film has to offer. Richard Brake strays from his usual roles as unsavory and demented characters in recent Rob Zombie flicks as the emotional center of the film. Brake is a very underrated actor and it's great to see him get an opportunity to show his chops here. Ivana Baquero, Oliver Coopersmith, and Alexis Rodney, and Alana Boden put in solid performances throughout the film as well.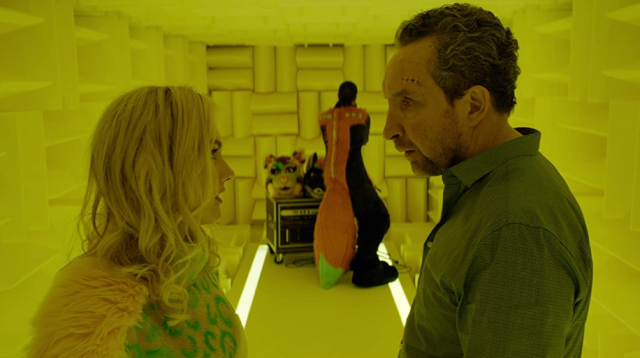 The few issues that Feedback has are all relatively minor in scope. You'll see some of the aforementioned twists and turns well before they're coming. Yet, the film consistently holds your interest regardless. For the sake of this review, we're holding back a little to maintain the surprises but, even the film's trailer gives away some of the bigger ones. There are also a few plot points that are a bit questionable in hindsight. Jarvis's previous kidnapping kind of has no purpose or impact on this new one. If it was completely taken out of the film, it wouldn't change anything whatsoever. One other very minor thing is in the film's tone. The graphic violence used in the film looks great and will certainly satisfy horror fans. That is, if they want to sit and wait for it. Overall, Feedback feels more like a dramatic thriller than a horror movie. The eventual violence may catch some viewers offguard while horror fans may be upset by the lack of horror elements for most of the film's runtime.
Our Score
For fans of good filmmaking in general, Feedback will definitely scratch the itch. For his feature length debut, Pedro C. Alonso pulls out all the stops and crafts a tension filled piece of dramatic cinema. The excellent cast led by veteran actors like Eddie Marsan, Paul Anderson, and Richard Brake set the tone for the film and bring up those around them. With theaters currently shuttered and more people spending time inside, seek out Feedback. It's definitely worth your time.
*Feedback is currently available for rent or purchase on video-on-demand platforms like Amazon Prime, YouTube, and Google Play. Check out the trailer below.*