There's no shortage of films about teen pregnancy out there. From titles like Saved!, Precious, and, of course, Juno, to a plethora of Hallmark Channel and Lifetime original movies, there are a ton of them to choose from. However, the majority of these films take familiar pregnancy tropes coupled with a pro-life approach to tell stories that most people have already seen before. In the case of Eliza Hittman's new film, Never Rarely Sometimes Always, the writer/director tries something different in an uncomfortably poignant spin on the teen pregnancy drama.
Never Rarely Sometimes Always made its world premiere back in January at the Sundance Film Festival. It has received overwhelming critical praise thus far and it won a Special Jury Award for Neo-Realism. It also came away from the 70th Berlin International Film Festival with the Silver Bear Grand Jury Prize, the runner-up to the festival's top prize. The film hit theaters on March 13th but didn't have a wide release due to the COVID-19 pandemic. Instead, it landed early on video-on-demand platforms like Amazon Prime and YouTube on April 3rd.
The film follows 17 year old Autumn (Sidney Flanigan) as she has sneaking suspicions that she may be pregnant. She visits a crisis pregnancy center unbeknownst to her mother (Sharon Van Etten) where she discovers that she's, in fact, pregnant. Autumn decides to not have the baby but needs parental consent to get an abortion in the state of Pennsylvania. After failed attempts to miscarry, Autumn and her cousin, Skylar (Talia Ryder), travel to New York City for Autumn to get an abortion without consent. Though, their task becomes much more difficult than either of them anticipated.
The plot of the film is, frankly, pretty familiar in general. A teenage girl gets pregnant and has to decide how she wants to proceed. This is the general outline for nearly every teen pregnancy film ever released. There's nothing flashy about the story or any real flair to it either. What makes the film work so well is the seriousness of everything. A film like Juno plays for laughs and heartwarming moments. Here, the realism of the film sets it apart from some of the more romanticized versions out there. Hittman focuses on a girl who's essentially alone in the world, with only the support of her cousin, as she finds herself in a desperate situation. It's easy to see how this is probably how most unintended teen pregnancies begin in real life. At that age, no young woman is ready for that type of responsibility and that's exactly how Sidney Flanigan's Autumn comes across onscreen.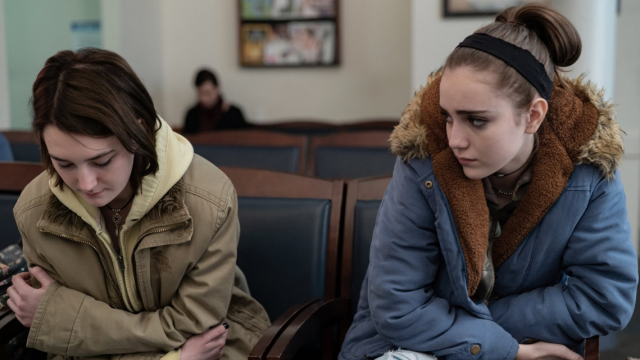 Speaking of which, Flanigan is great in Never Rarely Sometimes Always. Autumn is pretty somber throughout the film with little dialogue or emotional reactions. The character is in a constant state of numbness upon learning of her pregnancy. She's focused on the task at hand and that's about it. Though, during the climax of the film, viewers get to see the emotions come flooding out of her in the film's most critical scene. Good stuff. Then, there's Talia Ryder's Skylar who's kind of the beating heart of the film. She does everything she can to make sure that Autumn is taken care of and able to get the proper treatment. Whether it means stealing from her employer, lying to people, or swindling others, Skylar is willing to do it. The two share a unspoken bond and appear stronger together than apart in this life changing situation.
There's no doubt that Never Rarely Sometimes Always is a polarizing take on teen pregnancy. This is abundantly clear when looking at the rave reviews from critics and the middling ones from the general audience. Let's face it: pro-life supporters are rather unfairly going to despise this film. Just because something doesn't align with one's ideals doesn't mean that it's necessarily bad. Again, the acting and serious approach the film takes in telling a compelling story is certainly praiseworthy. Though, some will not be able to look past the philosophical debate of pro-life versus pro-choice. It's too bad because the film is quite bold in its approach. As previously mentioned, so many films romanticize pregnancy while too few show some of the deeper struggles. With Never Rarely Sometimes Always, we see the difficulties a teen girl with no support goes through. There's no father in the picture, no parental compassion, and no resources to properly provide for a potential child. Autumn can't even afford the cost of travel and her procedure let alone the doctor bills that she'd receive if she actually had a child. The film is a sobering look at a lot of things most pregnancy films don't show you and stands out because of it.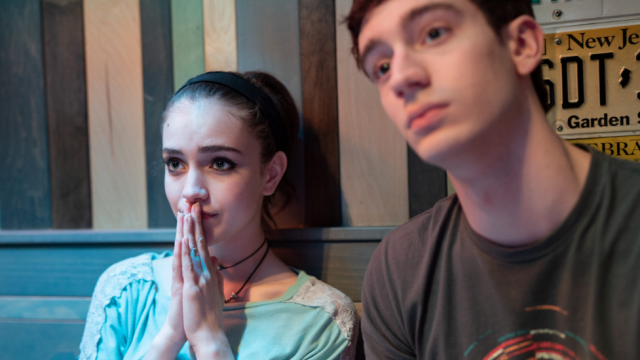 Now, there are certainly some issues with the film. At only 101 minutes long, it moves by relatively fast but it has a deliberate pacing that some viewers may not like. Emotions don't flare and there are few actual events that occur. If you don't become invested in the characters, you may find yourself bored at times. The other major problem is the film's depiction of male characters. Every single man in Never Rarely Sometimes Always is basically an uncaring scumbag according to Eliza Hittman's script and the actors' portrayals. They're all driven by sexual desires and prey on young women. Maybe viewers are supposed to see them through the distrusting eyes of Autumn but, if that's the case, it doesn't come across well. At one point, the girls meet a young man named Jasper (Théodore Pellerin) who they use for money but, of course, the film makes Jasper look like a pig in the process. As unfair as it is for pro-life supporters to hate the film for its stance, it's also unfair for the film to paint all men in such a negative light. Even the guy selling tickets at the bus station is made to look like a jerk to the girls. It's all a bit uncalled for but it does play into Autumn's story.
Our Score
Even with its few issues and pro-choice stance, Never Rarely Sometimes Always comes as highly recommended viewing for everyone who's impartial. It's a story that you don't often see as it capitalizes on the realistic negatives instead of all of the fluffy positives about pregnancy. As previously mentioned, that's sure to rub some people the wrong way but Eliza Hittman hits a spot where the film doesn't seem like it's angry or self-loathing either. It just presents one possible scenario about unintended pregnancy in teenage girls. If you're pro-life and refuse to acknowledge anything different, this film isn't for you. As long as you're willing to keep an open mind, though, and appreciate the characters and realistic storytelling, Never Rarely Sometimes Always is one you shouldn't miss.