Back in April, we reviewed Eliza Hittman's critically acclaimed teen pregnancy drama, Never Rarely Sometimes Always, and praised it for its realistic storytelling, characters, and open-mindedness. We also stated that there's no shortage of these types of films which rings true again today. Though, today's subject is a little more hopeful with a clear message of self-discovery at its core. Alex Thompson's debut feature, Saint Frances, is a lighthearted story pairing a misguided woman in her mid-30's with a wise beyond her years six year old in an unlikely, yet heartfelt, friendship.
Along with Thompson, Saint Frances marks the debut for screenwriter/star Kelly O'Sullivan as well. It made its world premiere on March 11th, 2019 at the South by Southwest Film Festival in Austin, Texas, where it won both the Audience and Special Jury Awards. It would not see a theatrical release until the following February in a limited capacity. Of course, with the COVID-19 pandemic, Saint Frances never saw a wide release. However, as has been the case with the majority of films released in 2020, it's now finding its audience through video-on-demand platforms like Amazon, YouTube, Google Play, and Vudu.
Saint Frances centers on a 34 year old woman named Bridget (O'Sullivan) whose life is seemingly stuck in neutral. Her career goals are unfulfilled as a server at a restaurant and she's soon tasked with another issue after meeting fellow server, Jace (Max Lipchitz). The two strike up a friends with benefits relationship that results in an unwanted pregnancy. Meanwhile, Bridget has recently begun to nanny for lesbian married couple, Maya (Charin Alvarez) and Annie (Lily Mojekwu), who are parents to six year old Frances (Ramona Edith-Williams) and newborn Wally. Though Bridget goes forward with an abortion, she forms an unlikely friendship with young Franny that has her questioning her life choices.
When it comes to those life choices, Saint Frances is always bold to tackle them head on. This is a film for those people "on the cusp" of being millennials as O'Sullivan's Bridget says. Sadly, it feels as if the late 20's to mid 30's age group is one that has been somewhat lost in the shuffle. While there are some with thriving careers and starting families, there are many who are unsure of their next step in life. Bridget is definitely in the latter category as the film largely focuses on her slacking off and making poor choices until she realizes that her bad decisions negatively affect the family she's supposed to be helping. The film can often be maddening in its approach as viewers want Bridget to get her priorities straight but it's also uplifting as she does mature and finds the value of friendship and family. In addition, the film doesn't shy away from the topic of abortion which may make some viewers uncomfortable.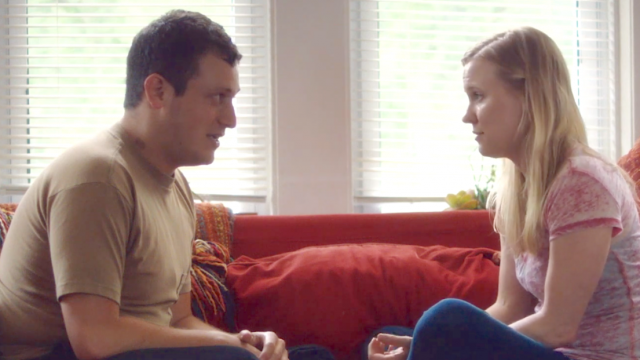 Obviously, this has a lot to do with both O'Sullivan the screenwriter but also the actress. As Bridget, she's a perfect everywoman searching for her place in the world. Upon landing the nanny job, Bridget doesn't particularly like children and has an awkward time adapting to caring for Franny. She simply needs the job. Her relationship (or lack thereof) with Max Lipchitz's Jace is one built on convenience and ease. He doesn't appear to be her ideal partner in her eyes but the two have a laid back chemistry with one another. Lipchitz is quite good in the caring, but not overbearing, male role. He seems to like Bridget maybe more than she likes him but he'll never broach that subject for the sake of tainting their arrangement so to speak. Then, there's the married couple of Maya and Annie. While Lily Mojekwu's Annie doesn't play a huge role until the end of the film, Charin Alvarez is great as the battle-tested stay-at-home parent, Maya. Like Charlize Theron's role as Marlo in 2018's Tully, Maya suffers from the daily grind of parenting which, ultimately, leads to the hiring of Bridget. She's always exhausted and at her wit's end having to raise Franny and a newborn with Annie frequently away. Alvarez's Maya is certainly a character that a lot of mothers will be able to relate to.
Though every cast member puts in solid work, the real star of Saint Frances is young Ramona Edith-Williams as the title character. She's simply adorable and adds so much to the film's overall charm. At times, Franny is way too mature for her own age as she manipulates Bridget, exacts her revenge on a boy who breaks one of her toys, and talks about periods. Yet, there are other times when she's just a child seeking guidance, love, and friendship. As the title alludes to, she's something of a muse for the other characters as they all learn from each other but especially from Franny on what's most important in life. O'Sullivan's script does a great job focusing on this but it's the lovable performance from Edith-Williams that hammers O'Sullivan's themes home.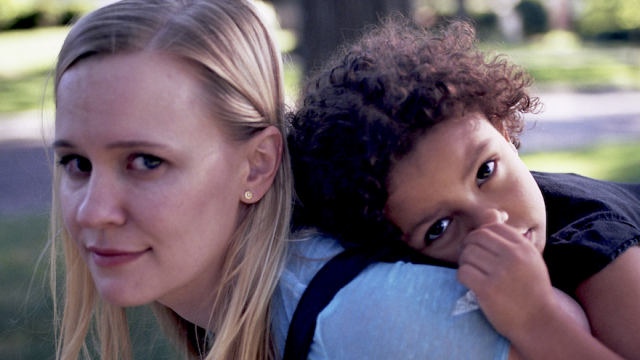 That being said, there are some issues with the script too. The main problem is that there's just a bit too much going on. The relationship between Bridget and Franny is what really makes the film work along with the interactions with supporting characters. Yet, there's the story between Bridget and Jace's unwanted pregnancy. Then, there's a lot of menstruation issues and talk that never really seem to have a resolution. There's a total subplot about Bridget being attracted to Franny's guitar teacher which doesn't go anywhere. Honestly, the film wouldn't change one bit if all of those scenes were cut. Overall, there are just too many instances where Saint Frances strays from the heart of the story. Everything that is here is really good and there aren't any bad scenes. It's just that a lot of the added stuff that feels like extra. At 106 minutes, the film isn't overly long but it could easily be tightened up to 90 minutes with some edits.
Our Score
Still, there's definitely more positive about Saint Frances than there is negative. The tale is a heartwarming one about a seemingly lost soul discovering who she is while finding friendship and family in the process. There are enough laughs with awkward interactions and timely comedic edits to keep the tone light while tackling some heavy issues. It's not as emotionally heavy as something like the aforementioned Never Rarely Sometimes Always. Instead, it's more in tune with films like Knocked Up, Juno, or the latter film's matured successor, Tully. With its relatable characters, playful mood, and encouraging story, Saint Frances is sure to leave viewers pondering their own lives (and the inconvenience of periods) after watching it.