In another recent review, we discussed how filmmakers have never shied away from telling stories about filmmaking. Well, the same can be said for stories about writers. Artistic people in general are ripe with abnormal tales that fans and audiences love to eat up but writers, in particular, often carry a lot of emotional baggage and demons with them as they create. Films like Misery, Capote, and basically every Stephen King adaptation have boasted intriguing tales about novelists. Now, director Josephine Decker tries her hand, and sometimes succeeds, with her new biopic, Shirley, based on reclusive horror writer Shirley Jackson.
Known mainly for her work in the horror and mystery genres, Jackson wrote six novels, two memoirs, and over 200 short stories over the course of her career. Despite her death in 1965, posthumous unreleased works from Jackson have been released over the years in collections and even publications as recently as the mid-2010's. In being such a popular writer, it was obvious that her works would make their way into other mediums. Adaptations of Jackson's writing have been made into radio broadcasts, stage plays, and, of course, feature films and television shows. Most recently, her most popular novel, The Haunting of Hill House, was adapted somewhat unfaithfully into a successful show for Netflix with a second, unrelated, season on the way. Prior to that, the novel hit the big screen once in 1963 and again in 1999. Other feature film adaptations of Jackson's work include 1957's Lizzie which is based on her 1954 novel, The Bird's Nest and 2018's We Have Always Lived in the Castle. The latter is based on Jackson's sixth and final book of the same name.
Shirley centers on the writer's time crafting her second novel, 1951's Hangsaman. A young couple, Fred (Logan Lerman) and Rose Nemser (Odessa Young) move in with Shirley (Elisabeth Moss) and her husband, Stanley Hyman (Michael Stuhlbarg), a Bennington College professor. While Fred is away assisting Stanley, the newly pregnant Rose takes on the difficult task of keeping an eye on Shirley whose declining health and eccentric personality quickly wears on her. Though, Shirley sees Rose as something of an inspiration for her book. Soon, tensions ease and the two strike up a friendship while the men of the house are frequently away.
To be honest, Shirley is something of a mixed bag of a film. At its best, the film is an interesting character study of the acclaimed writer. It's not your typical biopic depicting Shirley Jackson's life from childhood until her death. It's more about her crass attitude, quirks, and, to a lesser extent, health troubles brought on by her bad habits and reclusive lifestyle. Yet, the film never goes fully into these things or how Jackson got to this point in her life. It's a snapshot into her world but not a definitive biography that tells Jackson's entire story. There's also the mystery aspect with Shirley following the case of a disappearing Bennington College student for which Hangsaman is based on. Many of these re-imagined scenes with Odessa Young's Rose as the stand-in for the missing student are quite eerie and add an additional layer to the story.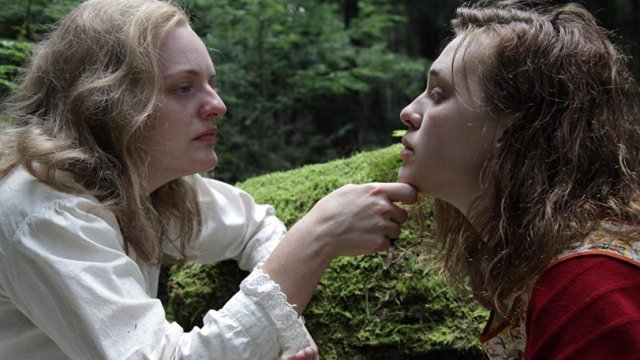 However, for a lot of the runtime, it doesn't really feel like there's a story. The first half of the film does a good job setting everything up. After that, though, Shirley just feels like its running in place. The plot doesn't really go anywhere, the suspense and/or emotion never ramp up, and it's hard to determine whether any of the characters actually learn anything in the process. For example, Shirley is a recluse who barely leaves her house. Given her budding friendship with Rose, you know at some point that Shirley has to venture outside. The buildup to this is nonexistent as, all of a sudden, she has no problem leaving. There's no buildup to this or anything. Perhaps its shaky screenwriting from Sarah Gubbins, who pens her debut feature here, or it's just that the film is poorly assembled. Either way, Shirley is full of these moments where it feels like there are no consequences, rules, or even reasoning for how the film plays out.
Even through its iffy storytelling, what will draw viewers into Shirley the most is sure to be its excellent performances. Everyone does the best with what they have in the film. After some irritating early career roles in films like 3:10 to Yuma and The Number 23, Logan Lerman is rock solid and nearly unrecognizable as Rose's husband, Fred. Odessa Young is the closest thing to a protagonist as Shirley's housekeeper, confidante, and friend. As Rose, Young displays vulnerability as she's often manipulated and disregarded by the other characters. Michael Stuhlbarg is great, as usual, and continues to be an underrated performer in Hollywood. While his role as Stanley doesn't reach the heights of his work on films like Arrival, The Shape of Water, or especially 2009's A Serious Man, Stuhlbarg shows once again that he can maximize any role he's given as the charming, yet sleazy, Stanley.
Of course, Elisabeth Moss proves again that she's one of the hottest talents in Hollywood right now as the eccentric Shirley Jackson. Though this role isn't as psychotic as Becky Something in Her Smell or as timid/defiant as that of Offred/June in The Handmaid's Tale, it kind of encapsulates what Moss brings to the table. She can handle any role and make it special no matter how much she's given to work with. As Shirley, Moss is almost vile at times with her rude comments to Rose. As the film continues, she lets up on the young woman as they become friendly but there's always a sense that you can't entirely trust her. Then, there are other moments where viewers will sympathize with Shirley because of the things she's left to deal with from her husband. On top of everything, Moss, who has a very distinct look of her own, actually bears quite the resemblance to a younger Jackson. Needless to say, Shirley wouldn't be the same film without its star.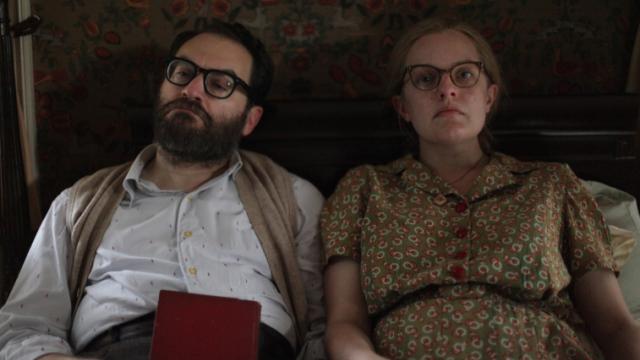 For as good as the characters are though, there's just something missing as a whole from the film. From start to finish, it's as if viewers never get a chance to really understand who these characters are. What are their motivations? Why do they do what they do? There are a few instances where they'll inexplicably betray each others' trust only for all to be forgiven in the very next scene. This even happens after Shirley and Rose become friends. It doesn't really make any logical sense and, for the audience, it's hard to pick someone to root for. These are the times where you wish Shirley was a more traditional biopic. This chosen time period and story just doesn't go anywhere and nothing's really resolved by the film's end. Again, this could be bad screenwriting or editing but it could also be an ineffective directorial vision of the film as well. The film is frequently as eccentric as its subject and that's probably its biggest downfall.
Shirley is going to get away with an overall positive score but most of that has to do with Elisabeth Moss and the rest of the cast. The film is technically sound as well but the story and its structure are all over the place. In a strange year for, well… everything, but an oddly decent year for cinema, Shirley doesn't match the quality of other 2020 films like Swallow, Disclosure, and The Vast of Night. In the current dry spell of new releases though, Shirley may be worth a watch for fans of Elisabeth Moss and Shirley Jackson.