2020 has been something of an anomaly. This isn't only in everyday life but also in cinema. If we can flashback to last year for a second, 2019 was an absolute wasteland for quality films halfway through the year. What's really shocking is that, even with the COVID-19 fiasco and #BlackLivesMatter protests/riots breaking out all over the country, 2020 is shaping up to be a better year for filmmaking than 2019. Not sure how that's possible but it's the truth at least up through the midway point of the year. To no one's surprise then, we have another quality release to discuss while movie theaters remain closed and stay-at-home audiences look for more titles to watch. Director Shannon Murphy makes her feature length debut with a somber and heartfelt story of a teenager living with a terminal illness in Babyteeth.
Prior to her work on the film, Murphy mainly directed short films with a more recent focus on television. She has directed episodes for a number of Australian shows like Love Child and Offspring before helming two episodes in the most recent season of the popular AMC series, Killing Eve. Like Murphy, playwright Rita Kalnejais also makes her feature film debut with Babyteeth as the sole screenwriter. The film is actually an adaptation of Kalnejais' stage play of the same name. The film premiered at the Venice International Film Festival last September competing for the Golden Lion. It ultimately lost out to the Oscar nominated mega-hit, Joker, but still garnered plenty of critical praise.
Babyteeth follows the teenaged Milla (Eliza Scanlen) who's suffering from cancer. By chance, she meets a 20-something year old drug dealer named Moses (Toby Wallace) while waiting for the train. The two strike up a unique friendship that sees Moses often take advantage of Milla's deeper feelings for him. All the while, Milla's parents, Henry (Ben Mendelsohn) and Anna (Essie Davis), try to make their daughter's life as comfortable as possible. Though, they frequently shelter her and hold her back from achieving true happiness during this rough time in her life. Additionally, they can't stand Milla's friendship with Moses but they must learn to accept him in order to keep Milla as happy and healthy as possible.
Before we delve into all of the good things about Babyteeth. It should be stated that this is something of a hard film to get into. At just under two hours, it feels a little long in the early going. It jumps forward in time quite often without much warning other than some text dividing the film into "chapters." Initially, it has a slight indie/self indulgent feel and feels a little directionless. There's just stuff happening without much background, rhyme, or reason. The characters sometimes act irrationally and without context. Unfortunately, this goes on for probably a good 45 minutes before viewers get to the meat of the story and really become invested. In saying that though, it's highly recommended that you stick with the film because what it leaves you with is excellent.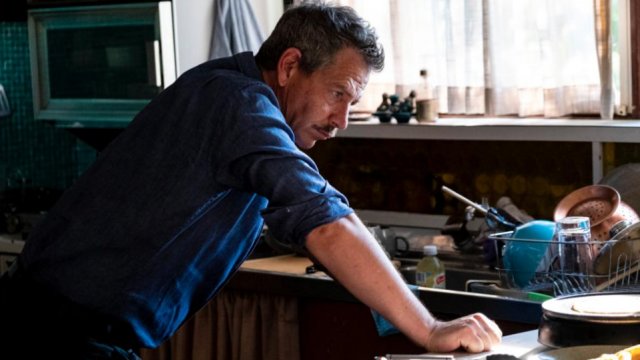 While you're stuck watching the more confounding part of the film, one thing viewers may notice is how fantastic the film looks. As was the case with Michael Bentham's Disclosure earlier this week, it's hard to believe that Babyteeth is Shannon Murphy's debut feature. Even with a somewhat bloated runtime, Murphy proves that the world of feature filmmaking isn't too big for her. It's a technically well shot and made indie drama that boasts a wonderful color palette giving  a film haunted by the specter of death a splendid amount of life. Andrew Commis handles the cinematography and deserves a ton of credit for his work on the film as well. Both stark and lush at times, Babyteeth gives those with a keen eye plenty to keep them invested while the story catches up.
Tales about the terminally ill are nothing new in Hollywood especially when it comes to romances. Films like A Walk to Remember, P.S. I Love You, and The Fault in Our Stars have left romance fans feeling vulnerable and teary eyed by their respective endings. Luckily, Babyteeth is different. While the film does focus on multiple different relationships, they're not usually the lovey-dovey types. Yes, Milla does care deeply for Moses but there's also a sense of her not wanting to waste her time when she seemingly has so little left. Instead of just being a straight romance, Babyteeth focuses mainly on appreciating the time we have with the important people in our lives. Much of the emotion in the film comes from how Milla is treated by both Moses and her parents. Moses sees her as any other person while Henry and Anna see her as being fragile. Milla just wants to be normal and that's something that anybody could relate to. The subject matter is heavy throughout the film but there's always levity as well. The film is largely about accepting one's fate instead of only dwelling on the inevitable. Of course, there are extremely effective moments that will tug at the heartstrings but there are also times you're meant to completely forget about Milla's illness too.
So much of this has to do with wonderful cast that's been assembled for Babyteeth. Veteran actors Ben Mendelsohn and Essie Davis are great as Milla's caring but also overbearing parents. Mendelsohn's Henry is something of a lost soul through a lot of the film as he tries to figure out what to even do with himself. As Anna, Davis is the more explosive cast member of the two parents. Anna seems to always be at war with her daughter as she struggles to hold herself together to see Milla through until the end. She can be charming and understanding but also completely unreasonable at times as the weight of Milla's situation wears on her. Toby Wallace is strange as the drug dealing Moses and that's not a bad thing. Viewers will never be sure as to how he feels about Milla and it's maddening to watch him frequently use abuse her trust and friendship throughout the film. Somewhere deep in the character there's a good person but it's a rarity to see Moses in that light.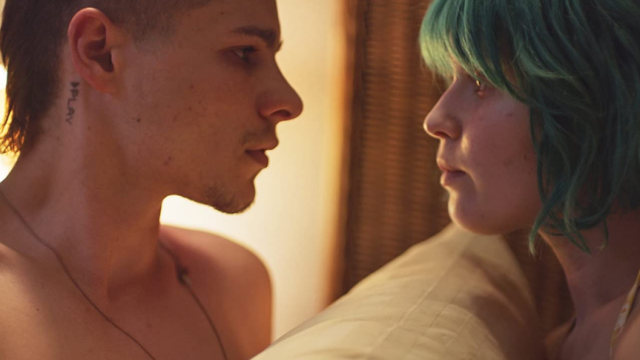 Of course, the real star of the film is Eliza Scanlen also making her feature film debut since Babyteeth technically premiered before last year's Little Women. Scanlen puts in a hypnotic performance as Milla with her ever-changing wardrobe and wigs. At times, she acts as a young and naive little girl. In other instances, she feels like a mature woman by knowing what she wants and not letting others get in her way. With her illness, Milla knows that time isn't on her side and she chooses to face her own mortality head-on and is unapologetic in doing so. Though Scanlen's performance in Babyteeth doesn't quite reach the heights of her role as Amma in HBO's 2018 miniseries, Sharp Objects, she still shows her incredible range and poise as a leading lady in her feature debut.
Our Score
Despite its rocky beginning, the latter, more emotional half of Babyteeth should cut viewers to the core. When the film gets good, it gets really good and leaves you emotionally spent by the time the credits roll. Even with the more romantic aspects, the film feels less like A Walk to Remember and more like Darren Aronofsky's The Fountain in its subject matter and execution. It's not melodramatic or weepy but still conveys a heartbreaking tale about family, relationships, and the unknown. Though Babyteeth has some issues early in its runtime, it's still an excellent feature length debut from director Shannon Murphy and screenwriter Rita Kalnejais. If Babyteeth is just the beginning for these two, we can't wait to see what they cook up next.