2017 was something of a banner year for the film and entertainment industry but not for reasons you'd expect. While there were some excellent films to come out that year like Blade Runner 2049 and The Shape of Water, the most notable accomplishment took place behind the scenes. Sparked in the United States by actress Alyssa Milano, the #MeToo movement made waves across the industry and globally when sexual abuse allegations were cast against noteworthy names in Hollywood and beyond. In an attempt to shed light on the rampant abuse of women in the workplace, writer/director Kitty Green focuses on the type of issues that sparked such a movement in her debut narrative feature, The Assistant.
As most people may know by now, the film industry was turned on its head with the #MeToo movement's emergence. For far too long, unwanted sexual advances and abuse had been something of an afterthought for the general public. Many probably assumed that this type of behavior was going on but no one was doing anything about it. Once names like Bill O'Reilly, Kevin Spacey, and, of course, Harvey Weinstein were outed as known abusers and the Hollywood community stood unified against such behavior, an opportunity for real change presented itself. Weinstein has possibly been hit the hardest by the movement as he got nailed with a 23 year prison sentence for his illicit behavior. There's no doubt that Green's new film is largely influenced by Weinstein and his actions prior to his arrest.
The Assistant follows a young woman named Jane (Julia Garner) who's working long hours as an assistant to an unseen, but powerful, film executive. She's usually the first one in the building and last person to leave while performing unenviable tasks like tidying up the offices, dealing with the executive's emotional wife, and having others pawn their work off on her. Through everything, Jane remains dedicated to doing the best job she can do to hopefully move up the corporate ladder. However, she also faces verbal abuse from her boss when she makes minor mistakes while watching younger, prettier women getting positions at the company without putting in the same amount of work. With every passing moment, Jane struggles with her morals, position, and the lewd conduct that goes on behind closed doors at the office.
It's a little strange to watch a film that documents how young women have been exploited in the film industry. It's not a happy film and it really makes it out to be a somewhat despicable career choice. Yet, maybe The Assistant is a testament to how far the business has come since the #MeToo movement. The film premiered at the Telluride Film Festival in August 2019 and also showed at the Sundance Film Festival in January of this year. It was picked up for distribution by Bleecker Street following its premiere. Given the subject matter, The Assistant may not have even been able to screen at one of these festivals in past years and it could've been poison to any distributor bold enough to acquire the rights. Those in power certainly would've wanted to shut down a film like this instead of drawing attention to any potential wrongdoing. Obviously, this isn't to say that none of this behavior still exists in the entertainment world. At least now it's out in the open and seemingly less commonplace than it had maybe once been.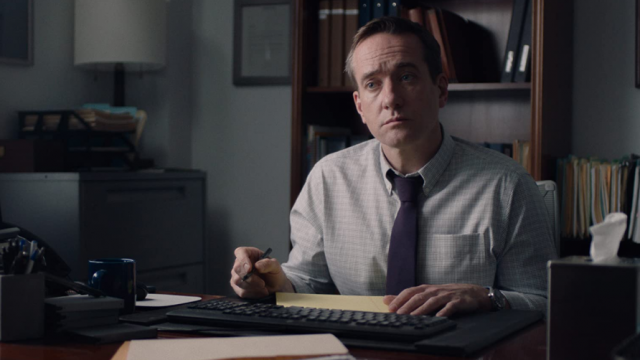 While The Assistant does have a reasonably sized cast, this is a one woman show. Julia Garner's Jane is a much different character than the one she plays on Netflix's crime/thriller series, Ozark. As Ruth Langmore, Garner is ambitious, outspoken, and to the point with those around her. As Jane though, Garner takes a much calmer and subtle approach. Jane strives to do her job to the best of her ability and is still bullied by her boss and his wife. Though not always necessarily at fault, Jane takes responsibility because she aspires to be a producer someday. When she starts to question possible unethical behavior from her boss, other people in the company insist that she turns a blind eye. Garner is excellent as you watch her try to navigate through these issues while she can seemingly do nothing right. She's mostly stoic throughout the film but the character is largely fleshed out through the use of body language and her responses to constant defeat. Matthew Macfadyen is also a standout in possibly the film's most crucial scene.
Kitty Green's biggest accomplishment with The Assistant is its tone and message. Again, it feels somewhat odd to watch a film like this in 2020 after some of these guilty parties have already been denounced. However, the message of the film doesn't only reach those in film and entertainment. When Jane's boss states that he's only hard on her because he wants her to be great, that could be applied to basically any career. It's not fair for someone to ignore their own moral compass in return for a career bump nor is it right for predators to ask for something in return for fame and power. This is something that the character of Jane struggles with throughout the entire film. It's truly an uncomfortable watch for those reasons as viewers surely side with Jane and her solid work ethic over others who advance via alternative means. Though, there's always the freedom of choice that the characters can't seem to master either. Many of them choose to ignore issues and/or choose to go through with morally questionable activities. Jane's included in this as well.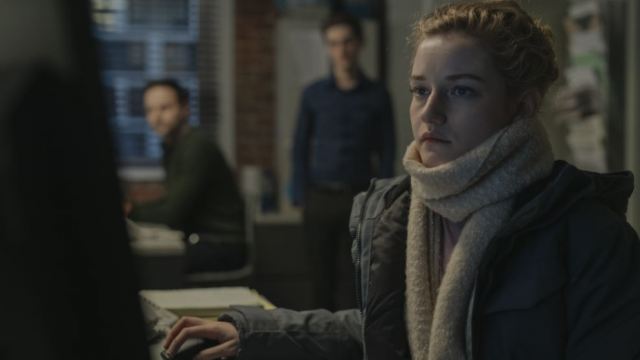 The Assistant certainly does a good job keeping audience attention but it does have some deliberate pacing. This is something that some viewers won't be able to overlook as the film often feels slow during the more mundane events. Seeing things like Jane riding an elevator, eating cereal, and answering phones isn't going to provide anyone with pulse pounding thrills or action they may crave. The film has an everyday type of feel with its slacker coworkers, unresponsive human resources, and lack of appreciation. Like Jane in her current predicament, The Assistant often feels stuck in gear and lacks some emotional investment. As all of the misconduct takes place behind closed doors, the only thing Jane (and the audience) can do is speculate. This is unlike a film like Craig Zobel's Compliance where viewers sympathize with the victim in every obscene moment.
Our Score
Regardless, The Assistant's efforts to shine a light on the more salacious and unprofessional aspects of Hollywood don't go unnoticed. Knowing that someone like Harvey Weinstein ended up behind bars for his self-fulfilling efforts is a reward in itself after watching The Assistant. Perhaps a film like this is part of the healing process as filmmakers like Kitty Green can freely open a dialogue on such a real issue in the business. The Assistant is a courageous piece of cinema strengthened by a bold performance by Julia Garner. What it may lack in classic moviemaking magic, it makes up for in raising much needed awareness.
*The Assistant is currently available for rent or purchase on video-on-demand platforms like Amazon, YouTube, Google Play, and Vudu.*