Films about celebrities, politicians, cultural icons, or basically anyone famous always carry a different level of interest than your standard narrative films. Historical features and biopics already have a built in audience from fans and the general public also loves to witness a good personal story unfold onscreen. But what if a film that features legendary real-life characters wasn't a biopic? What if said film really wasn't based on fact and, instead, was more of a speculative tale about these characters? Oscar winning actress Regina King tackles this strange premise in her feature film debut, One Night in Miami, where four icons come together for one somewhat mysterious evening in 1964.
Most people know King from her time in front of the camera as opposed to behind it. She's had a lengthy acting career that began in the mid 1980's with a role on the television show, 227. From there, King went on to have supporting roles in films like Boyz n the Hood, Friday, and Jerry Maguire while also making regular returns to TV with shows like Southland, The Boondocks, and, most recently, HBO's Watchmen in the lead role of Angela Abar/Sister Night. Despite her career spanning across four decades, it wasn't until her role as Sharon Rivers in Barry Jenkins' If Beale Street Could Talk that King finally gained some mainstream notoriety. She was a heavy favorite and, ultimately, took home the Oscar for Best Performance by an Actress in a Supporting Role. King also isn't unfamiliar with manning the director's chair as she's directed a number of TV episodes for various shows. As previously mentioned though, One Night in Miami is her first foray into feature length narrative storytelling.
The film mostly takes place on February 25th, 1964, where Cassius Clay/Muhammad Ali (Eli Goree) wins boxing's world heavyweight championship. In Miami for the event are Cassius AKA Cash's friends who all intend to get together following the title bout. Cleveland Browns fullback, Jim Brown (Aldis Hodge), calls the action in the ring while soul singer Sam Cooke (Leslie Odom Jr.) and human rights activist Malcolm X (Kingsley Ben-Adir) watch their friend from the crowd. Following the match, Cash, Jim, Sam, and Malcolm all take refuge in a room at the Hampton House. Though three of the four men expect a party, Malcolm has other plans as the quartet of African icons instead clash, debate, and discuss their roles in the civil rights movement and their influence on the ever-changing world around them.
One Night in Miami is a very intriguing experiment of a film from start to finish. Written by Kemp Powers and based on his stage play of the same name, the film is essentially hypothetical nonfiction. Cassius Clay winning the world title on that particular date in Miami was a real event as was the meeting between the four friends at the Hampton House following Cash's upset victory. However, the discussion topic and details behind the meeting remain a mystery to this day. The story that Powers chooses to tell has the four waxing intellectual about their influences and importance to current society. Could this have been the actual conversation taking place in that specific hotel room? Maybe. It does fit in with the other real-life occurrence of Cassius Clay joining the Nation of Islam shortly after his title win and becoming Muhammad Ali. Perhaps the meeting was nothing more than four friends hanging out and celebrating a big moment. Regardless, it's fun to speculate and both King and Powers bring a compelling and relevant tale to life here.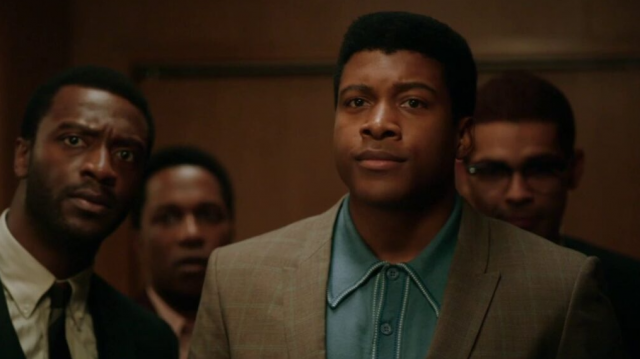 With recent social trends like #OscarsSoWhite and, especially, the more sweeping #BlackLivesMatter movement, there has been an interesting shift in predominantly African American centric stories and filmmaking. Of course, legendary director Spike Lee has capitalized on this with powerful films like BlacKkKlansman and Da 5 Bloods which draw parallels between the past and present in terms of racism. Then, there have been other films like Blindspotting, Just Mercy, and The Hate U Give which deal with the ideas of race, class structure, and the opposition as well. Though, One Night in Miami feels more reminiscent to the recent film adaptations of the late August Wilson's stage plays, Fences and Ma Rainey's Black Bottom. Instead of the characters fighting against some kind of outside force or a common enemy, the turmoil comes from within. While there's certainly an air of racism and a rebellious overall tone, there's also the feeling of community and togetherness in the struggles of the many as opposed to the few. Stylistically, One Night in Miami is basically just people talking for two plus hours but the conversation is, again, both compelling and relevant. This is a film where words mean everything and action takes a backseat.
This is not only a huge testament to Powers' screenplay but also the amazing cast that's been put together for the film. Of course, the four main actors make the film but even support characters like Lance Reddick's Kareem X and Christian Magby's Jamaal make lasting impressions. Yet, when it comes to the main cast, you'd be hard-pressed to find one more impressive. There's a unique dynamic within the group as Malcolm and Sam are essentially polar opposites in their approach. Malcolm X's hard headed activist mindset drives the narrative of the film as he aims to fight for what he believes to be right. On the flipside of that, Sam Cooke panders to his audience by trying to write radio friendly hits lacking in meaning and soul. Kingsley Ben-Adir and Leslie Odom Jr. are absolutely fantastic as they verbally spar with one another. Ben-Adir's Malcolm lambastes Odom Jr.'s Sam for his disastrous stint in front of a white crowd at the Copacabana while Sam confronts Malcolm for his self righteousness. Both bring up valid points against one another while only wanting more out of each other. Stuck in between is the Aldis Hodge's Jim Brown who acts as a voice of reason between the two and Eli Goree's impressionable Cassius Clay who's being molded by Malcolm without really understanding the choices he's set to make. The real-life group features an odd assembly of icons and the cast really brings it to life. These are four distinct characters with completely different backgrounds and motivations but, as a viewer, you can still understand their friendship.
When it comes to negatives, there's really not much to say about One Night in Miami. One could say that maybe the film gets a bit preachy at times but that's understandable given Ben-Adir's portrayal of Malcolm X. It's not preaching for preaching's sake as it's part of the character and often a point of contention between the friends. Because of this, the film really does carry a strong, influential message in a time when people could really use one. Someone could also argue that Aldis Hodge doesn't get enough time to shine as Jim Brown which is partially true. Hodge does a really great job but, as the voice of reason, his character doesn't have as much of an arc in the way that the others do. Finally, it may be unfair to dock the film for this but it doesn't quite have the long lasting effect on an audience the way that the aforementioned Fences or Ma Rainey's Black Bottom do. In those films, the drama reaches heights that this one doesn't and leaves a more impactful and lasting impression by the end.
Our Score
Either way, One Night in Miami is a wonderful feature length debut for Regina King. Having already proven herself as a powerhouse onscreen in a film like If Beale Street Could Talk, King does it now in the director's chair. It can't go unmentioned that, for a debut, King takes on an unbelievably bold and complex story. With historical relevancy, a legendary cast of characters, and a secretive meeting at its center, One Night in Miami is not only an experiment in filmmaking for an emerging talent but also a surprisingly successful one. There's never a moment where you think that things didn't happen just the way they're depicted in the film. Even though we may never know the real story behind that night in the Hampton House with Malcolm X, Jim Brown, Cassius Clay, and Sam Cooke, movie fans will now have the excellent One Night in Miami to speculate and discuss.
*One Night in Miami is now available for streaming on Amazon for Prime members.*