Alright, alright. We've all seen the countless memes revolving around recent Netflix release, Bird Box. The internet practically exploded the very second the film dropped on the streaming service at the tail end of 2018. While visuals of Sandra Bullock's Malorie as a Teenage Mutant Ninja Turtle or doubling for Chicago Bears kicker Cody Parkey during his infamous shanked  blocked field goal last Sunday night are humorous, there's still an entire film to discuss. Now that everyone has had time to watch it, is Bird Box really all that it's cracked up to be or is it now just an overhyped product of internet culture?
The film is actually an adaptation of Josh Malerman's 2014 debut novel of the same name. Eric Heisserer, who also wrote 2016's excellent science fiction drama, Arrival, handles screenwriting duties. Since Bird Box, Malerman has had four additional books published with another, Inspection, on the way this year. Along with his career as a writer, Malerman also fronts a band called The High Strung. To date, the group has released seven full length studio albums.
The story of Bird Box is told primarily over two different time periods. It stars Sandra Bullock as Malorie, a strict mother who informs two children that they will be heading down river in a boat while blindfolded. She tells them that if they remove their blindfolds, they will die. The film then backtracks to five years earlier before the apparent end of the world as we know it. Malorie is pregnant and heading to a doctor's appointment with her sister, Jess (Sarah Paulson), when the population begins to go insane. Upon seeing unknown entities, victims are entranced and are forced to commit suicide. Chaos ensues and Malorie is eventually taken into a home by a group of survivors. While things are obviously tense, the group mostly cooperates with one another. Other survivors are allowed into the home and one of them becomes the group's undoing. As the film fast forwards, Malorie seeks to move herself and the children to sanctuary without the use of sight.
Before we delve into the film, it must be stated that the cast for Bird Box is ridiculously impressive. While some of the names may not stick out to a casual viewer, there's recognizable talent all over the film. Of course, Sandra Bullock is a star and puts in another solid performance here. As Malorie, there's a sort of sadness to her character for various different reasons throughout the film. Yet, she's as strong and caring as she is defiant when dealing with some of the other survivors. As she accompanies the children, Malorie is very coarse and unkind to them as if she represents the cold and careless world they've been brought into. Viewers do get to see her motherly side also as she hysterically panics at the prospect of losing them.
The supporting cast consists of actors like Trevante Rhodes, John Malkovich, Jacki Weaver, Tom Hollander, BD Wong, and even rapper Machine Gun Kelly. Malkovich has been a mainstay in Hollywood for decades while Rhodes had a starring role in 2017's Best Picture winner, Moonlight. Weaver was a recent Best Supporting Actress nominee for both Animal Kingdom and Silver Linings Playbook while Hollander appeared in last year's wildly popular Queen biopic, Bohemian Rhapsody. Wong has been a longtime cast member on Fox's Gotham as Batman villain Dr. Hugo Strange. As the film continues, you're able to keep picking out talent from their other recent successes and all do a good job in this film.
As you may imagine due to the film's buzz, there's at least an intriguing story at Bird Box's core. The plot does jump around a little but it isn't difficult to follow or understand. The storytelling mechanic in general is a bit of a double edged sword though. By relaying some of the later events early in the film, it's easy to assume what happens during some of the flashback scenes. This also causes the film to drag just slightly during its second act. As you learn more about the characters, you're genuinely interested in them. Again though, it's hard to become too attached to what's happening at times since the writing is apparently on the wall as to what inevitably happens.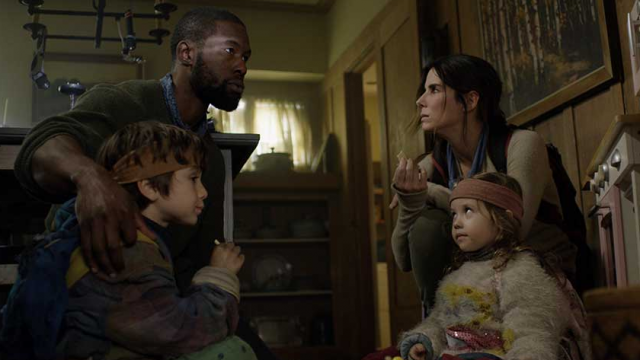 The biggest problem with Bird Box overall is that it feels like a story that's a bit late to the party. Even Malerman's original novel was published following the release of films like The Happening and The Road. Post-apocalyptic wasteland stories have become something of a norm in modern media with properties like The Walking Dead and the Fallout video game series having their own stake on the market. While being an interesting story in its own right, Bird Box doesn't necessarily feel like it does anything all that new. Then, you have John Krasinski's film, A Quiet Place. Essentially, Bird Box is the same film with sight taking place for A Quiet Place's sound when it comes to avoiding each film's respective monsters. Had Krasinski's film not come the same year, maybe Bird Box would've felt a bit more original. Then again, A Quiet Place was excellent so it's doubtful that it'd be able to fully separate itself regardless.
Our Score
Ultimately, Bird Box is a tough film to fully rate. As was previously mentioned, the post-apocalyptic market simply feels oversaturated at this time. Is it fair to downgrade the film for that though? Then, when you recognize how similar it is to A Quiet Place, it's hard to praise it too much either. That film is a much more satisfying experience in general. Though all of these things do need to be taken somewhat into account, Bird Box certainly does hold up in terms of its own merit as well. It's a well acted and put together film by a veteran director in Susanne Bier. It may not be worthy of the praise and hype heaped upon it but it's a solid watch. If absolutely nothing else, we still got all of those great memes to remember it by.