While cinema has the ability to be an emotionally and psychologically deep medium, sometimes all that viewers are looking for is a little fun. It's great when a film can be mentally stimulating but then there are instances where all that's needed is a brief escape from the real world. Writer/director Philip Vickery certainly recognizes and capitalizes on this with his amusingly lighthearted debut short film, Reina.
The film begins with two people on their first date. Seth (Sergio Castillo) recalls a confrontation he had with his ex's new boyfriend while his date, Michelle (Kat Pena), texts away on her phone. Seth realizes that he has been hung up on the subject throughout the course of the entire date before Michelle decides to call it a night. Apologetically, Seth pleads with her to stop at one more bar and get a drink. They enter a nearby bar only to be met by three Russians who appear to be up to no good. They hold the couple hostage as they hear the story of Seth's latest struggle and sympathize with him much to Michelle's bewilderment.
As always, we won't spoil any of the film's surprises here so the plot details won't be discussed in depth. What we can say is that Reina is a film that's a lot of fun. The mood is always kept charming and lively. The early misunderstanding between Seth and Michelle doesn't show either of them in a negative light or being too overbearing. Even the film's "villains" add to its jovial nature by keeping them playful and entertaining. The film is also able to feel relatable throughout its comical moments. It's not uncommon for people to relate situations or conversations to past relationships and that doesn't always make a potential partner happy. In addition, again without ruining anything, it also doesn't take much for perfect strangers to bond over seemingly trivial things as they do in this film either.
For a film debut, Philip Vickery crafts a very technically sound product with Reina. As we've seen with other recent shorts and low budget indie films, Reina keeps things simple with generic, every day settings like a restaurant, bar, and the city street. Yet, the film is packed full of life due to things like customers filling the background of the restaurant or cars swarming the street behind Seth and Michelle. These details may just be happy accidents but something so obvious is often forgotten in low budget filmmaking. In this case, the locations selected have personality and never seem lifeless or uninteresting. Much of this can also be credited to the cinematography from Daryl Marc as well as great camerawork and editing. There are a number of funny moments that simply stem from timely edits and aesthetically pleasing shots.
However, the heart and soul of Reina is in its cast of characters. Both Sergio Castillo and Kat Pena as Seth and Michelle respectively are relatable and instantly likable despite their misunderstanding. There's a natural chemistry between the two and viewers will be immediately drawn to their interactions because of it. Pena in particular provides some wonderful facial expressions that define her character and the peculiar situation she finds herself in. Unsurprisingly, she was nominated for Best Actress at the Portland Comedy Film Festival in 2018. The three Russians, Sergey (Travis Mitchell), Dmitry (Ron Orlovsky), and Vlad (Woodrow Proctor) provide Reina's funniest moments as their tough guy demeanor is quickly stripped away upon learning of Seth's predicament. All three have their separate funny moments as a perfect comedy trio. Like Pena, Travis Mitchell found himself nominated for Best Supporting Actor at the Northern Virginia International Film and Music Festival where the film was also nominated in both the Best Romantic Comedy and Best Comedy categories.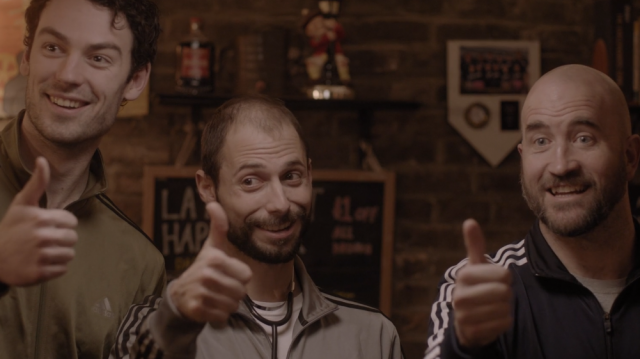 Frankly, there really aren't any negatives to the film as an overall experience. Though, Reina does lack that inexplicable "it" factor. It's missing that little extra something that sets it above its contemporaries. Instead, the film is one that may not immediately come to mind after viewing it but, once it does, you remember how much fun it truly is. Perhaps it lacks due to a defining moment or characteristic but it's hard to say what exactly is missing. That being said, this is a total nitpick as there's no other outright issue with the film on any front.
Our Score
Nitpicking aside, Reina is a great time from start to finish. Sure, it doesn't have an emotionally complex story nor will it have you thinking long after the credits roll. As previously mentioned, the film is simply fun. It feels like the cast and crew had a good time making it and it comes across as a viewer. The crew does an excellent job creating and populating the world of the film while the cast keeps the laughs coming. At a little over fourteen minutes, Reina is an enjoyable and worthwhile watch from a talented first time writer/director in Philip Vickery.
Watch the full short film below.
Reina from Philip Vickery on Vimeo.