With Game of Thrones taking a year long hiatus before its final six episodes, HBO has been left with a massive hole in terms of content. No, the universally acclaimed fantasy drama isn't the only television series on the long running cable channel. Shows like Ballers, Dwayne "The Rock" Johnson's football dramedy, and Insecure are the current features. However, HBO has also had some success with miniseries. Last spring, the star studded Big Little Lies was all the rage. In fact, it was so successful that the miniseries was renewed for a second season. This past Sunday, another miniseries wrapped its inaugural, and supposedly only, season. HBO's tension laden murder mystery, Sharp Objects, concluded in typical cliffhanger fashion leaving fans clamoring for more.
The show is based on Gillian Flynn's 2006 debut novel of the same name. Flynn is also responsible for 2009's Dark Places and 2012's Gone Girl. Both novels received film treatments with the latter being directed by David Fincher and the recipient of much acclaim. Marti Noxon, writer and executive producer of Buffy the Vampire Slayer, serves as the creator of Sharp Objects. In addition, Jean-Marc Vallée, director of Big Little Lies as well as films like Dallas Buyers Club and Wild, directs the miniseries.
The plot sees an emotionally troubled reporter, Camille Preaker (Amy Adams), return to her hometown of Wind Gap, Missouri, following the disappearance and subsequent murders of two young girls. She's coaxed by her boss, Frank Curry (Miguel Sandoval), in an effort to not only get a good story but to also mend her relationship with her mother, Adora Crellin (Patricia Clarkson). Upon her arrival, Camille immediately finds herself clashing with the overbearing socialite, Adora. She also bonds with her young, impressionable half-sister, Amma (Eliza Scanlen), who's not exactly who she seems to be. As Camille begins her investigation, she's met with resistance from most of Wind Gap's population including Police Chief Vickery (Matt Craven). Though, her and Kansas City detective, Richard Willis (Chris Messina), do share similar theories regarding the murders.
As the series continues, old wounds are opened as Camille frequently revisits memories of her other half-sister, Marian (Lulu Wilson), who tragically died in their youth. Adora treats Amma, and Marian before her, like a real-life doll and babies her relentlessly. Adora's husband and father to Marian and Amma, Alan (Henry Czerny), is passive and easily manipulated. Camille, who had always been the black sheep to her mother, turned to self-harm as a coping mechanism but now resorts to alcoholism instead.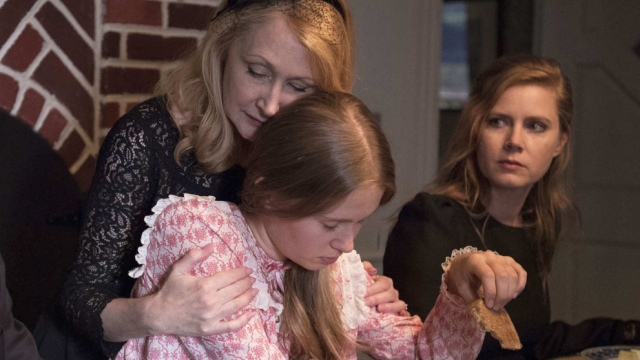 One of the first things you notice about Sharp Objects is its joyless tone. Every scene is littered with mystery, tension, and resentment no matter which characters are onscreen. Characters like Chief Vickery and Detective Willis should, in theory, work together to solve the murders. Yet, Vickery has no desire to listen to Willis's claims. Of course, the toxic relationship between mother and daughters is prevalent throughout the entire series. Though, Amma thrives on being given attention and plays the part of being an innocent mama's girl by day and a bullying party girl by night. Even the relationship between Amma and Camille reaches uncomfortable heights as Amma plays it cool in front of her friends.
Sharp Objects may be bleak but that doesn't mean that it's bad by any means. In fact, the entire eight hours is captivating. It's like a mix between David Fincher films like Seven and the aforementioned Gone Girl along with The Machinist and, say, Mystic River. There's even a splash of Twin Peaks in there with the small town mystery aspect. The series offers up an agonizingly slow burn in which viewers continuously learn more about the characters. However, the more you learn, the more in the dark you become. There's no doubt about it that there's something terribly wrong with each and every character and no one is quite who they seem.
The acting is excellent from all involved. Patricia Clarkson's Adora appears everywhere and has her fingers on the very pulse of Wind Gap. You can't stand her character's obsessive nature but her performance is so good that you want to see what she does next. Relative newcomer Eliza Scanlen excels as Amma. At first, you feel for her as Adora keeps her sheltered but soon you realize how vile she can be to people at times. Like Adam Driver's recent performance in Spike Lee's BlacKkKlansman, Scanlen is able to flip the switch to go from sweet and innocent to heartless in a moment's notice. As usual, Amy Adams shows that she continues to be one of the most recognized, yet underrated, actresses in Hollywood. Her work in both Arrival and Nocturnal Animals, sadly, went ignored during the 2017 award season. Her role as Camille Preaker reaches those heights again in Sharp Objects.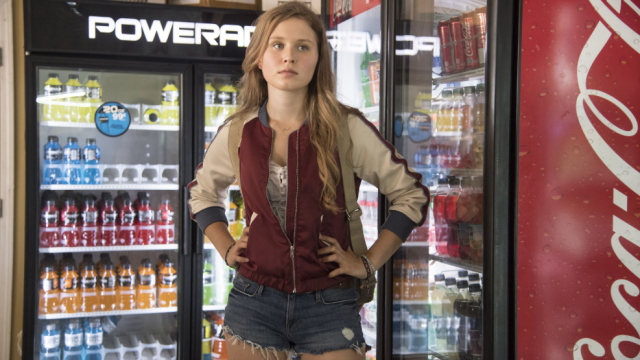 As is always the case, Sharp Objects isn't perfect. While the murder mystery does keep you interested throughout all eight episodes. The series does start to drag a little around episodes five and six. Episode five sees Wind Gap celebrating Calhoun Day. With an unsolved murder, it seems strange that all of the characters would go to this event. Chief Vickery dresses up for it and even Detective Willis makes an appearance. It's around this time that you realize how little detecting is actually happening most of the time. The episode also shows Adora's position and reputability within the town. However, it doesn't resonate as much as one would like due to the main cast of characters being quite small. This is unlike a show like Twin Peaks where the large cast of characters all leave an impact on the audience. Although the core cast is great, it feels like Sharp Objects is sorely missing some supporting talent.
That being said, the complaints are very minor considering how enthralled you are throughout the rest of the show. As you progress, the deeply buried secrets come out and pull you back in. Even when the series slightly drags, the ending commands your full attention despite being a bit muddled at times. It has already been stated that Sharp Objects won't return for a second season. In addition, Gillian Flynn's novel was fully covered during this limited run. However, Big Little Lies had been in the same boat and a second season is currently slated for a 2019 premiere. Regardless of whether Sharp Objects gets a second season or not, the current limited series is not to be missed. It's dark, emotionally brutal, and mentally draining but also paints human beings as the frail and fragile creatures that they can be.