Films that focus on the effects of drug use are not uncommon in modern cinema. There are those that use it for comedy like Half Baked and Pineapple Express. Then, there are films that romanticize drugs like The Wolf of Wall Street. However, some of the most impactful films on the matter are those that focus on the harsh reality of drug addiction and the consequences that eventually follow. Films like Down to the Bone, Candy, and Requiem for a Dream all showcase the highest of highs and lowest lows with their compelling, yet uncomfortable, drama. It's in this batch of films that Andi Morrow's short directorial debut, Pusher, also resides.
The film centers around Brittany Lee (Morrow), a small time drug dealer in an Appalachian town. She gets in a spat with Hailey (Dara Tiller), a colleague who's trying to get out of the drug trade, after Hailey brings her a final stock of pills. Then, she reconnects with her high school sweetheart, James (Levi Krevinghaus), when dealing to him. From here, Brittany Lee embarks on a brief journey of self rediscovery and repentance for the harm she has caused herself and others.
The story itself isn't anything that viewers haven't seen before. Yet, there's always an appeal when a film feels like it legitimately has something to say. The film is something of a passion project for Andi Morrow who writes, directs, and stars. She launched an Indiegogo campaign which raised over $12,000 for the film. On the campaign site, Morrow states that she was inspired to write the story from loved ones affected by addiction and her belief that they can overcome it. In addition, the film's goal is to inspire Appalachians to take back themselves and their communities from their vices. Given its focus on community, Pusher feels somewhat reminiscent to films like Winter's Bone or Wind River which center on specific regions that experience hardships in ways unseen by most people.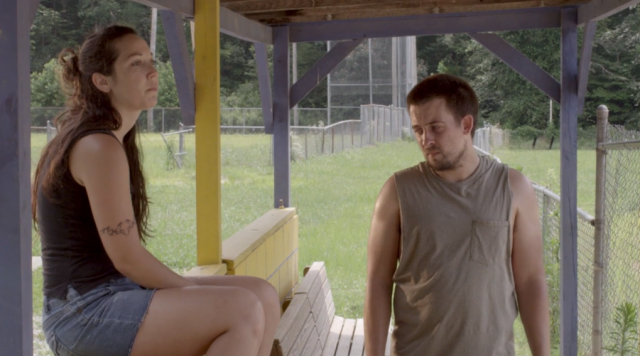 Needless to say, Morrow does an excellent job conveying her message. From start to finish, she perfectly portrays a conflicted main character and captures a troubled sense of community. Yet, there are still semblances of good throughout the entire film. Even though Brittany Lee's drug peddling is frowned upon, you see her spot a dollar to someone in need at a store. She also visits her Mamaw (Cindy Ralston), brings her some things, and attends church. Despite being on the wrong side of the law, Morrow's Brittany Lee does have morals and still honors family. As for the community itself, its inhabitants tend to remain strong in presentation. One of the best examples of this is Cynthia D. Perry's character, Barbara, whose kindness and positivity overshadow her deeper familial problems later on. This character alone accurately embodies Morrow's message throughout the entire film.
It can often be difficult for a short film to fully flesh out its world due to runtime. Though, that isn't the case with Pusher. The small, rustic interior locations combined with the beautiful exteriors used throughout the film help viewers to understand the region. For those who live in larger cities, the Appalachian town feels like someplace that you may visit or, perhaps, drive through on a trip. For others, it's life. Real people live in regions such as this and face the same type of problems as all humans do. Issues such as Brittany Lee's resonate that much more in a smaller community and the film does a good job showing the hardships that these residents face both direct and indirect.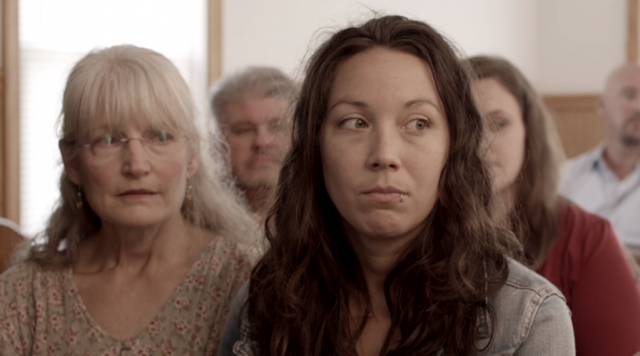 The only missed opportunity of Pusher is that it doesn't take its story just a little bit further. As it plays out in its current state, the film is great and gets across its message. Yet, the struggles of addiction and the catastrophic effects it has on people and the community feel somewhat tame here. Aforementioned films like Down to the Bone and Requiem for a Dream go all out to make viewers uncomfortable. In these films, you really feel like the characters' lives are falling apart. With Pusher, drug usage feels more like an inconvenience than a life changing habit. Of course, not everyone wants to see things that grim and, in that regard, the film remains less exploitative. It's still fair to wonder if the film's message of redemption could be even stronger if the characters had more to overcome.
Our Score
As it stands, Pusher is a wonderful directorial debut for Andi Morrow. The drama of this region could've maybe been explored a little more but the film hits hard regardless. The great acting, compelling depiction of a region, and the moral conflict in question enhance its optimistic message and support for the Appalachian region. Ultimately, Pusher is the type of film for anyone that knows or is a drug user and is searching for answers. It's a touching tale that doesn't only speak to people of the Appalachian region. Its reach is universal.
Check out the trailer for the film below.