A little over two years ago, we reviewed a fantastic short film called Here Lies Joe from writer/director Mark Battle. It was one of the first shorts received here at Cinema Smack and, since then, we've opened our eyes to a greater world of short-form cinema and have been able to share dozens of others from an array of talented filmmakers. We described Battle's Here Lies Joe as "perfectly morose," a description stolen from a line in the film, with a splash of humor. Now, Battle has provided us with another somber, yet gripping, tale in the form of his most recent short, The Music.
The film, which serves as a standalone/sequel to Battle's 2013 short, The Janitor, returns actor Michael Anthony Coppola to his role as Dominic. Dominic is a "cleaner" who specializes in cleansing hitman crime scenes of incriminating evidence. In The Janitor, Dominic was ordered to finish a botched job. In this new film though, things take a turn. The film opens with him cleaning up a recent job as his trusty transistor radio struggles to maintain reception. Dominic soon decides that he has cleared his last crime scene and intends to disappear.
The plot of the film is simple but effective. It's not the first time we've seen something of this ilk as feature length films like Carlito's Way and Blow have shown past criminals trying to go legit later in life. There was even the 2007 film, Cleaner, that starred Samuel L. Jackson as a crime scene cleaner. That being said, The Music never feels unoriginal, stale, or uninspired. The film's 19 minutes move along briskly and immediately put you alongside Coppola's Dominic. As a character, you don't learn a ton about him over the course of the film but it's not hard to understand his motivation. While this is technically a sequel to The Janitor, you won't be lost watching it as a standalone. Battle has a clear understanding of this character and the story he's trying to tell allowing you to jump right in.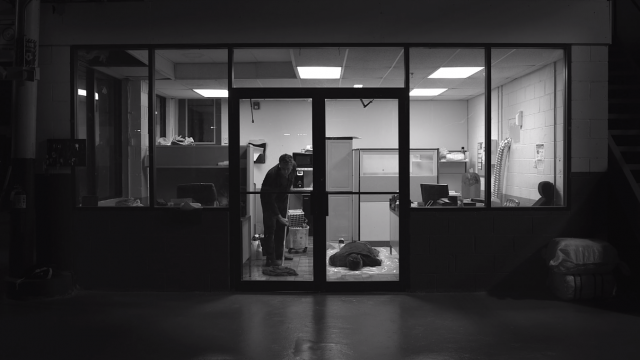 Speaking of character, Michael Anthony Coppola picks up where he left off in his second go-round as Dominic. For the most part, Dominic seems to be a quiet and unassuming individual. He keeps his mind on his work and, as long as his music is playing, he never wavers no matter the crime he's cleaning up after. Yet, through dialogue but also action, viewers can sense Dominic's desire to get out of the life he has fallen into. He enjoys the little things as he sketches in his notebook or eats a pedestrian breakfast at the local diner. Coppola's performance is of a man who did what he had to do to earn a living and an eventual way out. The rest of the cast serves their respective roles well but Coppola is the obvious standout. Maria Natapov, Gene Ravvin, and Mary Hronicek have limited, but crucial, screentime with Natapov and Ravvin representing polar opposites for the direction of Dominic's life.
One thing that helps the plot and the feel of the characters is the film's overall tone. It remains serious from start to finish without being overly dramatic or mundane. While it's true that there aren't a whole lot of events to grab your attention, the realistic makeup effects and cruelly realistic handling of Dominic's depraved duties keep you engaged. The film's music, which is handled by Duncan Watt, is the only semblance of color or life in the film as the only thing that motivates Dominic to go on. Here, it's used to perfection but also as a source of frustration and sadness as well. The consistent and deliberate tone is reminiscent of the "perfectly morose" style of Here Lies Joe but also feels fresh for this story. The tone is also a perfect continuation of the one established in The Janitor.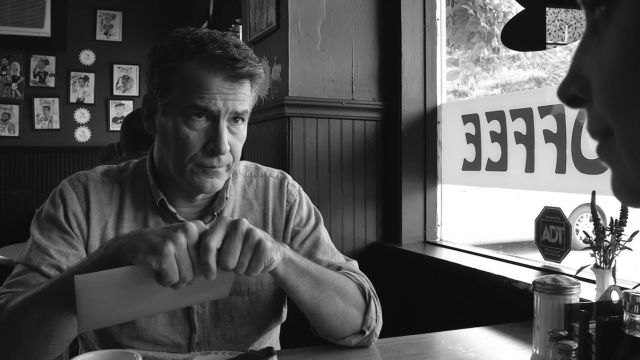 As was also the case with Battle's other work, the cinematography and camerawork throughout The Music is simply excellent. We commended these things in our review for Here Lies Joe and The Music is no different. In addition to writing and directing, Battle also handles the cinematography and editing of the film. Simply put, he knows how to shoot a beautiful looking film. Every shot has so much detail that even the most standard locations feel interesting. Also, there's something to be said about black and white filmmaking. We recently reviewed another black and white short entitled H-24 where the sharp imagery and overall contrast make the images pop. The same can be said for The Music. There's no doubt that both this film and The Janitor would've looked nice in color just like Here Lies Joe but, for some reason, the monochrome really fits for this subject matter and story.
Our Score
Frankly, there's nothing bad to say about The Music. It's not too often that we cover a film with no flaws but it seems that this is one of those rare cases. Everything about the film is expertly done. The concise writing, sharp visuals, and solid character work are superb throughout. Even the film's story provides a nice little twist in what's expected to be a predictable outcome. Perhaps the only nitpicky flaw we could mention is that this film doesn't quite have as much dramatic tension as its predecessor. However, the films fit so perfectly together and both feel equally important to Dominic's story. When all's said and done, The Music proves how impressive short filmmaking can be when in the right hands. Given all of his phenomenal work on short films, it's safe to wonder what Mark Battle could do with a full length feature.
*The Music is currently on a film festival run. Click here to check out the teaser trailer on YouTube.*