Lack of originality in Hollywood is something that's talked about very often among moviegoers. When the market is littered with… Wait. This all seems very familiar. This is exactly how we started out our review of Greta Gerwig's Little Women at the end of last year. Well, we're treading some familiar territory with a new adaptation of a nineteenth century novel from a female author. This time, first time feature length director, Autumn de Wilde, tackles Jane Austen's 1815 novel, Emma.
Austen was an English novelist who's mostly known for her six major titles: Sense and Sensibility, Pride and Prejudice, Mansfield Park, Emma, Northanger Abbey, and Persuasion. The latter two titles were both released posthumously after Austen's death in 1817 at the age of 41. Oddly enough, there has been some mystery behind her cause of death with many believing it was either from Addison's disease or Hodgkin's lymphoma. Then, there are others who believe she died from arsenic poisoning. Either way, most of Austen's popularity came after her passing and her work has gone on to spark countless film and television adaptations. All of her novels have made it to television while four of them have been made into feature films. Her 1813 novel, Pride and Prejudice has the most adaptations with Emma coming up second. Prior to this 2020 film, there were two features with the first being released in 1948 and the second in 1996 starring Gwyneth Paltrow. There were also three TV miniseries and a made-for-TV film. Additionally, the 1995 cult teen comedy, Clueless, was a modernized loose adaptation of Austen's novel.
The 2020 version of Emma. opens with the titular Emma Woodhouse (Anya Taylor-Joy) and her hypochondriac father, Henry (Bill Nighy), attending the marriage of her governess (Gemma Whalen) and Mr. Weston (Rupert Graves). Content with her matchmaking success in uniting the Westons, Emma takes on a new challenge as she mentors young Harriet Smith (Mia Goth). Harriet is often smitten with her prospective suitors but Emma intends to make the perfect match. Emma's arrogance and lack of empathy are often on full display especially when dealing with her devil's advocate playing friend, George Knightley (Johnny Flynn). Though she insists that she's not interested in a romance of her own, Emma frequently finds herself as the center of attention and is maybe not as cut out for matchmaking as she originally believes.
Even if you've never read Austen's novel, the story of Emma. feels almost too familiar. It's a standard formula that has been used in countless films and shows over the years. A young girl gets in over her head and has issues juggling what she wants and what the others around her want. Simply put, it's a classic coming-of-age story which is why it has been revisited time and time again over the past two centuries. Fundamentally, there's nothing really wrong with that as it has proven to work in the past. However, it doesn't feel like this 2020 adaptation brings anything all that new to the table. While watching the film, you can see the twists and turns from a mile away and you basically know exactly where the film is heading immediately after it starts. This even makes the film feel a bit long since it takes a while to get to the point even long after the audience already knows what's happening. Again, there's nothing wrong with just adapting the story but you do question its value and purpose at times.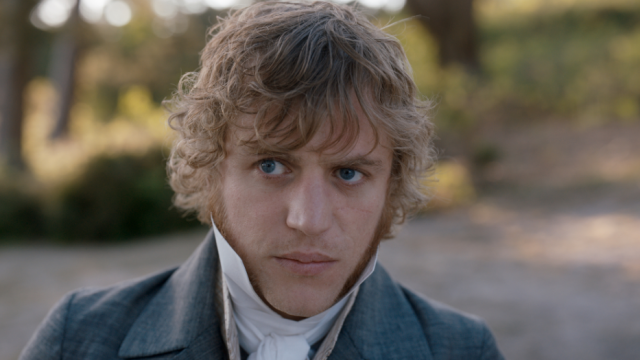 That's about the worst we can say about Emma. though. Everything else about the film is just so well done. Firstly, the direction from Autumn de Wilde is wonderful. She clearly knows the source material and excels at leading viewers through the story. The look and feel of the world is colorful and elegant with some amazing locations, set design, and costuming. Oscar winner Alexandra Byrne is a logical choice as costume designer here given her past work on a number of other period pieces. In fact, all five of her Oscar nominations (and one win) have been for period dramas with the most recent being 2018's Mary Queen of Scots. It wouldn't be a shock to see her nominated once again for Emma. The title character especially goes through numerous wardrobe changes with each one more extravagant than the next. When it comes to the musical score, David Schweitzer and Isobel Waller-Bridge are all over the map. The film begins with some playful Disney-esque pieces but are also countered with some more dramatic ones later in the film. Regardless, there's always a bit of fantastical whimsy to the score and it works quite well in the context of Emma.
The lighthearted and humorous nature of the film complements the audio and visuals of the film greatly as well. Of course, the story takes some serious turns at times but there's always an innocence to it. The characters we're meant to sympathize with are young and make their fair share of mistakes. Though, they never seem to do so with malicious intent. Emma's interactions with the simple-minded Miss Bates (Miranda Hart) and her orphaned niece, Jane Fairfax (Amber Anderson), are often humorous despite Emma's seeming dislike of them both. However, there are some great character building moments in their scenes and, again, the film never gets overly dramatic or mean-spirited. Much of the humor is quite dry which may turn off some viewers but this film also doesn't feel like it's made for your standard slapstick comedy audience either.
Even with all of the praiseworthy aspects of the film, Emma. ultimately thrives because of its characters. From top to bottom, the cast is excellent. Supporting characters like Josh O'Connor's Mr. Elton to the aforementioned Miranda Hart as Miss Bates are all spotlighted and have their own unique relationships with Emma. Sticking with the comedy theme, any time O'Connor's dopey Mr. Elton's onscreen is usually a highlight. The same can be said for Bill Nighy's neurotic Henry Woodhouse even though he seems to disappear far too often from the story. Mia Goth is great as Harriet Smith in a completely different type of role than past performances in films like A Cure for Wellness and Suspiria. Johnny Flynn is another standout and a capable foil for Emma as Mr. Knightley. Knightley is the genuinely kind-hearted person that Emma is only said to be by her admirers. Obviously though, it's Anya Taylor-Joy who benefits most in the title role. She has turned in some excellent performances mostly in horror films and thrillers like The Witch, Split, Thoroughbreds, and Marrowbone. None of those roles represented such a command of the screen as her performance as the charismatic and contentious Emma Woodhouse. It's exciting to see where her career goes from here.
Our Score
While there's a lot of praise to be heaped on Autumn de Wilde's Emma., we still find ourselves coming back to the overall story and purpose. As previously mentioned, it's fine. It has worked before, it works here, and it'll probably work in the future too. It's just that we've seen all of this elsewhere before. From a technical standpoint, the film is top notch. It's beautiful to look at and fun to listen to. Seeing all the manipulation, silliness, and miscommunication of the characters has a charm of its own and is enough to keep viewers interested. Though, it's doubtful that people will find themselves returning to it again and again since you'll easily absorb everything in one sitting. Thanks to its talented cast and crew, Emma. is a perfectly acceptable film that feels like a suitable way to burn two hours. We probably don't need another adaptation any time soon though.