Recently, we've been questioning what's going on with Disney in terms of their major film releases. The quality of some of their biggest properties has started to drop at quite an alarming rate. Of course, they're still making money hand over fist. Yet, it seems as if public interest is beginning to dwindle as Disney's ambitions appear to be cratering. With questionable films like Solo: A Star Wars Story, Captain Marvel, and, most recently, Aladdin failing to meet fan expectations, lower returns will eventually follow. Perhaps then it's very timely that Disney's newest collaboration with Pixar is set to release this weekend. It's even more fortunate that they make a return to the franchise that kickstarted Pixar which has been one of the most consistent studios in terms of quality. Yes, Toy Story 4 hits theaters this weekend and the timing couldn't be better to rid Disney of the stink left over from recent mishaps.
The genesis of Pixar Animation Studios began in 1974 as Alexander Schure, the founder of the New York Institute of Technology, recruited a group of computer scientists in an effort to create the world's first entirely computer animated film. Members of the Computer Graphics Lab, as it was known at that time, jumped ship to Lucasfilm in 1979 and were rechristened as the Graphics Group. Over the years, the Graphics Group continued working on new technology before working on special effects in films like Star Trek: The Wrath of Khan with Industrial Light and Magic. Pixar became its own corporation in 1986 with funding from Apple co-founder Steve Jobs who would later become the company's CEO. Despite an eventual relationship with Walt Disney Studios, it would be years before Pixar was actually able to begin work on their feature film.
When the original Toy Story hit theaters in 1995, it was absolutely groundbreaking. Though, the production wasn't without its setbacks. Due to the success of Pixar's Oscar winning 1988 animated short film, Tin Toy, production was greenlit for a feature length adaptation of a story based on that film. There was much contention as Disney tried to recruit John Lasseter, writer and director of the short, to return to work for them after being fired years prior. Lasseter decided to stay with Pixar and the two companies were finally able to hammer out a working relationship to bring Toy Story to the big screen. The original draft of the film was very different than the finished product as Tinny, the main character from Tin Toy was still the protagonist.
Walt Disney Studios chairman Jeffrey Katzenberg and other Disney executives gave notes on storyboards and footage clamoring for an edgier product. This morphed Pixar's vision into a disaster that culminated in "The Black Friday Reel." Pixar screened the first half of the film for Disney to an overwhelmingly negative reaction that halted production while Pixar rewrote the script. Of course, the rest is history as Pixar returned three months later with a much improved script and without the "edginess" that Katzenberg urged them for. The characters became less mean spirited and more sympathetic which shaped them into the icons they are today.
As the first computer animated feature, Toy Story stars anthropomorphic toys that live to bring joy to their owner, Andy (John Morris). The plot follows an old fashioned cowboy doll named Sheriff Woody (Tom Hanks) as he sees his rank among the group dissipate upon the arrival of the new, hi-tech spaceman toy, Buzz Lightyear (Tim Allen). The film opens on the day of Andy's birthday party. Woody takes it upon himself to calm the other toys before Andy's party and convinces them that no one will be replaced. As it turns out, Andy's excitement over Buzz quickly threatens to cast Woody aside. Jealously, Woody plots to get rid of Buzz but soon feels remorse over his actions as he and Buzz find themselves away from home. The two must then rely on one another to make it back to Andy before his family moves into their new house.
Toy Story immediately proved to be a massive hit. To date, the film has a 100% approval rating on review aggregator Rotten Tomatoes. It raked in over $370 million worldwide against a production budget of just an estimated $30 million. The film's lovable characters, such as Woody, Buzz, Mr. Potato Head (Don Rickles), Hamm (John Ratzenberger), Rex (Wallace Shawn), and Slinky Dog (Jim Varney), along with the film's wonderful story made Toy Story into an instant classic. There are numerous touching moments where characters must atone for their mistakes and/or help encourage others. As is the case with every Pixar films, there's content for both children and adults along with plenty of life lessons on display. You can even add an iconic soundtrack from Randy Newman that perfectly matches the visuals of the film for good measure.
It would be four long years before a sequel would hit theaters and it was almost not to be. Initially, the sequel was set to be a direct-to-video release like a number of other recent Disney sequels. Though, Disney was impressed by the work done and opted to release the film theatrically. Like the original, the production was plagued by issues as many of the top names at Pixar were working on other projects. Specifically, director John Lasseter was dedicated to finishing 1998's A Bug's Life but was eventually coaxed into taking over duties on Toy Story 2. At one point, it was feared that an animator had accidentally deleted all of the work done on the film. Luckily, the files were backed up on technical director Galyn Susman's home computer. When Lasseter took over the production, the creative team decided to redo the film's story and were somehow able to do so in only nine months.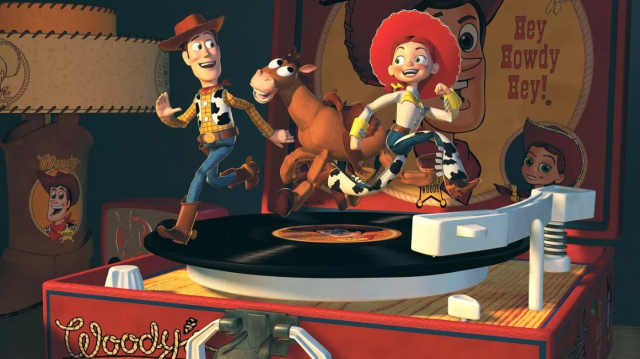 While the original Toy Story explored the duties and responsibilities of bringing joy to a child, Toy Story 2 played with the idea of a toy's lifespan and fragility. As Andy is preparing to go to cowboy camp, he inadvertently causes a tear in one of Woody's arms. Not wanting to cause further damage, Andy decides to leave Woody behind and "shelf" him. On the shelf, Woody discovers Wheezy (Joe Ranft), a penguin toy whose squeaker no longer works. While Andy is away, his mother (Laurie Metcalf) holds a garage sale and raids her son's room for old toys. She puts Wheezy in a box but Woody hatches a rescue mission where he's spotted at the garage sale by a toy collector named Al (Wayne Knight). Al recognizes Woody as a sought after collectible and tries to buy him from Andy's mom who refuses to sell. Al causes a distraction and steals Woody to add to his collection of Woody's Round-Up toys along with the yodeling cowgirl, Jessie (Joan Cusack), Woody's trusty steed, Bullseye, and Stinky Pete the Prospector (Kelsey Grammer). From here, Buzz Lightyear leads the rest of Andy's toys on a rescue mission of their own to save Woody from Al.
Just like its predecessor, Toy Story 2 was a hit. It went on to gross over $100 million more than the original to land at over $485 million worldwide. The film garnered critical acclaim with some believing it to be even better than the first. In this go-round, emotionally heavy content such as Jessie's backstory and the fate of a damaged or broken toy define some of the film's best moments. The film explores the eventual loss of youth and innocence as children grow older. During the film, Woody comes to realize that Andy won't stay young forever and his shot at immortality is along a separate path. Even as an adult, these things resonate as there comes a day when you put away childish things for the last time maybe without even knowing it. In typical Pixar fashion, Toy Story 2 proves to be another film with a relevant message and there are plenty of scenes throughout this sequel that hit home quite hard.
The wait for a third film in the series would be even longer than the wait between the first two. A rift had been created between Disney and Pixar in the mid 2000's and it seemed as if the two may split completely. Due to Disney technically owning the characters, they had a new team begin work on a treatment for Toy Story 3. However, the two companies repaired their working relationship and Pixar reclaimed the film. They opted not to use any content from the Disney team and Pixar mainstays, Lasseter, Andrew Stanton, and Lee Unkrich, came up with a new story. The final screenplay was written by Michael Arndt with Unkrich directing instead of Lasseter this time.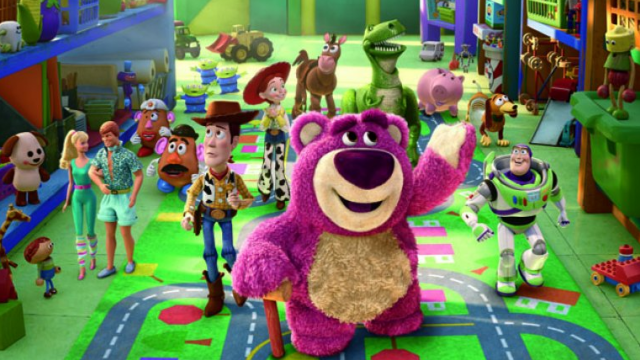 Released eleven years after the second film, Toy Story 3 hit theaters in 2010. The amount of time passed played a part in the film's story as an abbreviated group of Andy's toys remain hidden away in a chest in his room. Andy, now a teenager, is leaving for college and his mother asks him to go through his belongings. He plans to put Buzz, Jessie, Bullseye, Mr. and Mrs. Potato Head (Estelle Harris), Rex, Hamm, Slinky Dog (Blake Clark taking over for the deceased Jim Varney), and a trio of aliens from Pizza Planet (Jeff Pidgeon) into storage in the attic. However, his mother gets a hold of the garbage bag containing the toys and drops it on the curb. Woody, who Andy intends to bring to college with him, sees this and sets out to rescue his friends. The toys escape the garbage and volunteer to donate themselves to the local daycare. When they arrive, though, they realize that all may not be sunshine and rainbows at the daycare as Woody tries to convince them to return home to Andy.
Perhaps unsurprisingly given Pixar and the Toy Story franchise's monster success, Toy Story 3 is the most financially successful of the trilogy. It raked in a whopping $1 billion plus at the box office even after an eleven year hiatus. Like its predecessors, the film was met with an overwhelmingly positive response. However, unlike its predecessors, Toy Story 3 nabbed two Academy Awards as Best Animated Feature (a category that didn't exist until 2001) and Best Original Song for Randy Newman's "We Belong Together." The film was even nominated for Best Picture but lost to The King's Speech.
While Toy Story 2 toyed with the idea of growing up, 3 completely embodies it. Seeing a grown up Andy disregard his once cherished possessions is a tough pill to swallow. It's even more depressing when you think about some of the characters that aren't in this film. Other toys like RC, Rocky, and Bo Peep (Annie Potts) are nowhere to be seen in Toy Story 3. Yet, the film also manages to be unbelievably heartwarming by its end despite feeling like the end of an era. As someone who has grown up, like Andy, with the Toy Story films, this third installment hits hardest of all. It's crazy that an animated film franchise about toys is such a human experience overall.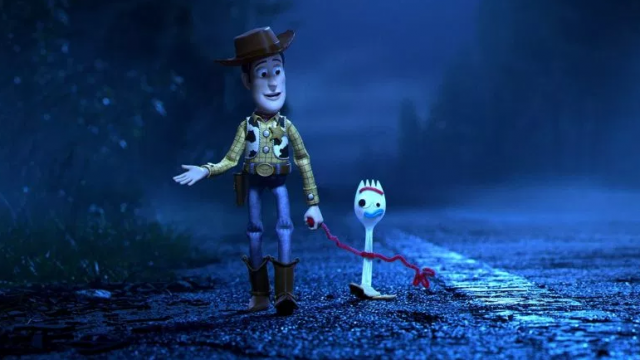 Originally, there had been no plans for a fourth Toy Story film following the release of 3. Yet, here we are in 2019 on the eve of Toy Story 4's official release. Upon exploring options for a fourth film, John Lasseter was excited and expected to direct. Lasseter, however, stepped down as director to make way for Josh Cooley's feature length debut. The film sees Woody and the gang welcoming a new friend named Forky (Tony Hale), a toy that their new owner, Bonnie (Madeleine McGraw) made out of a spork, to their group. Forky has an existential crisis as he's not actually a toy and tries to bail on his new friends. This leads Woody and Buzz on a road trip and, ultimately, a reunion with Bo Peep.
At this point, does it really matter what a new Toy Story film is about? All you have to do is look at Pixar's track record for their films to know that it will at least be a fun watch. Then, when you look at the other films in the franchise, it's more likely than not that Toy Story 4 will be another smash hit looking to tug at its audience's collective heart strings. In all fairness, it'll be difficult for the film to have a bigger emotional impact than the previous two films. Yet, Pixar has prided itself on its emotional stories with other films like Up and Inside Out and Toy Story is quite possibly the crown jewel of the company. For Disney and Pixar to come up with anything less than faithful to the films that came before this new one would be doing the franchise a disservice. In that regard, it's highly unlikely that Toy Story 4 is anything less than stellar.