In the 1940's and 1950's, film noir was king. During this classic period of the shadowy, monochrome crime drama, so many iconic films were released that have had lasting success even until today. Films like The Maltese Falcon, Double Indemnity, and The Big Sleep have influenced countless filmmakers over the years as film noir made way for its modern equivalent, neo-noir. While neo-noir often bends classic noir tropes to its will and ups the sexuality and violence (i.e. Sin City), there are still plenty of titles that remain faithful to the classic period. It's here that you'll find Tom Konkle's film noir love letter, Trouble is my Business.
The film stars Konkle as Roland Drake, your typical gumshoe with a troubled past and an equally questionable task ahead of him. Drake is approached by Katherine Montemar (Brittney Powell) to locate her missing father. She hears that Drake is the best missing persons detective in the city despite his last case not going well. The two spend the evening together and, upon waking, Drake realizes that Katherine is gone and only a pool of blood remains. Katherine's sister, Jennifer (also played by Powell), tracks down Drake in an attempt to find her missing family members. In addition, Drake encounters numerous other characters including his former partner, Lew MacDonald (David Beeler), a brutally corrupt detective, Barry Tate (Vernon Wells), and the mysterious Gavron Grozney (Steve Tom) with the Montemars, a missing black book, and a priceless diamond at the forefront of their desires.
The plot of Trouble is my Business is obviously your typical film noir tale. A sympathetic, yet hard-boiled, detective teams up with a potentially dangerous femme fatale to battle corruption and solve a mystery. That's pretty much all you need to do. When the film sticks to this formula, it's actually very effective and intriguing. Sure, it may not break much new ground in terms of storytelling but it keeps your attention nonetheless. Though, the film does get a little messy around its halfway point as more characters with separate motivations are introduced. Sometimes the film can't decide on which plot point is most important and it tends to meander because of it. The film is really at its best when it focuses on one thing. In this case, the mystery regarding the missing Montemars is the highlight.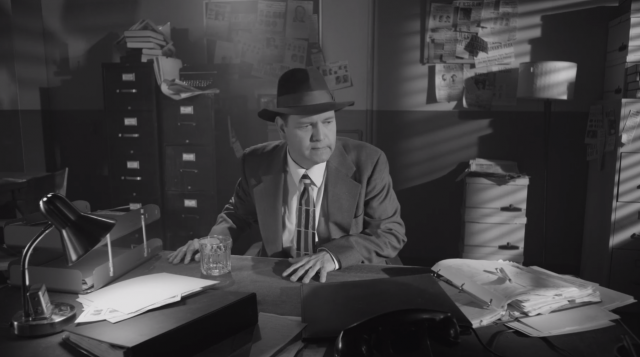 Luckily, the film is bolstered by some pretty good acting across the board. As a writer/director/producer/editor/etc., Tom Konkle already had a full plate. Yet, he still puts in a very solid performance in the lead role as well. Konkle clearly understands the traditional noir detective and models Roland Drake after the Sam Spades and Philip Marlowes of the noir genre. That's not to say that Konkle is on the level of Humphrey Bogart but, as a filmmaker and actor, he has done his homework. Brittney Powell is also very good as both Montemar sisters. As Jennifer especially, she displays a ton of manipulative charm mixed with suspicious intentions that will keep viewers as on the fence about her as Konkle's Drake tends to be. She simply draws attention to every scene that she's in. Vernon Wells also puts in a menacing performance as Barry Tate. However, his storyline is one that's often put on the backburner so it's hard to get fully invested into his character and relationship with Drake.
If you happen to be watching Trouble is my Business on Blu-ray, you'll have a decision to make as there are two versions of the film: color or black and white. For this review, we watched the black and white version and, for the most part, it's excellent. From the opening credits to the closing scenes, the film is every bit film noir and this color palette, or lack thereof, accentuates that. There are some scenes where you can tell that digital effects were used but the monochrome helps to mask that and even gives the film that pulpy, low budget feel that noir often has. Judging from screenshots of the color version, the film is very crisp but almost a little cartoony with some of its imagery. We can't say that this is a bad thing but it seems like a distinct stylistic choice that may bother some viewers. Of course, though, this is mere speculation as the subject of this review is the black and white version. Regardless, a noir throwback film such as this should be in black and white. Needless to say, Trouble is my Business delivers the goods here.
While the sometimes messy plot is a detractor, the biggest problem of the film lies in its tonal shift. For most of the runtime, Konkle takes the story seriously but peppers the script with some dry humor from Drake. Most of Drake's cocky one liners land pretty well but, later in the film, the script and character actions start to get almost hokey. In particular, there's a sequence where Drake follows Jennifer in a cab and the cab driver (Paul Hungerford) becomes a large focal point of these scenes. The driver is played up for far too many laughs and none of the jokes really work. The actor isn't necessarily bad but, due to the film's mostly no-nonsense tone, the shift is quite abrupt. There are also some fight scenes that come off as intentionally comedic but they also aren't received well.
Our Score
At the end of the day, Trouble is my Business isn't a film that will wow anyone but it's still an impressive throwback to the glorious noir films of the 40's and 50's. It seems to know what it wants to be and has fun doing it. At times, it even brings to mind acclaimed neo-noir films like Chinatown and L.A. Confidential. Hell, it even has a little splash of Who Framed Roger Rabbit in there once in a while. Fans of classic noir will certainly want to check out Tom Konkle's Trouble is my Business as it's a well acted, shot, and all around well made homage to a genre of the past.
*The black and white version of Trouble is my Business is available to watch with an Amazon Prime subscription. Otherwise, click here to rent, download, or purchase the film on DVD or Blu-ray. Check out the trailer for the film below.*