When it comes to horror, what is it that scares people the most? Is it ghosts, monsters, and boogeymen? Is it the fear of the unknown? How about a presidential election? Many people have feared what the United States will come to with the election of Donald Trump into office. Now, the political debate seeps into entertainment with the newest season of FX's popular horror anthology in American Horror Story: Cult.
For those unfamiliar with the show, it premiered in 2011. Each season has a different subtitled theme (i.e. Asylum, Freak Show, Hotel, etc.). The cast often consists of many of the same actors from previous seasons. The show doesn't have quite the same popularity as something like The Walking Dead or Game of Thrones but it definitely has a flair of its own. While it has been relatively consistent overall, the show always tends to go off the rails a little by trying to include too much. This is unlike the first season, Murder House, which felt like a concise story.
American Horror Story: Cult is set during the fallout of the 2016 presidential election. Ally Mayfair-Richards (Sarah Paulson) and her wife, Ivy (Alison Pill), are devastated by Hillary Clinton's loss to Donald Trump. Ally's many phobias intensify during this time period and she's attacked by clowns at a local grocery store. Many of the people around her are unsure if the attack was real or a hallucination. Meanwhile, Kai Anderson (Evan Peters) rejoices over Trump's win and he begins to target the weak willed of the fictional city of Brookfield Heights, Michigan, and challenges them to take control of their lives. He assembles a group of followers and, eventually, runs for city council. As Kai amasses followers, parallels are drawn between him and other cult leaders like Jim Jones and Charles Manson.
The strength of American Horror Story has always been with its cast and the same rings true for Cult. Sarah Paulson and Evan Peters are the only two actors to have appeared in every season. As usual, both do a solid job here although Paulson's character is a little annoying at times. Her roles in the previous two seasons, Roanoke and Hotel, were much better. Other alum returning for this season are Cheyenne Jackson, Frances Conroy, Adina Porter, Emma Roberts, and Chaz Bono. The new cast members are quite good as well. Specifically, Leslie Grossman as the unhinged Meadow Wilton and Billie Lourd as Kai's deceptive sister, Winter, are great in their respective roles. Fun fact: Lourd is also the daughter of the late Carrie Fisher.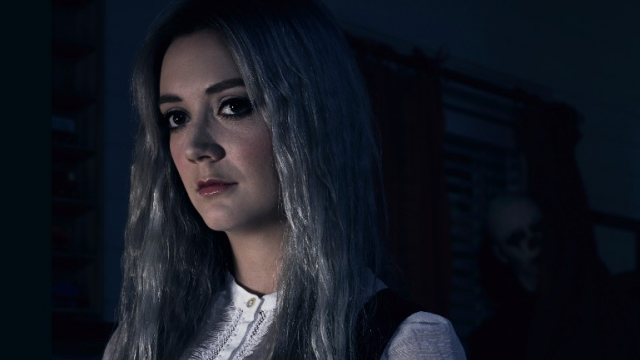 Cult may be the most brutal season of American Horror Story yet. There's a lot of death being thrown around in many different ways. Whether it's Kai trimming the proverbial fat from his group, Ally's self defense, or any of the other characters exacting revenge, there's plenty of bloody violence to go around. For a show with "horror" in the title, this should be expected. The violence works for the show and always keeps you guessing as to who will meet their end next. There are actually a lot of characters and most of them are fleshed out enough for their deaths to mean something to the story.
Unfortunately, much of the praise for American Horror Story: Cult ends here. The Cult theme is a very intriguing idea and there's a lot that the showrunners could've done with it. It's puzzling that their first go-to would be the presidential election. The show has never shied away from historical events of the past. Even if they would've went with simply retelling the story of the Manson Family or the People's Temple, which they reference anyway, this season probably would've been stronger. Instead, Cult feels like people unwilling to accept the election results. The focus on trashy political propaganda and brutality are all things we can see by turning on the evening news at this point. Sure, it resonates with modern society but this is supposed to be entertainment. It's just unappealing overall.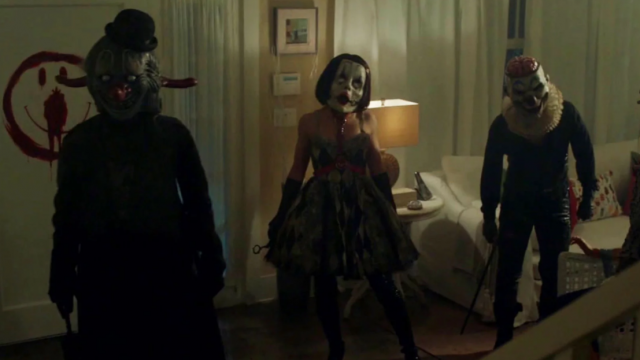 On top of that, there's way too much needless cursing in this new season. In seasons past, there haven't been any "F-bombs" but this season drops them all over the place. Sure, shows like The Sopranos have done the same thing but it made sense. In American Horror Story, they've never used that language before and, now that they apparently can, they went over-the-top with it. That being said, this is a somewhat minor gripe and doesn't affect the show's overall quality. It merely adds to the lack of appeal that this season already has going for it.
While it may sound like we're trashing it, American Horror Story: Cult isn't a terrible watch. There's enough good to keep you watching for the whole season but it's easily one of, if not the, worst of the series. Again, the Cult theme has so much potential but the modern day time period and political issues feel lackluster. It's capitalizing on a current topic to nab potential viewers. Although, political agendas often polarize and could've been detrimental to viewership. Ultimately, American Horror Story: Cult is far from the best installment to the series but there's no doubt that the show is here to stay. Let's just hope it can leave the politics out of it with Season 8.