It was only about five months ago that everyone thought that maybe DC Comics was on the right path with their Extended Universe. Fast forward to November 17th and all of the goodwill that Wonder Woman instilled in the company has been thrown right out the window once again. Over the weekend, Justice League was released and it treads some familiar territory. It serves as a reminder of the missteps the comic book company took with films like Batman v Superman: Dawn of Justice and Suicide Squad.
Before opening this can of worms, some of the production difficulties must be addressed. On paper, Zack Snyder serves as director once again. While his fingerprints are certainly all over the film, Snyder left the project in May following his daughter's suicide. Joss Whedon, director of Marvel's The Avengers and its sequel, took over directorial duties on reshoots and received a screenwriting credit. In addition, there has been a lot of rumor about Ben Affleck's agenda within the DCEU. Originally, Affleck had signed on as writer, director, and star of a standalone Batman film. Eventually, he dropped off that project and the buzz has been that Justice League will actually be his last time playing the dark knight.
The film sees Bruce Wayne/Batman (Affleck) as he seeks to build a team of superheroes to combat an approaching threat. Following the death of Superman in BvS, Diana Prince/Wonder Woman (Gal Gadot) is his lone confidante. Ultimately, Bruce and Diana join forces with Arthur Curry/Aquaman (Jason Momoa), Barry Allen/The Flash (Ezra Miller), and Victor Stone/Cyborg (Ray Fisher). Meanwhile, the film's main villain, Steppenwolf (voiced by Ciarán Hinds), and his army of Parademons search for the three hidden Mother Boxes to conquer Earth.
In all honesty, the plot is mostly irrelevant. The Mother Boxes, and even Steppenwolf in general, are often forgotten while the heroes bicker and quip their way through the messy script. For those who may actually care about the story, it's the cliched "villain trying to take over the world" fare. There's nothing overly special about it and, though Darkseid, another DC villain, is teased, he doesn't make an appearance. Basically, Justice League serves to introduce the characters of Aquaman, The Flash, and Cyborg. While this is all fine and dandy, it's irritating that DC didn't make those standalone movies first. Marvel did just that to great success before mashing them all into The Avengers. As we've said many times before, DC is playing catch-up to Marvel and is setting up their universe completely backwards.
Speaking of the characters, they're actually the only thing that really makes Justice League work. For the most part, they're all likable and, while not ideal, their backstories do work just enough. As usual, Gadot's Wonder Woman is excellent and arguably the best part of the DCEU. Jason Momoa and Ezra Miller are both given time to shine. It's actually starting to look like Aquaman could potentially be a solid movie with Momoa playing the character. Miller's Flash leans more on comedy with some of it good and some bad. Again, though, he's likable enough to forgive. Unfortunately, Affleck's Batman is a shell of what he was in BvS. The performance just seems halfhearted and there aren't any parts with Batman that are all that memorable. If this truly is Affleck's last go-round as the character, what a sad note to go out on. Batman fans: prepare to be disappointed.
Normally, our reviews are spoiler-free. However, we have to talk about the worst kept secret since Jon Snow's fate in Game of Thrones. If you don't want anything ruined, skip down to the next paragraph. Of course, Henry Cavill's Superman couldn't stay dead. It shouldn't be much of a spoiler that Superman is resurrected for this film but it's absolutely baffling that DC decided to kill him off in the first place. Seemingly everyone knew he was going to be in this film so why would the company make the boneheaded move to kill him in BvS? This is the DCEU in a nutshell. They bank on doing things to appease comic book fans without having any real reason to do so. DC has tried to take big moments from the comics and shoehorn them into their universe instead of just making those movies. It's preposterous.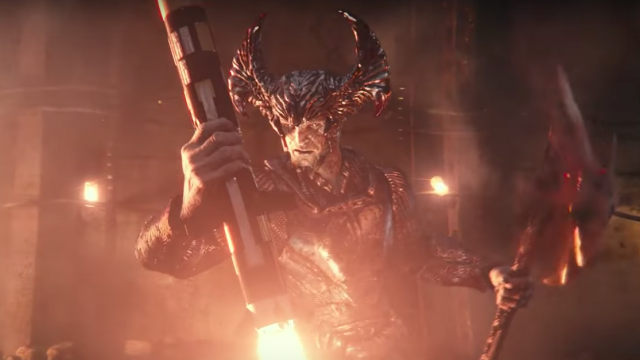 There's really not much else to say about the film. It's just there. It's not as bad as Suicide Squad but it leaves a lot to be desired. They even brought in Danny Elfman to compose the score for the film. It was a perfect opportunity to resurrect his classic Batman '89 theme and he does. Well, kind of. There are moments where you hear a brief snippet of the theme but it's never fully realized. The same goes for John Williams' Superman theme. At this point, why not include them? It's another example of DC teasing fans with things they want but never fully giving in. It's the perfect metaphor for the entire DCEU in general.
Our Score
Overall, much of what has plagued the DCEU in the past comes back for Justice League. The unappealing visuals, schizophrenic tone, ugly CGI, and uninspired storytelling continue to plague the universe. The lone outlier, of course, is Wonder Woman. Is it any secret as to why? That film focused on the story it was trying to tell. The others keep trying to set up different stories for future movies. DC is trying to run before they can walk and the problem comes from the top down. The DCEU has been crafted by Zack Snyder and it's simply not working. Affleck's Batman could be finished while Henry Cavill is said to have one more appearance as Superman left. While Justice League isn't the worst DC film, it's unbelievably bland. What's even worse is that, unfortunately, we still haven't seen the last of the DCEU whether we like it or not.