Just as Starz had done with their pirate drama, Black Sails, television network, A&E, has been airing their own criminally underrated show. Since 2013, the horror/drama, Bates Motel, has been one of the most consistent and intriguing shows on television to little fanfare. Last night marked the end of the series following the finale of its fifth season.
For those unfamiliar with the show, Bates Motel is a contemporary prequel to Alfred Hitchcock's 1960 film, Psycho. Psycho, adapted from a novel by Robert Bloch, is one of the most iconic horror films of all time. It's also frequently referenced as one of the greatest films in general. While Hitchcock's film is untouchable in terms of its popularity, Bates Motel does a great job of building on the foundation of Hitchcock's film. It establishes backstories and relationships for its main character, Norman Bates (Freddie Highmore), and his mother, Norma (Vera Farmiga). They even built a replica of the motel set from the film to serve as the backdrop of the series. The replica is so well done that you can hardly tell it's not the original set.
As previously mentioned, Bates Motel is a prequel series. Though, Season 5 is the closest the show comes to remaking the original film. This season, picks up two years after the end of Season 4. After Norma's death from carbon monoxide poisoning brought on by her son, Norman is mentally unstable. He continuously has visions of his mother and even takes on her persona at times. In his mind, she faked her death and remains in the Bates house at all times. All the while, Norman's murderous side continues to grow. He also sparks up a friendship with Madeleine Loomis (Isabelle McNally) whose husband, Sam (Austin Nichols), is cheating on her with Psycho-alum, Marion Crane (Rihanna).
Norma's husband, the former sheriff, Alex Romero (Nestor Carbonell), is in prison for committing perjury. Though, the only thing on his mind is getting revenge on Norman for Norma's death. Meanwhile, Norman's brother, Dylan Massett (Max Thieriot), marries Emma Decody (Olivia Cooke) who also gives birth to a daughter. For the majority of the season, Dylan is unaware of Norma's death after cutting ties with his family. Of course, all of these characters eventually clash with one another during the season.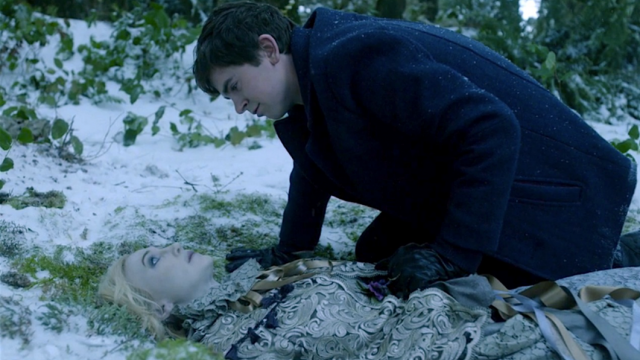 One of the biggest foundations of the entire series has always been the relationship between Norman and his mother. Luckily, this relationship is not lost with the real-world death of Norma. Thankfully, Vera Farmiga continues to be a huge part of the show appearing as Norman's projection of his mother. She takes over Norman's thoughts and actions in stressful situations as she often did when she was alive. Along with this are some of the show's darkest moments. Norman keeps Norma's body preserved and there are times when other characters come into contact with it. These are some legitimately eerie moments and the closest the show gets to true horror.
One of the highlights of Season 5 is the re-imagining of Hitchcock's classic. Yes, we get to see the relationship between Sam Loomis and Marion Crane along with Marion stealing money from her employer to start a new life. Though, Bates Motel turns the classic film's events on end in a great way. Without ruining the twist, the show does well to string the audience along in believing the show's events will play out like the film. Many of the scenes, dialogue, and even the individual shots are recreated. While it would be understandable if Psycho was recreated in its entirety, it's refreshing that the show took a different approach. On a sidenote, pop star, Rihanna, does a surprisingly good job in the role of Marion.
Throughout its five seasons, Bates Motel, again, has remained consistent in terms of its quality. There haven't really been any lulls in action or suspense, poor acting, or anything that irritating in general. Throughout the series, it's easy to become attached to the characters despite all of their flaws. Luckily, Bates Motel is given a fitting finale to its television run. It isn't often that a show ends on a satisfying note but this is an exception. Again, without ruining anything, the final confrontation in the show is an emotionally fitting conclusion to the story. There are extremely few loose ends or plotlines that are unfulfilled. Even in saying that, the ones that aren't wrapped up are minor compared to the main story's conclusion.
Now that all's said and done, how does Bates Motel stack up to its contemporaries? When compared to something like The Walking Dead or American Horror Story, the one word that keeps coming to mind is "consistency." It's unbelievably consistent. Every episode progresses the story of Norman Bates becoming the notorious serial killer from Psycho. It may be obvious to say but that's exactly what good television shows do. While Bates Motel may not be on par with shows like The Sopranos or Breaking Bad, it has been one of the most surprisingly solid shows on TV for the past five years. With five quality seasons, it hits that sweet spot where it didn't overstay its welcome but still provided a concise and effective viewing experience.