For those of you who have followed us for a while, you know that we here at Cinema Smack love horror. From film franchises like Halloween, Friday the 13th, and A Nightmare on Elm Street to television shows like American Horror Story, Bates Motel, and Ash vs Evil Dead, along with everything in between, we're always on the lookout for new takes on the genre. We especially love checking out work from independent filmmakers. Therefore, it was an absolute must to see what Michael McQuown's The Dark Tapes was all about.
The film is an anthology of a handful of short stories with overlapping traits. It's similar to films like Trick 'r Treat or V/H/S in style. The story is split into four main parts with each having their own spin on events. McQuown is the creative mind behind the film with credits as writer, producer, film editor, and director of all but one of the segments. With The Dark Tapes, McQuown manages to provide legitimate scares in the limiting found footage horror sub-genre.
The overarching plot is difficult to explain without seeing the film in its entirety. Each of the four parts play out like episodes of The Twilight Zone while also tackling horror tropes. "To Catch a Demon" provides the bookends for the film. Two people, Sam (David Banks) and Marie (Sara Castro), enter a building and find a number of fixed cameras. The cameras contain footage of a professor, Martin Callahan (David Rountree), and his student, Nicole (Cortney Palm), as they conduct an experiment on being able to spot entities from other dimensions during REM sleep.
"The Hunters and the Hunted" is a take on the Paranormal Activity series as a couple moves into a house where supernatural occurrences begin to flare up. After inviting paranormal investigators into their home, they soon discover that the issues are more than they all bargained for. "Cam Girls" features a young woman named Caitlin (Emilia Ares Zoryan) who suffers from blackouts and hosts a live cam show with her girlfriend, Sindy (Anna Rose Moore). Things quickly turn grisly as Caitlin manipulates a hapless viewer. Finally, "Amanda's Revenge" centers on another woman who has blackouts. Amanda (Brittany Underwood) claims that she's frequently abducted as she sleeps and is unable to stop or record her abductors. In turn, she gains special abilities from the abductions.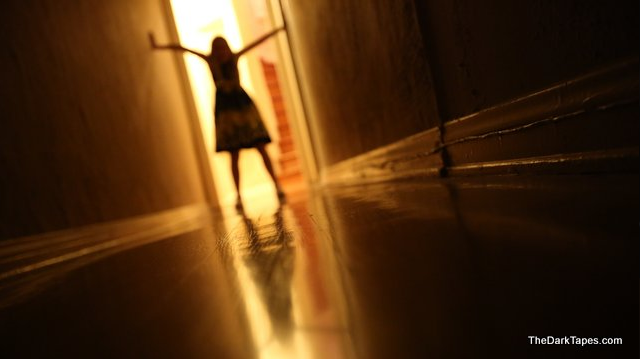 Firstly, something must be said of the acting throughout The Dark Tapes. All of it is, surprisingly, very good. Often times, low budget indie films can feature some shoddy performances but that's not the case here. Emilia Ares Zoryan and Brittany Underwood as Caitlin and Amanda respectively offer up some of the best work in the film. Also, Caitlin's cam viewer, Gerry (Aral Gribble), is excellent as he's convincingly naive and impressionable. There's no one that stands out as a poor addition to the cast which, again, is noteworthy in this case.
What's intriguing about The Dark Tapes is how it's able to take a generic horror trope and turn it on its head. There are times, specifically during "The Hunters and the Hunted," where it feels like you've seen something similar before. However, the story consistently offers twists that simply can't be mentioned here. While the found footage style can often stifle a story's creativity, McQuown is able to make it work in his film. There are some definite jumpy moments that stem from eerie imagery as opposed to false scares and horror cliches. There's a shock value to these scenes but it's shock unlike we've seen in countless films before.
Of the four main segments that make up The Dark Tapes, "Cam Girls" is probably the most memorable. It's such a brief segment but it's incredibly mesmerizing. Zoryan's Caitlin is a friendly face that quickly sucks you in. Meanwhile, her cam flashes with quick images of the macabre and you know that something dreadful is about to happen. The entire segment is made of webcam videos between the few characters and it's such an interesting idea to include in the film.
With all that being said, of course, The Dark Tapes is not perfect. While McQuown does some commendable work with the found footage style, it's definitely still a question of preference. If you enjoy found footage films, then this one is definitely for you. If you're not a fan of the style, it's doubtful that it will do much to change your mind. Also, the overarching plot feels a little less interesting than the ideas that make up the other shorts. It's understandable to include some kind of link between stories but the film is often at its best when you can sit back and enjoy merely what you're being shown at any given time.
Our Score
All in all, The Dark Tapes is a spectacle. There are some truly terrifying moments when you least expect them and that's a good thing. In addition, many of the terrifying moments are also memorable and make you think. Again, the film doesn't rely on cheap thrills to scare viewers. The scenes have meaning and progress their respective segments. It's also surprising how well the segments fit together despite being mostly unrelated. In fact, pre-production has already begun on a sequel so who knows where the story will go from here. With The Dark Tapes, Michael McQuown has crafted an enjoyable viewing experience that intrigues and chills more than your standard horror fare.
*The Dark Tapes is currently available in the US on iTunes, Vimeo, Amazon, and a number of other places for purchase or rent. Click here to find out where to watch The Dark Tapes.*