In this questionable time where no one knows what's going to happen a day from now, let alone a month or year, people need an escape. Sadly, the entertainment industry may not really be up to that challenge during the COVID-19 pandemic. With countless big name movies getting delayed indefinitely, musical acts postponing the releases of new albums, and television shows getting shut down, it seems like only video game releases are staying the course. Therefore, it's refreshing when something highly anticipated does actually get released during these wild times. After a lengthy eighteen month gap, AMC's Better Call Saul returned to television for its unsurprisingly great fifth season.
Long have we been on the Better Call Saul bandwagon here at Cinema Smack and for good reason. It's one of the best shows on television. In every single one of these season wrap-ups, we say that same thing but it never gets any less true. With that, we're also sad to say that the end is near. It has already been announced that Season 6 of the excellent Breaking Bad prequel spin-off will also be its last. While that's certainly a bummer, it matches the length of its predecessor and actually surpasses it by one episode. With an announced thirteen episodes for Season 6, Better Call Saul will end with 63 episodes to Breaking Bad's 62. But we're not here to talk about the future. We're here to talk about right now. So let's talk Season 5!
Season 5 begins with down-on-his-luck lawyer, Jimmy McGill's (Bob Odenkirk), official transformation into the ever-sheisty Saul Goodman. Upon being reinstated after spending a year disbarred and tired of living in the shadow of his late brother, Chuck, Jimmy takes on the criminal lawyer alias of Saul. His girlfriend and respectable lawyer, Kim Wexler (Rhea Seehorn), doesn't understand the choice but sticks by Jimmy's side regardless. Meanwhile, prospective drug kingpin, Gustavo Fring (Giancarlo Esposito), experiences a huge setback on the construction of his methamphetamine laboratory and has to play an intellectual chess match with skeptical rival, Lalo Salamanca (Tony Dalton). Though, Gus weathers his ongoing issues with the aid of henchman/cleaner Mike Ehrmantraut (Jonathan Banks) and his mole in the Salamanca drug ring, Nacho Varga (Michael Mando). Unfortunately for Jimmy McGill, some of these unsavory characters are going to require Saul Goodman's assistance before the season's end.
In our wrap-up of Season 4, we noted how it marked something of a tonal shift. It featured less of the fun and lighthearted tone of the previous seasons. The death of Chuck marked a turning point in Jimmy's life that there may be no going back from. Even though Jimmy sees it as a weight off his shoulders, he'll never be free of Chuck as long as they share the McGill name. Season 5 of Better Call Saul certainly continues this shift as the closest the show has gotten to Breaking Bad. With episodes like "Bagman" featuring Jimmy and Mike pairing up as they wander for 36 hours across the desert and, especially, the season finale, "Something Unforgivable," there's plenty to remind fans of the suspense of the flagship show.
In addition, the relationship between Jimmy and Kim is tested like never before. Though, most of the time it's not a question of Jimmy's ethics. Rhea Seehorn's Kim Wexler has been an interesting character throughout the majority of Better Call Saul. Mostly, she has been the moral compass. She embodies the right and just opposed to Jimmy's lawlessness. However, Season 4 saw her start to dabble with unethical choices as proposed by Jimmy. In Season 5, she's even more open to them. Early on, she has difficulty with a crass old man named Everett Acker (Barry Corbin), a homeowner whose property happens to be on land owned by the Mesa Verde bank. He refuses to move, despite illegally living on the land, but Kim starts to take pity on him. She resorts to asking Saul for help who, as always, takes things too far. This embroils the two in a legal spat against one another with their clients trapped in the middle. Yet, Kim doesn't exactly hate Jimmy for escalating the issue. In fact, their relationship gets taken to the next level as a direct response. As much as Jimmy often needs Kim, she also realizes that she needs someone like him to be effective on her own as well.
As we see Jimmy taking on the role of Saul, we also see Mike becoming more like his character in Breaking Bad. He's the no-nonsense/know everything cleaner that we came to know and love in Season 5. He's not afraid of telling Gus exactly what he thinks but he still shows some compassion towards others as he did with Jesse Pinkman in the latter days of Breaking Bad. Though, the relationship between Jimmy and Mike has been a focus since Season 1, there has never really been that "aha!" moment as to why they work together so much in the previous series. In the aforementioned episode, "Bagman," and its followup, "Bad Choice Road," we finally get those moments and the two develop something of a mutual respect. There's also Mike's growing appreciation of Salamanca family mole, Nacho. He does everything that Mike and Gus ask of him while only asking for a way out in return. Gus is unwilling to cut Nacho loose while Mike vouches for him. Nacho has become something like Better Call Saul's version of Jesse in this respect and there just doesn't seem to be a way for him to get out of his situation unscathed.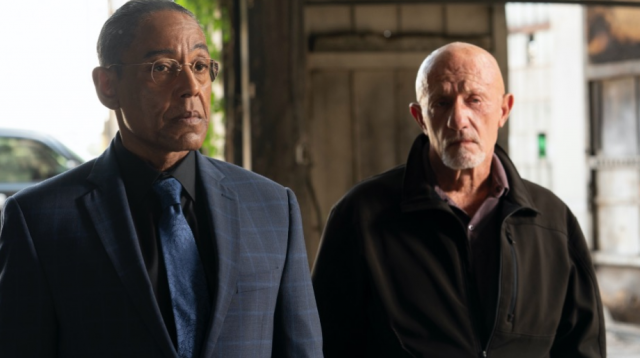 Now that there's a clear finish in sight for Better Call Saul, it makes us realize how much we don't want it to go. In our Season 4 wrap-up, we pondered how long the show could continue given its obvious destination with the commencement of events in Breaking Bad. It's obvious that it's getting closer as characters like Dean Norris's Hank Schrader and Steven Michael Quezada's Steven Gomez make appearances this season. Other Bad alum like Tuco's cousins, Leonel and Marco Salamanca (Daniel and Luis Moncada), Lydia Rodarte-Quayle (Laura Fraser), Juan Bolsa (Javier Grajeda), and Don Eladio (Steven Bauer) also show up throughout Season 5 as well. The finish line is ahead and it has been a hell of a ride in this world created by Vince Gilligan and Peter Gould.
When all's said and done, Better Call Saul could go down as one of the best prequel/spin-offs ever made. Obviously, that remains to be seen as there are still thirteen episodes to look forward to in Season 6. Just look at the last season of Game of Thrones for proof that no show is infallible. What can be said for sure, though, is that Season 5 gives fans more of what they love about both this series and its predecessor. There were plenty of reasons to be skeptical when Better Call Saul first premiered back in 2015 but it has trumped all expectations. As we say at the end of every Better Call Saul wrap-up, if you haven't yet jumped on the bandwagon, please do. You'll thank us.