As most of you know by now, Netflix has gotten heavily involved in producing their own original content. Among the most popular of said content are their television shows and, wouldn't you know it, they're all quite good. Of course, there are the big ones that mostly everyone at least knows about like House of Cards and Orange is the New Black. There is one show in particular that hasn't really gotten its due thus far but is definitely on the rise: Bloodline.
Bloodline is about the Rayburns; a well established family in Monroe County, Florida. The eldest brother, Danny (Ben Mendelsohn), returns home from Miami to attend the 45th anniversary party and pier dedication to the family for their popular oceanside hotel. With Danny's return, things between the Rayburn family become complicated and their relationships begin to crumble. As the series continues, viewers are fed pieces of the checkered pasts of Danny, his siblings, John (Kyle Chandler), Meg (Linda Cardellini), and Kevin (Norbert Leo Butz), as well as the parents, Robert and Sally (Sam Shepard and Sissy Spacek).
If you have yet to watch the show, stop reading and go do so immediately. This is the final *spoiler alert*.
At the end of Season 1, John kills Danny and it's up to him, Meg, and Kevin to cover up the murder to save face for the family as a whole. This is what the entirety of Season 2 focuses on. As John, who's a detective, stages a boat explosion that imitates a previous case that he was assigned to, the DEA is trying to catch a local drug dealer, Wayne Lowry, for drug trafficking as well as the deaths of Danny, who worked for Lowry briefly, and several women. Meanwhile, John also decides to run for sheriff in which he'll have the ability to bury the case before prying eyes dig too deep. Eventually, Meg's ex-boyfriend and John's partner, Marco, realizes that something is fishy about Danny's murder and targets John's involvement. In addition to the murder investigation, Danny's son, Nolan, who had been unbeknownst to the rest of the family, shows up at John's house after his father's death. He's very much like Danny but, as the season progresses, he becomes much more likable and you realize that he has a lot of pent up hostility towards Danny and his self destructive ways.
Just as in Season 1, the acting is great across the board. Kyle Chandler is excellent as the perpetual voice of reason in the family even after his vile act against Danny. Linda Cardellini is also fantastic as she is stuck between trying to distance herself from her family but is ultimately unable to escape from them. The youngest sibling, Kevin, is an absolute fool as he lets his fiery temper get the best of him and mucks things up even worse as soon as John gets a bit of breathing room. Ben Mendelsohn returns as Danny in flashback sequences and he also appears to John in the same way that deceased Rayburn sister, Sarah, appeared to Danny frequently in Season 1. Sissy Spacek does a great job as the matriarch, Sally, who is crushed by both her husband's and son's recent deaths yet finds purpose in helping to support Nolan (Owen Teague) and his mother, Evangeline (Andrea Riseborough).
Once again, the locations in Season 2 of Bloodline are absolutely beautiful. The Floridian backdrop of the show perfectly contrasts the deception and atrocities of the Rayburn family. While the facade of Monroe County is paradise, drug trafficking, murder, and betrayal are at its underbelly. Nolan frequently mentions how his dad didn't know how good he had it and, as a viewer, it's easy to understand that point of view because of how fantastic the cinematography makes Monroe County look. Yet, it's also easy to see the filth below the surface as well.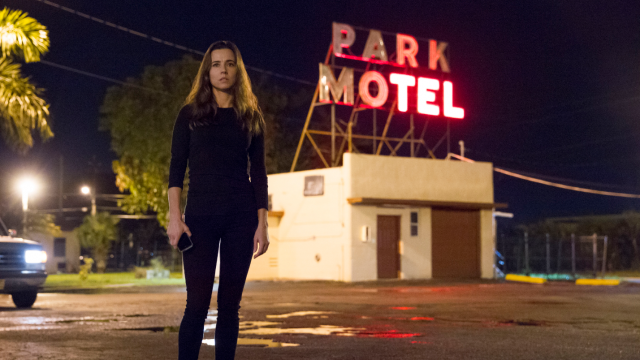 While this newest season of Bloodline had great acting, a lot of suspense, and an overall feeling of dread for the Rayburn family, it did have some flaws. There are a few instances where there seems to be a gap in a storyline and even some that just don't really go anywhere. After Lowry is murdered right before the DEA arrives to arrest him for trafficking, the father of one of the dead women confesses as Lowry's killer to John and Marco. This is never really mentioned again and you don't know if perhaps John paid him off to murder Lowry or if it was a crime of passion. Speaking of Marco, even though he is initially somewhat suspicious that there's more to Danny's murder, he seems to latch onto John as a suspect very quickly for no convincing reason. Finally, the pacing of Season 2 is just a tad bit off. Overall, the episodes are entertaining but they do start to drag around episode 7. It seems like John and Marco are constantly giving each other the run-around and the show isn't really progressing as much at that point. Season 2 was already cut down to ten episodes from Season 1's 13 and they probably could've cut out at least two more episodes to make Season 2 more concise.
In conclusion, Bloodline Season 2 was a solid installment for the young series. It's not as good as the first season but, in all fairness, Season 1 had more to work with since it was establishing characters, the relationships and history between said characters, and setting up for Season 2. The best thing about the show as a whole is that it keeps you engaged with all of its characters and you genuinely care about them even if they have committed unspeakable acts. The title, "Bloodline," is absolutely appropriate for the show since all of the issues are kept within the family with little to no outside involvement. Of course, Season 2 ends on a shocking cliffhanger which already incites anticipation for Season 3 and reiterates the theme of keeping everything tight knit within the family. Bloodline is a show that you seriously need to be watching at this point. You won't regret it.