2019 is in the books and we're already over a month into 2020. This can only mean one thing when it comes to cinema, Hollywood's biggest night is upon us! This Sunday, the cream of the crop will be honored when the 92nd annual Academy Awards air on ABC. As is yearly tradition on this site, it's time to discuss the nominees in some of the top categories of the awards show and throw out our own winning picks.
However, let's address something ahead of our choices. Last year, there was some unwarranted negativity on our 2019 Oscar selections. In this age of everyone having to voice their opinion on social media, there's absolutely no need to talk down on others and/or take the fun out of something as silly as choosing which celebrity will be going home with a trophy and a pat on the back that night. There are winners every year that shock and surprise audiences. The only people that really know who's going to win on Oscar night are the members of the Academy of Motion Picture Arts and Sciences. While it's true that there are always favorites that emerge ahead of the big show, nothing is set in stone for all of us viewers at home. While we certainly encourage lively debate and constructive feedback on Cinema Smack, there's no reason to get fired up about someone's Oscar predictions. Not to mention, we always address the favorites going in but offer a counterargument if our picks go a different way. Again, this is supposed to be fun so let's keep it that way.
With that being said, let's get on with Cinema Smack's 2020 Oscar predictions!
---
Best Writing (Original Screenplay)
*Winner: Bong Joon Ho (also credited with the story) and Han Jin Won for Parasite*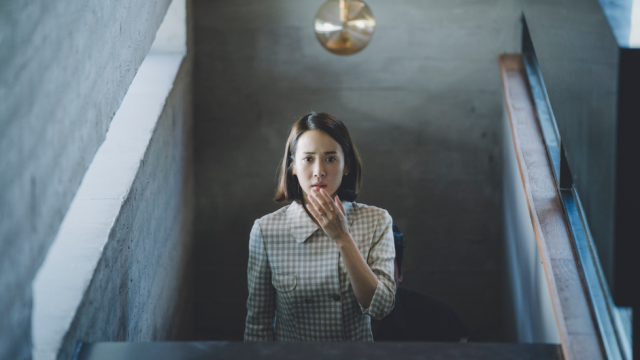 Other nominees include Rian Johnson for Knives Out, Noah Baumbach for Marriage Story, Sam Mendes and Krysty Wilson-Cairns for 1917, and Quentin Tarantino for Once Upon a Time… in Hollywood.
We're starting things off with a relatively obvious choice but let's discuss the runner-ups first. Rian Johnson's wonderful whodunit, Knives Out, was a film that many had pegged to make noise at this year's Oscars upon its release. However, this is the only category that it received a nod for. Frankly, that's not very reassuring. Still, it's nice to see that Johnson at least got recognized following his heavy criticism for Star Wars: The Last Jedi. Sam Mendes and Krysty Wilson-Cairns' screenplay for 1917 is simple and effective for the war epic. Though, that film will factor in more heavily in the awards show's technical categories. Noah Baumbach feels like a dark horse choice with his dramatically heavy take on a crumbling relationship in Marriage Story. In any other year, Baumbach may be a shoe-in for the award but there are two heavy hitters duking it out for this prize.
For Best Original Screenplay, we're going with Bong Joon Ho and Han Jin Won for Parasite. This film has massive buzz heading into Sunday and is sure to walk away with some statues. Its main competition in this category comes from Quentin Tarantino's Once Upon a Time… in Hollywood. We weren't especially high on Tarantino's new flick despite being a wonderful love letter to 1960's Hollywood but a lot of people seem to love it. In our eyes, there just isn't enough of a story there to take the honors away from Parasite. Bong and Han craft an excellent piece of cinema that covers multiple genres including comedy, drama, and even some thriller aspects. The film keeps you on the edge of your seat from start to finish and doesn't meander in the way that Hollywood does from time to time. It's because of this that Parasite nabs the Oscar here.
---
Best Writing (Adapted Screenplay)
*Winner: Greta Gerwig for Little Women*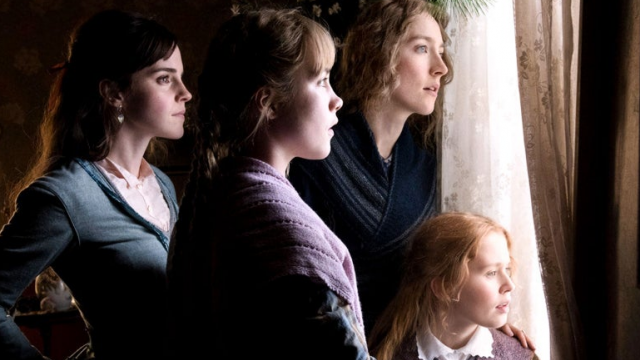 Other nominees include Steve Zaillian for The Irishman, Taika Waititi for Jojo Rabbit, Todd Phillips and Scott Silver for Joker, and Anthony McCarten for The Two Popes.
This category is actually pretty stacked this year with an argument to be made for any one of these films. While The Irishman was expected to be a big time contender upon its release, the hype behind the film has seemingly died down tremendously. It still wouldn't be all that surprising to see Steve Zaillian win his second statue in this category 26 years after his first for Schindler's List. Todd Phillips and Scott Silver got something of a surprise nod here especially since Joker isn't really adapted. It's an original take on a printed character. Either way, a win for the duo doesn't seem likely but, like Rian Johnson, it's cool to see them featured here. Anthony McCarten looks like the odd man out for The Two Popes just as the writers of Can You Ever Forgive Me? and Hidden Figures were in the previous two years. McCarten is in that "just be happy you were nominated" category as The Two Popes didn't land any other major nominations outside of acting.
Though the current buzz is pegging Taika Waititi for a big win for his World War II dramedy Jojo Rabbit, we're going to go out on a limb and give this one to Greta Gerwig for her wonderful adaptation of Little Women. Gerwig's version is the seventh cinematic go-round for Louisa May Alcott's novel but it's also the best. Although the film was also nominated for Best Picture, Gerwig was snubbed for a Directing nom. What better way to make up for the snub than by rightfully rewarding her efforts for Best Adapted Screenplay? Now, before anyone gets up in arms, remember that Jojo Rabbit landed at #7 on our Best of 2019 list and Little Women didn't crack the top 10. When it comes to the Academy though, Little Women feels like the right choice with Jojo Rabbit maybe being too controversial for such a sensitive general viewing crowd.
---
Best Actor in a Supporting Role
*Winner: Joe Pesci for The Irishman*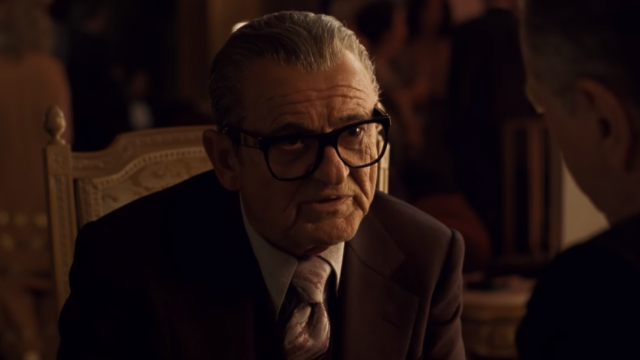 Other nominees include Tom Hanks for A Beautiful Day in the Neighborhood, Anthony Hopkins for The Two Popes, Al Pacino for The Irishman, and Brad Pitt for Once Upon a Time… in Hollywood.
If you thought the last two categories were stacked, they've got nothing on Best Actor in a Supporting Role. The names nominated in this category are legendary and, on paper, it feels like a complete toss up. Tom Hanks basically becomes children's show host Fred Rogers for A Beautiful Day in the Neighborhood. Anthony Hopkins has had a lot of missteps over the course of his career but has also blown audiences away in films like The Silence of the Lambs. He hits all the right notes in The Two Popes for his first nomination in 22 years. Similar to Hopkins, Pacino returns to form and is transcendent as Jimmy Hoffa in The Irishman. We wouldn't be the least bit upset about Pacino pulling an upset in this category. All acting Oscars have done a good job evading Brad Pitt up to this point and he's the favorite going into this Sunday. Like Pacino, we'd have no problem with Pitt finally grabbing his first acting award. He previously won a Best Picture Oscar but as a producer on 12 Years a Slave.
Even though Pitt seems to be trending in the right direction, we're sticking with early favorite, Joe Pesci as the calmly sinister Russell Bufalino in The Irishman. It seems like the Academy loves to throw in these types of nostalgia picks with names like Sylvester Stallone and Sam Elliott being nominated in recent years. On a yearly basis, these often feel like names that won't be back on the Oscar stage again and Pesci certainly fits that bill. The veteran actor came out of retirement for Martin Scorsese's mob epic and he gives his all to the role. A win for Pesci on Sunday would be a deserved feelgood story and a likely fitting end to his legendary career. Again, Brad Pitt is the favorite to win this award given that he has cleaned up the other award shows. Regardless, we're still going to stick with Joe Pesci as a potential upset.
---
Best Actress in a Supporting Role
*Winner: Florence Pugh for Little Women*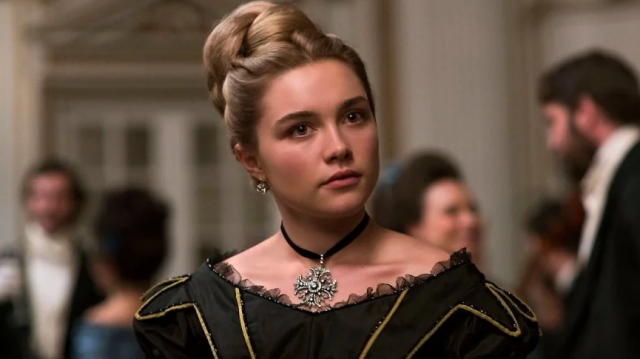 Other nominees include Kathy Bates for Richard Jewell, Laura Dern for Marriage Story, Scarlett Johansson for Jojo Rabbit, and Margot Robbie for Bombshell.
Welcome to Hollywood, Florence Pugh. This woman is going to be an absolute superstar for years to come and she gets her coming out party on Oscar Sunday. Though, there's no runaway victory for her as she faces stiff competition. Kathy Bates gets her fourth overall nomination for her role in Clint Eastwood's Richard Jewell while we see Scarlett Johansson nab her much deserved first Oscar nom here. Oddly enough, we'll address her second very shortly. Margot Robbie is a bit of a surprise especially since Bombshell didn't resonate as much as some may have expected. In addition, Jennifer Lopez was snubbed in this category for Hustlers which people are still angry about. Laura Dern appears to be the buzzworthy name in this category and with good reason. She's excellent in Marriage Story as ruthless divorce lawyer Nora Fanshaw. She provides an interesting contrast to the disintegrating couple who want things to go as smoothly as possible.
However, Florence Pugh's performance as the sometimes snobby but frequently overlooked Amy March in Little Women. Even though the entire cast of the film is great, Pugh's performance is extraordinary. Her character undergoes the largest transformation in the film and is its heart and soul. In general, Pugh has had a fantastic year with Fighting With My Family and Midsommar also showcasing her talent and range as an actress. Dern is more than deserving of her first ever Academy Award but we'll argue that Pugh is the correct choice as she prepares to launch into the Hollywood stratosphere.
---
Best Actor in a Leading Role
*Winner: Joaquin Phoenix for Joker*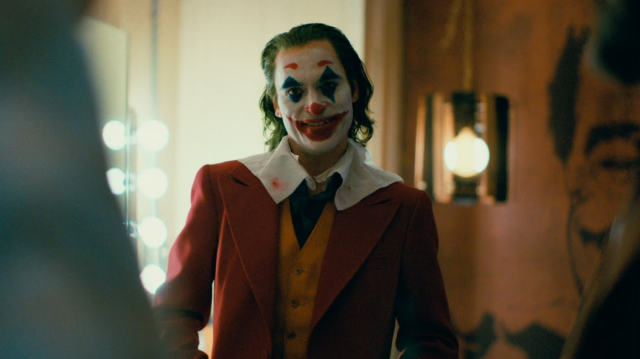 Other nominees include Antonio Banderas for Pain and Glory, Leonardo DiCaprio for Once Upon a Time… in Hollywood, Adam Driver for Marriage Story, and Jonathan Pryce for The Two Popes.
Unlike most of the previous categories, this is the one that does feel like a runaway. Antonio Banderas is a name that pops up every now and again in places where you usually don't expect it to. He has had some intriguing roles in the past but it seems like Spanish director Pedro Almodóvar gets the best out of him in films like The Skin I Live In and now Pain and Glory. Leonardo DiCaprio finally got his first Oscar a few years back for The Revenant but it just doesn't look like he'll get another one this year. As Rick Dalton, DiCaprio is very good but Once Upon a Time… in Hollywood's best moments come from Brad Pitt. Jonathan Pryce is another one of those "be glad you're nominated" picks. Of course, this isn't meant as a knock on Pryce who's always great but it's hard to see him winning on this night. Adam Driver seems like the most logical runner-up for this award as he does some of his best work in Marriage Story. Driver should become a mainstay during awards season after his performances in this film and last year's BlacKkKlansman.
As previously mentioned, this is a one horse race. Joaquin Phoenix is otherworldly as Arthur Fleck/the man who becomes the Joker in Todd Phillips' proposed origin story. Whether it's his research into real-life disorders, his physical transformation, or sympathetic approach to playing a murderous psychopath, Phoenix is perfect as the Clown Prince of Crime. While the previous cinematic portrayals from both Jack Nicholson and Heath Ledger are iconic in their own right, Phoenix establishes Arthur Fleck/Joker as something all his own. The ghost of Ledger will loom large on Sunday as Joaquin Phoenix becomes the second actor to win an Academy Award for playing the Joker.
---
Best Actress in a Leading Role
*Winner: Scarlett Johansson for Marriage Story*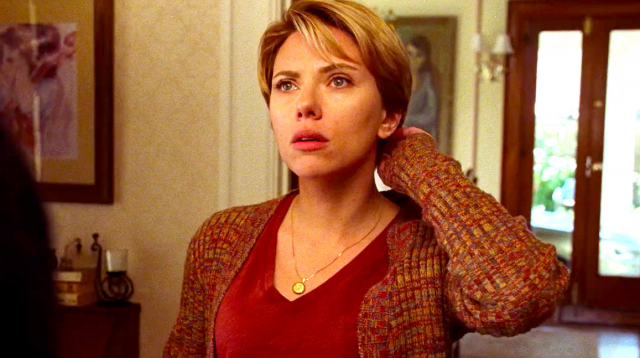 Other nominees include Cynthia Erivo for Harriet, Saoirse Ronan for Little Women, Charlize Theron for Bombshell, and Renée Zellweger for Judy.
Remember when Scarlett Johansson missed out on that Best Actress in a Supporting Role Oscar earlier? Here's where she gets her comeuppance. Though, she currently ranks as an underdog at the moment. Cynthia Erivo definitely checks some boxes for the Academy as they love films based on historical figures and they continue to face scrutiny for a lack of diversity in their top categories. Erivo's turn as Harriet Tubman will certainly warrant some attention. Saoirse Ronan is becoming an Oscar regular after being nominated for Atonement, Brooklyn, and Lady Bird in the past. It has been a while since Charlize Theron has been represented but it's unlikely that this is her year. even though Bombshell was praised for its performances. In this category, there are two women that stick out as the best of the best.
From the moment Judy hit theaters, there was no doubt that the film was Oscar bait. While it didn't receive as many accolades as anticipated, it still served as a vehicle for Renée Zellweger to claim her first Oscar nom in 16 years. Many expect her to walk away with the statue but Scarlett Johansson is just too good in Marriage Story. 2019 was an overall down year for film but there were so many quality titles that got pumped out at the tail end of it. As mentioned a few categories ago, in any other year, Marriage Story may have gotten more awards but Johansson should represent the film proudly with the first Academy Award win of her career.
---
Directing
*Winner: Sam Mendes for 1917*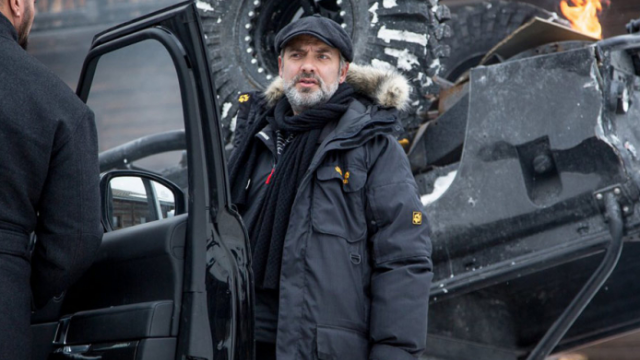 Other nominees include Martin Scorsese for The Irishman, Todd Phillips for Joker, Quentin Tarantino for Once Upon a Time… in Hollywood, and Bong Joon Ho for Parasite.
Right now, the race for both Directing and Best Picture has largely been between two films. For the Directing category, we're going to remain within the confines of the current trend. First of all, it should be said that all five nominees deserve to be here. Sure, there are other names, like Greta Gerwig, who you could put into this category but there can only be one winner. If things go the way of our picks, Gerwig is going to go home happy with her own statue regardless. Todd Phillips seems unlikely to win here judging by the names he's up against alone. He deserves oodles of credit for what he accomplished with Joker but this category belongs to someone else. Both Martin Scorsese and Quentin Tarantino have a combined three (!!!) Oscars between the two of them which is simply criminal. Yet, neither of them are going to win on this night either.
That leaves Bong Joon Ho and Sam Mendes. As we mentioned earlier, Parasite has so much hype behind it right now that it wouldn't be surprising to see Bong win. Though, it's Sam Mendes that's the most deserving of this award. His film, 1917, is the very definition of a war epic and its expert storytelling and technical prowess are the product of its director. Mendes is the architect of this wholly unique experience that's made to look as if it's filmed in real time and in one shot. Of course, neither of these things are legitimate but Mendes does such an amazing job getting the audience to buy into the illusion. You'd be hard-pressed to find another film that does what 1917 is able to do and Mendes needs to be rewarded for that.
---
Best Picture
*Winner: Joker*
Other nominees include Ford v Ferrari, The Irishman, Jojo Rabbit, Little Women, Marriage Story, 1917, Once Upon a Time… in Hollywood, and Parasite.
Remember how we said that there's no need for hate towards something that's supposed to be fun and based on opinion? Well, bring on the hate. Before we go any further, every single one of these films is great. You should watch all of them if you haven't. You could make an argument for any of these as your favorite of the past year and it'd be hard to argue against it. Therefore, we're just going to go with our gut here knowing full well that our pick isn't the favorite heading into Sunday.
In looking back on these nominees, it's kind of weird to see Ford v Ferrari here since it's not represented in any of the other top categories. It's interesting that neither Matt Damon nor Christian Bale picked up acting nods while both Anthony Hopkins and Jonathan Pryce did even though The Two Popes didn't make it into the Best Picture category. Strange. We already praised The Irishman earlier but it's not Scorsese's best work despite being very, very good. Despite Green Book doing it last year, it's rare for a Best Picture winner to not have its director nominated as well which edges out Jojo Rabbit, Little Women, Marriage Story, and the aforementioned Ford v Ferrari. At one point, it seemed like Once Upon a Time… in Hollywood was at the top of a lot of lists but it seems like support has tapered off a bit since then. Both 1917 and Parasite have been the recent darlings with 1917 cleaning up the other major award shows. It's a virtual certainty that Parasite will walk away as Best International Feature so it may end up getting passed over for the top prize.
For better or for worse, we're picking our #1 film of 2019 as the Academy Award winner for Best Picture. What else can we say about Joker that we haven't already said in our initial review? It's a shame that Black Panther was the first film based on a comic book to be nominated for Best Picture last year because Joker is the type of film that actually deserved that designation. While Black Panther was your typical superhero fare, Joker transcends that label. Does anyone remember the uproar that it caused upon release? Movie theaters everywhere were legitimately worried that the film would provoke violent outbursts or potential shootings given the subject matter. Thankfully, nothing like that actually happened but that's the type of impact a film of this magnitude had in 2019. Violence isn't something to celebrate and, admittedly, the film is much tamer than most people made it out to be.
Yet, Joker was a juggernaut at the box office and everyone had to see it. What was even more shocking is how culturally relevant it was and that it's actually a good film. We said in our original review that it's bewildering that a film like this was even made in 2019 and we stand by that completely. In a category chocked full of excellent titles, Joker is the one that deserves this award and, as an added bonus, would legitimize comic book films as a whole. It shows what can be done with comic properties and how these themes and characters aren't just kid stories about people in flashy costumes.
---
That's going to do it for Cinema Smack's 2020 Oscar Predictions! There's no doubt that we'll probably catch some heat for our Best Picture choice but that's alright. What everyone should be happy about is that 2019 actually produced a lot of quality films at the tail end of the year. Things were looking quite grim for about three quarters of the year but this year's Academy Awards are shaping up to be much better than last year's.
So, do you agree or disagree with our picks? Let us know in the comment section below and tune in this Sunday to see the best that Hollywood has to offer!