With the multitude of films that are released every year, sometimes one just falls through the cracks. Today, we're reviewing Jon S. Baird's Filth just in case you missed it…
With the exception of a select few, mainstream comedies are so by-the-numbers these days. A lot of them focus on topical issues and popular culture references. It's unfortunate that the average moviegoer has become so used to this that they don't even realize that these films are generally all the same. A lot of the most clever humor resides in dark comedies. Such is the case with Jon S. Baird's 2013 film, Filth. 
Dark comedy is a style that takes serious and/or taboo issues and makes light of them. While the acts are still considered to be heinous or just plain wrong, a good dark comedy will make them hysterical to the viewer. Baird's adaptation of Irvine Welsh's novel is just that. Welsh is a Scottish born writer whose erratic, drug-infused storytelling has captivated readers and moviegoers ever since his first novel, Trainspotting, was released in 1993 and the subsequent film adaptation followed in 1996. Like Trainspotting, Filth offers similar appeal with its story of a working class sociopath with a penchant for sex, drugs, and any other despicable acts.
James McAvoy stars as Bruce Robertson, a detective sergeant up for a promotion against a number of his peers. After a Japanese student is murdered, Bruce is provided with the opening needed to land the promotion to Detective Inspector. However, he begins his descent into madness through alcoholism, drug binges, and hallucinations. As the film continues, Bruce becomes more unstable and hostile towards the other characters. Furthermore, he plays games with everyone by either pitting them against each other after being their confidant or by negatively affecting their home lives for his own amusement.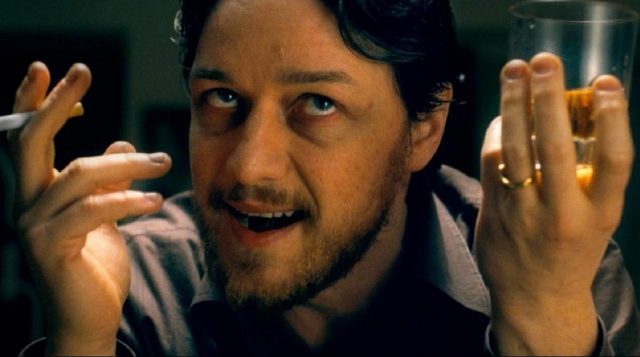 While Filth is built around McAvoy's portrayal of Bruce, the rest of the cast is fantastic as well. Specifically, the other police officers have distinct personalities and character traits (and flaws) despite their limited screen time. There's Dougie Gillman (Brian McCardie), the typical politically incorrect Scot, Ray Lennox (Jamie Bell), the drug addled rookie, Peter Inglis (Emun Elliott), the closet metrosexual, the dimwitted Gus Bain (Gary Lewis), and Amanda Drummond (Imogen Poots), the only female competition for the promotion who Bruce suspects of using sex to her advantage. The loose stereotypes work great for the characters and Bruce feeds on their weaknesses and insecurities to manipulate himself into his superior, Bob Toal's (John Sessions) favor.
Again, though, Filth is James McAvoy at his absolute best. He plays the most conniving and detestable human being that one could ever meet. Consistently, he sleeps with Dougie's wife, Chrissie (Kate Dickie), yet will turn around and tell Dougie that she's loyal. He exposes Peter's affinity for men by writing derogatory statements in a bathroom stall before bringing it up to Toal. Similarly, he's sure to stop Toal short of discriminating Peter for his personal choices to, again, gain favor for the DI position. As previously stated, the lengths that Bruce goes to embarrass others and further himself are so terrible in nature that they end up being hilarious to the viewer.
Bruce's only true friend is Clifford Blades (Eddie Marsan), or Bladesey as Bruce affectionately calls him. Bladesey is a weaker person who's having issues with his wife, Bunty (Shirley Henderson). Of course, Bruce latches onto this and treats his friend unbelievably poorly while also trying to seduce his wife. One of the funniest "games" that he plays in the entire film is when he continuously prank calls Bunty and then is assigned to the case of locating her harasser.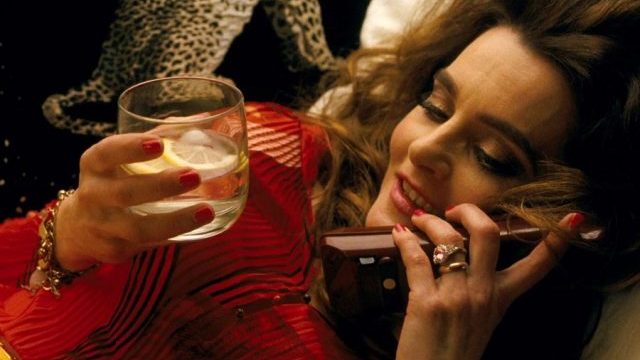 While Filth is such an amusing film to watch for the first half, there are also many depressing moments. Without ruining anything, psychologically, Bruce is unstable. As the film continues, he bottoms out more and more. There are some bizarre scenes with his "psychiatrist" Dr. Rossi (Jim Broadbent) that are like something out of Stanley Kubrick's A Clockwork Orange. He has an ongoing issue with his wife who's featured in her own scenes while he also finds some semblance of solace in a young widow named Mary (Joanne Froggatt). For as humorous as the film can be, there are a lot of moments that also contain no humor whatsoever.
Our Score
Filth is a fantastic film. Plain and simple. McAvoy's performance is astounding as he goes from evil to sympathetic, joyous to morose. He swaps emotions at the drop of a hat. The plot hits you with rapid fire events that you could miss if not paying attention. Yet, there's never a moment that you don't want to be watching the events onscreen. The only negative aspect is the quite sudden change in tone but it's not nearly enough to ruin the film. This film may not be for everybody but if you're a fan of dark comedies and good performances, then Filth is a must see.