Finally. After months of anticipation and being massively disappointed that Damien Chazelle's new film, La La Land, wasn't showing in the area, it has been released at the local movie theater. It certainly didn't disappoint. La La Land is the best film of 2016, hands down and it's not even close.
Chazelle met widespread acclaim for his 2014 film, Whiplash. Although he didn't receive an Academy Award nomination for Best Director, he did receive one for Best Adapted Screenplay. Whiplash was also nominated in the Best Picture category. There's no doubt that that's about to change with the release of this new film. The acting, choreography, direction, and music are all phenomenal. If you're a fan of musicals, there's nothing to dislike.
In La La Land, Ryan Gosling and Emma Stone star as Sebastian and Mia. Sebastian is a struggling jazz pianist who wants to open his own club and remain true to the music. Mia is an aspiring actress who works as a barista on a Hollywood backlot. The two have a few chance encounters and are immediately drawn to each other and their respective passions. They begin a romance that's chronicled over the course of a year as each of their lives ebb and flow.
First of all, this film is a musical. If you don't like musicals, La La Land may not be for you. In the vein of films like Singin' in the Rain, La La Land has a bit of everything. There's an overarching, realistic plot that drives the characters. There's also a lot of singing, musicianship, and choreographed dance sequences. In fact, the film pulls no punches as to what it is by beginning with a magnificent song and dance number on a jammed Los Angeles highway.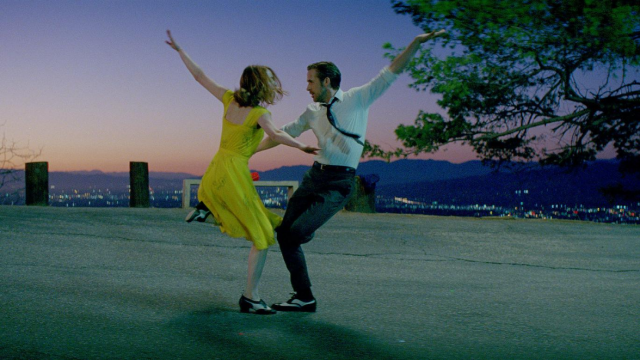 As for the acting, Gosling and Stone are phenomenal. The cast for the film is actually quite large with a ton of extras for some of the bigger routines. Even the extras do a stellar job in their limited time. John Legend and J.K. Simmons have small roles in the film and they do add a little spice. However, there's no question that the two leads drive the film. Both of them are so likable and, as characters, it's easy to see why they're so attracted to one another. Their chemistry onscreen is off the charts and you truly care about their relationship. One sidenote is that Ryan Gosling didn't perform his piano parts on the actual soundtrack but did learn all of the parts when performing onscreen without the use of a hand double or CGI.
As per usual for a musical, the songs are one of the most important aspects of a film. They definitely get the job done in La La Land. There are a few peppy, uplifting songs while there are also some more somber numbers towards the end of the film. Specifically, Emma Stone's solo tune, "Audition (The Fools Who Dream)," is possibly the biggest standout of the film. Composer and orchestrator Justin Hurwitz is just as important to this film as the actors and director. His original songs are unbelievably catchy but also have a continuity to them. There aren't any songs that stick out as if they don't fit the rest of the film.
So, is there anything to dislike about La La Land? In all honesty, no. As was evident in his previous film, Whiplash, Chazelle executes his directorial duties to perfection. In his newest film, there's always so much to look at and listen to. The color palette is fantastic with a good amount of purple yet it still maintains a warm overall tone. Often times, La La Land does feel like a type of dream sequence. There's also a lot of subtle humor throughout the film.
Our Score
When all is said and done, La La Land is absolutely wonderful. Everything about it is simply done too well to be ignored. Unfortunately, we weren't able to include the film on our Best of 2016 list since it wasn't in the local theater until this week. Yet, it's kind of a good thing. There's seriously no competition between La La Land and any of the other films on our list. It's, by far, the best film of 2016. It would be no surprise to see it sweep the Academy Awards in February. Again, if you're not a fan of musicals, this film may not be your cup of tea. For everyone else, though, La La Land excels in every category and should be considered the gold standard of film in 2016.