For most of this year, it seemed like 2019 was doomed in terms of cinema. Lately though, we've been doling out excellent scores left and right and with good reason. The plethora of Oscar hopefuls getting pumped out at the end of 2019 has really boosted overall morale for the year and has actually made the landscape feel competitive once again. Well, get ready for a few more praiseworthy efforts this week beginning with the Fred Rogers drama, A Beautiful Day in the Neighborhood.
Rogers, of course, was the host of the television show, Mister Rogers' Neighborhood, which ran from 1968 to 2001. Aimed at preschool children, the show tackled various human issues and taught children about things like artwork, careers, and friendship. Interest in the children's television host has spiked over the past two years largely due to the release of the acclaimed documentary, Won't You Be My Neighbor?, which was released last summer. The film became the top grossing biographical documentary of all time after raking in over $22 million. It won numerous awards but, surprisingly, Won't You Be My Neighbor? was snubbed at the 91st Academy Awards by not even receiving a nomination for Best Documentary Feature. Regardless, the rights for a feature film based on Rogers and his real-life friendship with journalist Tom Junod were acquired by Sony with production beginning in September 2018.
A Beautiful Day in the Neighborhood opens like the television show with Fred Rogers (Tom Hanks) arriving home to greet his television viewers with a song. From here, he switches into his red sweater before introducing the audience to his friend, Lloyd Vogel (Matthew Rhys). The film then follows Lloyd, an award-winning journalist for Esquire, as he attends his sister's wedding. He gets into an altercation with his estranged father, Jerry (Chris Cooper), at the wedding and is assigned to interview Mr. Rogers for an article about heroes the very next day. Upon meeting Rogers, Lloyd believes that the TV host is putting on an act and struggles to believe that there's such kindness in a person. As the film develops the relationship between Lloyd and Rogers, it aims to highlight and analyze the former's mishandling of his marriage and the resentment he feels towards his father.
Going into the film, most will probably expect A Beautiful Day in the Neighborhood to be a feelgood biopic on the life and times of Fred Rogers. Oddly enough, it's not really about Mister Rogers and the story isn't always a feelgood tale. It's about the personal and emotional impact that Fred Rogers has on those around him. The main character is actually the cynical and defiant Lloyd who the audience is meant to relate to. The film initially depicts Rogers as almost a sideshow attraction with a creepy silliness to him. Lloyd sets out to basically label the host as a phony despite his article's theme of heroism. Obviously, Lloyd's intentions fall to the wayside as the kindhearted Rogers breaks away Lloyd's barriers.
The story is told as if it's an actual episode of Mister Rodgers' Neighborhood. As previously mentioned, it uses the classic opening sequence complete with a Tom Hanks rendition of "Won't You Be My Neighbor?" As the film transitions to different characters and locations, miniatures are used to always remind viewers that they're watching a Mister Rogers film. You'll see some brief behind-the-scenes making of the show sequences with Rogers voicing and performing as his puppet friends and there's even a revelatory scene for Lloyd in the Neighborhood of Make-Believe. Again, A Beautiful Day in the Neighborhood isn't necessarily about Fred Rogers but his presence looms over every scene and over Lloyd's pessimistic outlook on life.
While we've spent most of this review talking about only two characters, it should be known that the entire cast is excellent. Susan Kelechi Watson and Maryann Plunkett play good complements as Andrea and Joanne, the wives to Lloyd and Fred respectively. They both help to provide depth and help viewers to further understand the two leads. Chris Cooper is solid as always in playing an undesirable type of character with multiple layers. Similar to Rogers, Cooper's Jerry isn't always onscreen but the character always weighs heavily on Lloyd and drives his story arc. Matthew Rhys is a bit insufferable as Lloyd at times but it's definitely intentional and makes his relationship with Rogers all the more potent. The character is based off of real-life journalist Tom Junod who asked to be given a pseudonym. Junod's depicted relationship with his father is distorted and dramatized for this particular story and Junod felt that the character wasn't entirely him. Regardless, to have a character that's so unlikable actually be accepted by Mister Rogers is essentially everything that the film is trying to say in a nutshell. You can't understand a person until you've walked a mile in their shoes. Rhys as Lloyd is basically the Ebenezer Scrooge of the film and is a very redeemable character by the film's end.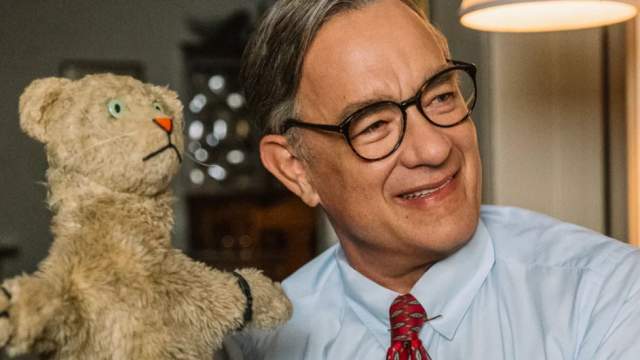 None of you are really reading this to hear about these other characters though, are you? The beating heart of A Beautiful Day in the Neighborhood is Tom Hanks in the performance of a lifetime as Fred Rogers. Hanks has many iconic roles under his belt such as the title character in Forrest Gump, Woody from Toy Story, Captain John Miller from Saving Private Ryan, and Chuck Noland from Cast Away. His performance as Mister Rogers is absolutely among his best work. It's such a brilliant and logical piece of casting that pays such huge dividends. In a film so full of ugliness at times, Hanks makes you believe in kindness and the work of Fred Rogers. Whether you're a fan of the original show or not, Hanks captures the spirit of Mister Rogers and unleashes it on the audience in the biggest way. As previously mentioned, there are times when his patience and grace are almost eerie but as Lloyd comes to understand and accept Rogers, so does the audience.
There's not a whole lot more to say about A Beautiful Day in the Neighborhood. There's very little doubt that it will be in Oscar contention come February. Director Marielle Heller does a wonderful job helming the film after her work on last year's acclaimed Can You Ever Forgive Me? and should receive some accolades for this film. The biggest negative of the film is that it may not be exactly what people had in mind for a Mister Rogers film. Most are probably expecting something more akin to Mister Rogers' Neighborhood. While this film certainly isn't that, it still maintains the spirit and positivity of its inspiration. The same type of message is being translated to audiences and, overall, the film is an extremely positive experience with understanding and acceptance at its core. While it may not cause you to relive your childhood, A Beautiful Day in the Neighborhood will still kick up some familiar feelings.