Well over a year into the COVID-19 pandemic, it finally feels like things are starting to turn the corner. Mask mandates are slowly being lifted, sporting events are back at full capacity in many locations, new concert announcements are popping up left and right, and, most relevant to this site, movie theaters are finally opening and/or expanding showtimes. For the theaters that have been open for a little while, the biggest problem has been the lack of big titles being released. Last summer, Tenet was released with the hope of coaxing moviegoers back into the theater but, ultimately, it performed well below expectations. While that film may have been released a little too early during the pandemic, we finally have one that appears to be hitting the cinema at a time when audiences feel more comfortable. The COVID delayed A Quiet Place Part II is finally out and is exactly the kind of film that movie theaters have needed to get people back into their long empty seats.
Co-written and directed by Joel Krasinski of The Office fame, A Quiet Place burst onto the scene back in 2018. Against a budget of just $17 million, the film grossed over $50 million in its opening weekend and nearly $341 million worldwide by the end of its theatrical run. Critically and commercially successful, the first film was a unique and fresh entry to the horror genre with its deliberate pacing and very little audio in its first act. On this site, we've often cited A Quiet Place as a standout in the modern horror film renaissance happening in Hollywood and it even landed in our top 10 Best of 2018 list that year. Simply put, when a horror flick has as much success as the first Quiet Place, it's no surprise that a sequel was to follow.
The plot of A Quiet Place Part II doesn't stray far from what its predecessor did so well. The film opens with a little backstory on when the alien creatures with hyperacusis came to inhabit the Earth before fast forwarding to the present day. The remaining members of the Abbott family, Evelyn (Emily Blunt) and her baby, Regan (Millicent Simmonds), and Marcus (Noah Jupe), leave their family farm following the events of the first film to search for more survivors. Armed with shotgun and Regan's cochlear implant/amplifier combo for protection, the family sets out on their journey. However, it quickly comes to a halt when they come across several traps placed by a man from their past, Emmett (Cillian Murphy). After Marcus gets caught in a bear trap, Emmett takes the Abbotts in but is initially unwilling to let them stay. Regan and Marcus discover a radio station playing the song, "Beyond the Sea," which Regan determines to be a signal. This leads to her sneaking away to locate the source with Emmett tracking her down as Evelyn protects her other children back at Emmett's stronghold.
Even though there are a lot more things going on plot-wise this time around, A Quiet Place Part II offers up more of the same as its predecessor. The Abbotts stick to the habits that have kept them alive all this time while venturing out further than they ever have since the alien invasion. While the human factor of those outside their family unit throws a monkey wrench into their plans, they still feel like smart horror movie characters. In so many films, the characters serve as fodder for villains or creatures to take out one by one. Here, viewers want to see all of the characters survive and, for the most part, they stay sharp even in the face of potential death.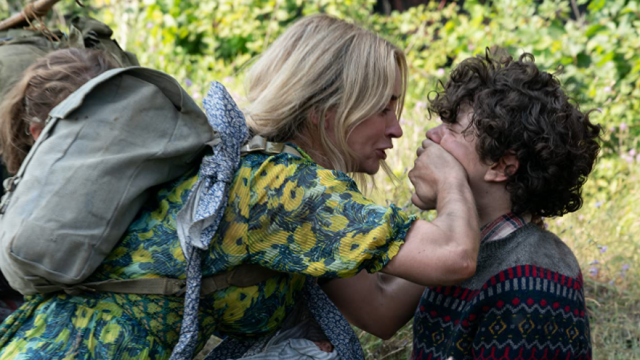 Saying that a film is "more of the same" can often be interpreted as a bad thing but, in this case, it's anything but. A Quiet Place Part II seems like a logical next step for the series. The first film wraps up nicely and didn't necessarily need a sequel but there was also plenty more story to tell if Krasinski and company wanted to revisit this world. Thankfully, it doesn't suffer from the usual horror sequel issues. Instead, it expands the scope of the first by taking the Abbotts out of their comfort zone and drops them out in a post-apocalyptic world with numerous unknown potential dangers. Basically, A Quiet Place Part II is what The Walking Dead has always tried to be minus the zombies. Unsurprisingly, this film actually does the post-apocalyptic thing well while The Walking Dead has always bungled up its ideas across its agonizingly long run on television. The film also frequently brings to mind the amazing Last of Us video game series with its constant tension and beautifully desolate scenery.
One thing that will make viewers feel right at home is the cast. With Blunt, Simmonds, and Jupe all returning along with an appearance from Krasinski as Abbott patriarch, Lee, in flashback sequences, it's easy to quickly get absorbed back into their predicament. Having fully fleshed out these characters and the world they live in in the previous film allows the audience to become re-invested in this new direction the Abbotts take in their survival. Even the boneheaded moves, mainly by Regan who's hellbent on making her father proud, are understandable, and even commendable, given her new dedication to family. The main addition to the cast is the always wonderful Cillian Murphy as Emmett. Now, it does feel as if the filmmakers wrote themselves into a corner by killing off Lee in the first film. Murphy's surrogate father role would've been much more impactful with Krasinski's Lee as the focus over Emmett. Obviously, that would be impossible with the outcome of Part I. Of course, Murphy is more than up to the task but the role lacks that little bit of something that Krasinski brought to the first film especially considering the chemistry between he and Simmonds as father/daughter.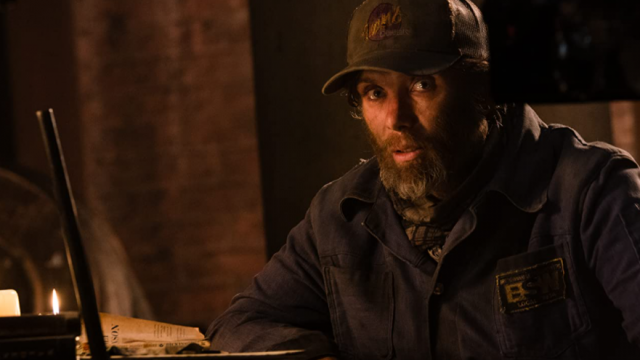 That's also kind of the issue with  A Quiet Place Part II overall. It lacks something. That's not to say that it's a bad film or even that it's inferior to the first. It's actually very much on par with its predecessor. Yet, it doesn't really separate itself or up the ante from the first either. It's just a great continuation of the story. It still has all the tension, drama, spectacle, and action that you'd expect but doesn't have that Terminator 2: Judgment Day or The Dark Knight type of jump in quality from the first in the series. Even the creatures don't really have anything new to report about them unlike something along the lines of James Cameron's Aliens. The film also has a somewhat abrupt ending which sets up nicely for a third film (which feels inevitable) but it doesn't leave you unsatisfied either.
Our Score
As previously mentioned, A Quiet Place Part II is right on part with the first film. It's not without its extremely minor issues but it's still an excellent horror film and one that every genre fan should go out of their way to see. The constant state of dread and fear for the characters is always present and danger lurks behind every corner. The film does what any good sequel does by expanding its universe, widening the scope (even if only slightly), and telling a good story that fits nicely alongside the first. Again, it's a logical progression for these characters and the series in general and it'll be interesting to see where everything goes in the inevitable Part III. With people needing a reason more than ever to return to the cinema, A Quiet Place Part II is exactly the type of film that can get them back.