Over the past few years, there has been a slight renaissance when it comes to the horror genre in Hollywood. Sure, there are still films like Rings and The Bye Bye Man that are laughably bad. However, there are a lot of fresh ideas out there that have actually been taken seriously. It's actually kind of shocking. In 2016, Don't Breathe and Lights Out were critically acclaimed (though not necessarily on this site) original horror films. Then, last year brought It Comes at Night, Academy Award nominee, Get Out, and a new adaptation of Stephen King's It. Even earlier this year saw Alex Garland's sci-fi horror film, Annihilation, received much fanfare. The renaissance now continues with John Krasinski's A Quiet Place.
The film marks Krasinski's feature length debut. Most people know him as Jim Halpert on the US version of The Office. He's also set to star as the title character in the upcoming Jack Ryan series on Amazon Prime later this year. Krasinski wrote the screenplay for A Quiet Place with Scott Beck and Bryan Woods based on a story from the latter two. He also pulls acting duties on the film so he's certainly one of the main creative forces on the project as a whole.
The film is set in 2020 and centers on the Abbott family who live in mostly complete silence. The Earth's population was ravaged by creatures who attack the source of the slightest sound. The plot picks up on Day 89 while the Abbotts are out scavenging for supplies. Along the way, the youngest, Beau (Cade Woodward), picks up a toy space shuttle before the father, Lee (Krasinski), explains that it's too loud to have. The daughter, Regan (Millicent Simmonds), gives it back to Beau without the batteries unbeknownst to their parents. On the way home, Beau is attacked after sneaking the batteries back into the toy. A year later, the Abbotts (sans Beau) are living on their farm and the mother, Evelyn (Emily Blunt), is in the late stages of pregnancy. From here, the family tries to live their normal silent lives while avoiding the creatures.
When thinking about the plot of the film, there really isn't too much of one. In the case of A Quiet Place, that's not a bad thing. The motivation for the characters is survival. They simply do what they can to ensure their survival from the creatures. They use sign language, loud distractions, and various forms of lighting to alert each other and surrounding survivors of their status. The plot does change and evolve a little as the film hits its climax but, for the most part, this is a film about family and their survival as a unit.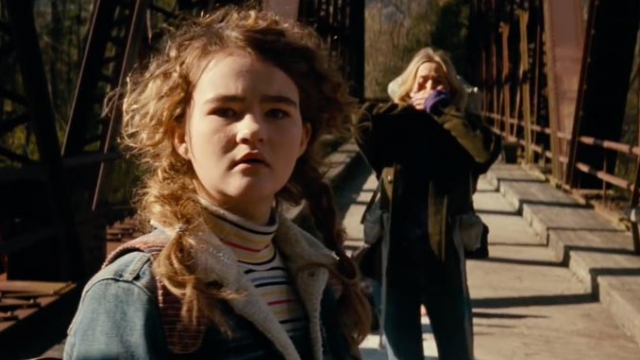 It's typical in horror for there to be one lead protagonist. That's not the case here. Every member of the family feels like a legitimate main character. Each goes through their own trials and tribulations throughout the story and they seem to learn and appreciate things about one another. Make no mistakes, Krasinski is the star of the film with Emily Blunt being a close second. Though, Millicent Simmonds as the deaf Regan shines as she blames herself for Beau's death. The middle child, Marcus (Noah Jupe), is stuck as a sort of intermediary between Lee and Regan. Emily Blunt's Evelyn has her own burdens to bear as she's preparing to give birth. This is an obvious problem as there's no way to control when or where a baby will cry. The entire cast is excellent and there isn't a single weak link here.
One thing that's much different about A Quiet Place than your standard horror fare is its silence. Much of the first act is shrouded in it and the crew on this film do a wonderful job making every sound count. Every time a louder noise kicks in, you feel as if you're one of the characters waiting for one of the creatures to show up. Most horror films these days have almost too much sound with constant jump scares and loud musical cues during action/chase scenes. This film does feature musical cues but they're subtle and blend well into the story. Of course, that's no surprise with a longtime composer like Marco Beltrami at the helm. Like with the cast, A Quiet Place excels in its sound design and score.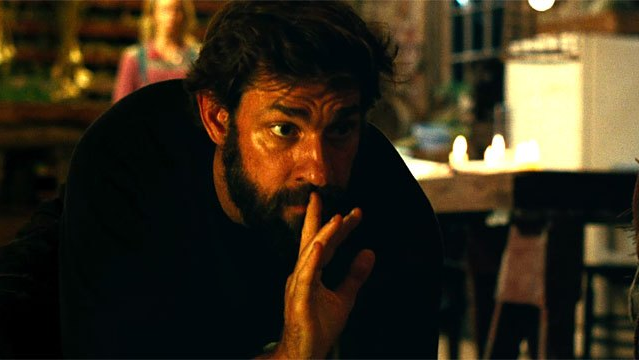 When it comes to the monsters of the film, unsurprisingly, they're also very well done. While films like It Comes at Night and The Monster didn't show much, if anything, of their antagonists, A Quiet Place doesn't follow suit. The creatures are shown early and often. Though, there is a slight Alien type of build where you only see glimpses of them at first. At first glance, this film and It Comes at Night did share some similarities. It was a relief, then, that they differed greatly in their approach to their respective villains. Not to give too much away but they do bear a slight resemblance to Venom from the Spider-Man comics though. This isn't really a negative, just an observation.
Our Score
When trying to come up with something negative to say about A Quiet Place, there really isn't anything. You could maybe argue that the beginning feels a little slow due to the film's lack of sound but that would be missing the point. There shouldn't be sound in the world of the film and it also doesn't need any to create suspense. Overall, this is just a really good film. It has everything you'd want from a suspenseful horror movie. It doesn't have a ton of blood and guts but the violence and/or gore that it does have is impactful. If A Quiet Place came out prior to many of these other acclaimed films in the genre, it would easily be considered one of the best horror films in years. That being said, it's still a very good film and, so far, one of the the best of 2018.