In the past decade or so, it seems like gun violence and the number of mass shootings has increased at an alarming rate. Just last week alone, five people were killed in a shooting at the Molson Coors Brewery in Milwaukee. These heinous events have become disturbingly regular and are a constant point of contention for politicians, business, owners, and the general public. It's no surprise that this makes its way into the world of film and television as well. Films like Elephant, Beautiful Boy, and We Need to Talk About Kevin have centered specifically on school shootings while a show like American Horror Story's Cult inspired season featured a mass public shooting at a political rally. In these titles, the inciting incidents have often been the focus in the buildup to a shooting. However, in Javier Augusto Nunez's most recent short film, The Fifth of November, the focus shifts from the shooting itself to its damaging effects on a lucky survivor of one of these incidents.
The film follows Jane (Qurrat Ann Kadwani), a woman who survived a mass shooting on dumb luck, as she tries to go on living her life. She's surrounded by talk of gun violence on the local news station while the people around her are carefree and oblivious to the matter. As Jane's birthday approaches, she relives one of her happiest memories, her fiancé, Zachary's (William H. Bryant Jr.), marriage proposal, followed by one of her worst. While Jane appears to be relatively normal on the outside, the mental and emotional toll of her survival changes her and makes November 5th a day she refuses to live down.
To avoid any serious spoilers, we'll keep plot details somewhat vague. However, the story of The Fifth of November is certainly a relevant one. It's also an approach we don't often see in films of this ilk. In so many cases, people want to know the motivation behind a shooting. To many, something must've happened to push this person over the edge and, perhaps, he/she was failed by society. It's refreshing to see that that's not the case in this film. The story, co-written by star Qurrat Ann Kadwani and Nunez, focuses on the person that's still here and not those that are gone. The focus is solely on Jane and how she handles the fallout of what she experienced in a mass shooting situation. Those around her, including her co-worker, Alejandra (Joanna DeLane), have no idea what Jane's feeling and, frankly, they don't seem to really care either. It's something that no one else can relate to which makes things even harder for Jane to bear.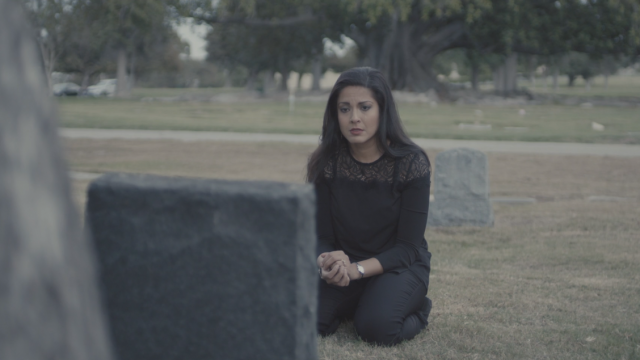 Not only does Kadwani co-write a relevant and effective story in The Fifth of November, but she also enhances its effectiveness with her somber performance. It's not easy to pull double duty on any film, let alone an emotionally heavy one, but Kadwani does a good job here. As Jane, she remains strong willed and unwavering when faced by other people. Though, when she's alone, her mental stability is questioned. Again, we're avoiding spoilers in this review but it should be known that the character is multilayered and still ravaged by the bloodshed she narrowly avoided. The other cast members do a solid job throughout the film as well.
Joanna DeLane's Alejandra is something of an ignorant motor-mouth who we've all dealt with at one point or another. She basically embodies the on-the-go mindset of contemporary America as people are numb to the travesties around the world and more concerned with getting drinks after work as Alejandra is. William H. Bryant Jr. is also very good as Zachary. He doesn't get a ton of screen time but he and Kadwani build a believable relationship in their brief interactions in the film. Shaw Jones also makes an appearance as basically a scapegoat. His character, Owen, is the physical embodiment of the cause of Jane's suffering. The way his character is portrayed is kind of depressing on a purely human level but also strangely understandable through Jane's eyes.
Perhaps the most striking thing about The Fifth of November is its overall look. Ray Gallardo handles the cinematography with Nicole Valencia as the production designer and both did a great job on the film. While all of the shots are sharp and well crafted, there's an odd haze that seems to linger over every scene. It's as if things are being seen through Jane's eyes where everything's in focus but she's also living in a type of fog. Different colors and lighting are used in certain scenes too. When Jane's going through her daily life, the film takes on a steely blue hue but, during flashbacks of happier times, there's a much warmer color palette. It helps to define the before and after of Jane's life and how she's affected by the shooting.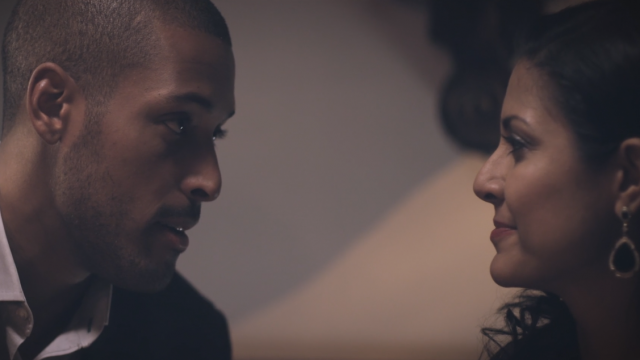 Like all films, The Fifth of November isn't perfect. One minor nitpick is that TVs are seen in many of the shots but they appear to be added in in post production. Most likely, it was too difficult to film both the TV and actors with both in focus. While understandable, the effects stick out and are a little distracting during the film. The other issue is with the film's initial message. When you dig a little deeper, the film shows how desensitized we've become to acts of violence and our inabilities to help those who've survived such atrocities. Initially though, it feels like the film perpetuates hatred and blame onto people who don't necessarily deserve it. Now, is The Fifth of November full of hate and negativity? No. Yet, upon first viewing, it seems to lean that way. Many films with this subject matter would promote healing instead of vengeance but, in this case, Nunez, Kadwani, and company take a bolder, more realistic approach.
Our Score
Overall, the film is very well done. The biggest negative we pointed out above is actually one of the film's best assets. It's a serious talking point and there's no doubt that the content and message of the film will divide audiences. It even does all this without ever becoming preachy or one sided. Qurrat Ann Kadwani's portrayal of Jane is pitch perfect in a film tackling such serious and pertinent issues. Her script with director Javier Augusto Nunez may even be better given the subtleties and open dialogue that the film bravely encourages. While The Fifth of November isn't quite an enjoyable view given its subject matter, it's a thought-provoking piece of cinema that's certainly worthy of discussion.
Click here to check out the trailer on YouTube.