When it comes to war films, it's no surprise that World War II is often the go-to for filmmakers. There have been a ton of films based on this particular war from every conceivable angle. Titles like Schindler's List, Das Boot, and Saving Private Ryan have become classics in the eyes of modern audiences while others, such as Dunkirk, Darkest Hour, and Midway, have been released more recently to varying degrees of success. Though World War II isn't a historical event to be taken lightly, there are filmmakers who like to bring some levity to wartime. In 2008, Quentin Tarantino delivered his tension filled black comedy, Inglourious Basterds, and now writer/director Taika Waititi treads a similar path with his new film, Jojo Rabbit.
As a filmmaker, the New Zealand-born Waititi has been a name on the rise as of late. He began his career with a number of short films throughout the early to mid 2000's before releasing his feature length debut, Eagle vs Shark. It starred Waititi's friend and frequent collaborator, Jemaine Clement of Flight of the Conchords fame. He then found success with Boy in 2010 and What We Do in the Shadows in 2014. In addition to writing and directing, Waititi also acted in both. What he's most known for recently is his foray into the Marvel Cinematic Universe with 2017's Thor: Ragnarok. Due to his vision, the Thor series was given new life which will continue with Waititi's 2021 followup, Thor: Love and Thunder. However, his current film, Jojo Rabbit, is based off of the first half of Christine Leunens' 2008 book, Caging Skies. Like his work on Ragnarok, Waititi is still able to bring his trademark sense of humor to a fun and touching story.
The film centers on Johannes "Jojo" Betzler (Roman Griffin Davis), a member of the Hitler Youth in Nazi Germany towards the end of the war. Jojo spends his time attending a training camp and communicating with his imaginary friend. His friend happens to be a silly and childish version of Adolf Hitler (Waititi). After suffering injuries from an accident at camp, Jojo's mother, Rosie (Scarlett Johansson) insists that Wehrmacht Captain Klenzendorf (Sam Rockwell) includes Jojo in menial youth activities. Soon though, Jojo discovers that Rosie is hiding a young Jewish girl, Elsa (Thomasin McKenzie), in their house. Conflicted on what to do, Jojo gets to know Elsa while hiding her existence from superiors and making excuses to Hitler about allowing her to stay for research purposes.
Firstly, the performances from nearly everyone involved are an absolute delight. Waititi's Hitler is a total buffoon that provides some of the film's funniest moments. A close second in this respect is Sam Rockwell as Captain Klenzendorf. He's clearly an officer whose best days are behind him as he goes through the motions by training the Hitler Youth. Despite his political alignment, there's something endearing about him as this outcast character. Rebel Wilson pops in for a few scenes in a somewhat typecasted role. She's not necessarily bad but she's very Rebel Wilson. Frankly, the movie doesn't really need her but she shouldn't shy anyone away either. Scarlett Johansson can do no wrong as she's unbelievably charming as Jojo's mother, Rosie. Rosie is stern, yet playful, and she counteracts Waititi's Hitler by pitting her son's youth and innocence against his drive to be a Nazi.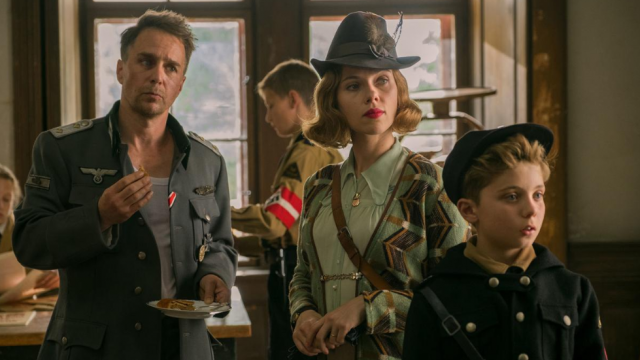 The biggest stars of the film are its two young leads. Both newcomer Roman Griffin Davis and Thomasin McKenzie are magnetic onscreen. Davis has a lot of opportunity to play off of ascendant veteran talents like Rockwell and Johansson and manages to hold his own. His delivery and timing are great especially when "interrogating" young Elsa about her Jewish background. Speaking of Elsa, Thomasin McKenzie may be the best thing about the film in general. Last year, she starred as the sheltered and unassuming Tom in Leave No Trace opposite Ben Foster. In that film, she lived her life according to rules laid down by her father and didn't know anything else. Her role as Elsa is almost an extension of Tom as she's a young girl on her own and trying to figure out the hardships of her life. This time around, she's a bit more savvy and cunning while also being vulnerable and at the mercy of those around her. The dynamic between both Davis and McKenzie is excellent and something that's not often seen between such young talent.
This brings us to the film's story. Yes, the premise for Jojo Rabbit sounds dumb on paper but it's kind of a relief that it avoids an uber-realistic approach to such a serious subject. There's no doubt that some people will be offended by the frivolous nature of the film. No, this isn't Saving Private Ryan or Schindler's List. It's not a film about the loss of life or the immense human suffering of World War II. It's a childish film that views things through the eyes of a child. Davis's Jojo doesn't see Elsa as a monster or a threat to Nazi Germany. He knows that he's supposed to and, in not doing so, he's doing a disservice to his country. Yet, all he sees is another human being who's defiant, fearless, and mentally strong in a terrifying situation. What Waititi intends to say with his film is very basic and, again, almost childlike but it's such an important mindset to remember in any time period.
What helps the film even more is its comedy. Again, there will be people who will find Jojo Rabbit in bad taste no matter what. The intentions behind of Adolf Hitler and Nazi Germany's imprisonment and eradication of the Jewish people were horrifying at best. This isn't a film about that nor should it be looked at that way. It pokes fun at some of the absurdities and makes Hitler out to be a complete fool. There are many ridiculously funny "facts" about Jews spewed out by both Jojo and Hitler that you simply have to laugh at. There are also a lot of humorous moments where kids are just being kids. Jojo's friend, Yorki (Archie Yates), is good for a lot of these thanks to his innocence, understanding, and support of his friend. The film is quite reminiscent of Wes Anderson's Moonrise Kingdom in spots and that's definitely not a bad thing.
Our Score
Jojo Rabbit is certainly going to have its share of haters. Though, the film is just far too much fun to ignore. It's hard not to continue going back to the well by saying that the time period of the film is a horrible blemish in world history. Yet, maybe we need films like Jojo Rabbit and Inglourious Basterds once in a while to ease the pain. There are so many films about the horrors of war but a film like Jojo Rabbit is not only funny but it's also got a ton of heart. It's a film about people and some of the differences that can be made through little more than simple human sympathy and compassion. If you can check your emotions at the door, you may be surprised at what you find with Jojo Rabbit.