Over the past few years, we've discussed racial issues quite frequently on this site. With films like Spike Lee's BlacKkKlansman, Jordan Peele's Get Out, and Remi Weekes' His House, we've run the gamut with African Americans infiltrating the Ku Klux Klan, being singled out by a stereotypical white family, and being haunted by ghosts of the past. While each of these films have their own merits, it seems like there really hasn't been one of late that has chronicled the racial tension, cultural significance, and subsequent uprising that has occurred at moments in African American history. Though other recent titles like Da 5 Bloods, Ma Rainey's Black Bottom, and One Night in Miami had unique and compelling stories to tell, it's Shaka King's Judas and the Black Messiah that may be the most powerful tale of race relations and hardships in the black community in a long time.
The film takes place in late 1960's Chicago where petty criminal Bill O'Neal (LaKeith Stanfield) is arrested following a botched carjacking. FBI Special Agent Roy Mitchell (Jesse Plemons) agrees to have Bill's charges dropped in return for infiltrating the Black Panther Party and getting close to its chairman, Fred Hampton (Daniel Kaluuya). Bill lives a double life as he attempts to prove his allegiance to Fred and the Panthers while being compensated for his intel by Roy. As the Panthers align themselves with rival gangs and militant groups, they ready for war against the oppressive Chicago Police Department while also trying to build a semblance of community. Meanwhile, as Bill moves up the ranks within the Black Panther Party, he struggles between being a loyal soldier and saving his own skin given his relationship with the FBI.
Since the whole #OscarsSoWhite debacle back in 2015, films that predominantly feature African Americans have often been thrust into the forefront and with good reason. While films like Moonlight, Black Panther, and Us maybe get a little too much exposure given their overall quality, others like Straight Outta Compton, Fences, and the aforementioned BlacKkKlansman have featured powerhouse performances mixed with incredible stories that remind viewers of the hardships that those within respective communities must overcome. Of course, the more recent #BlackLivesMatter movement has only amplified the ongoing racial issues in the United States and films like Da 5 Bloods, One Night in Miami, and, now, Judas and the Black Messiah feel as timely and significant as ever.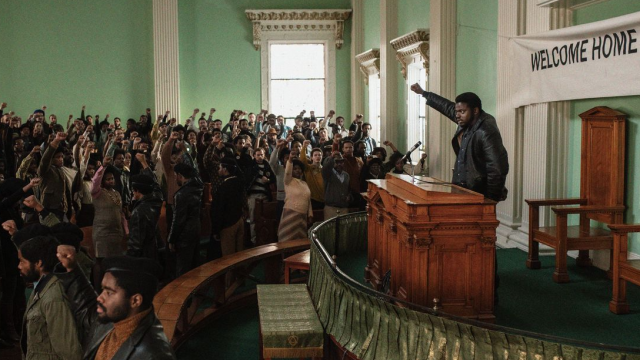 So, getting back to Judas and the Black Messiah specifically, what is it that puts this film a head above the rest? Perhaps the best thing it has going for it is its lack of agenda. When it comes to a filmmaker like Spike Lee, there's always going to be that last minute propaganda getting thrown in. BlacKkKlansman is an absolutely riveting experience until it becomes overly preachy and too on-the-nose with its direct connection to modern times. On the other end of the spectrum, there's someone like Jordan Peele who clearly has something to say about race relations but kind of bumbles around with it in somewhat half baked fashion. Shaka King finds a perfect balance as Judas and the Black Messiah is a story that's set in the past with its message being clearly relevant in the present. Yet, King never shies away from telling the story onscreen. The parallels to modern society are clearly represented but the viewers don't need to be bashed over the head with them to see the similarities. It's filmmaking at its finest and the film itself leaves the impression and not the outspoken voice behind the camera.
It certainly helps that Judas and the Black Messiah is littered with amazing performances from start to finish. LaKeith Stanfield and Daniel Kaluuya reunite for the first time since Peele's Oscar nominated 2017 film, Get Out, and definitely don't disappoint. Stanfield plays something of the Leonardo DiCaprio role in The Departed where he's forced to gain the trust of a specific target and report back. Unlike DiCaprio's Billy Costigan though, Stanfield's Bill O'Neal is someone who's simply looking to save himself. He doesn't seem to understand what exactly he's caught up in. He's a sympathetic and likable character even through all of his betrayal and deception as he becomes a greater part of the the Black Panthers. Though, it's Daniel Kaluuya who's the true standout of the film. While he's been very good in previous roles, Kaluuya as Panther chairman Fred Hampton could be considered a career defining performance. He commands attention every time he's onscreen and even if he's only half as charismatic and influential as the real Hampton, you can see why people would want to follow him. While Kaluuya's performance is fueled by that aforementioned racial tension and hostility, there's also a tender side to the character which makes him relatable on a human level. As depicted, Fred Hampton is a man who's locked in a war for what he believes is right and just. As a viewer, you're fully engaged and understand his plight and it's easy to get behind him.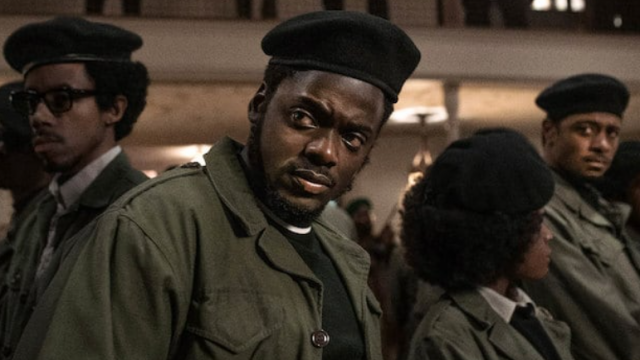 For over two hours, Judas and the Black Messiah will have you fully invested and absorbed into a segregated 1960's Chicago. The lone issue is that the film never really ramps up to a satisfying climax in the way most crime/drama/thrillers of this type normally do. The film is always chocked full of tension and drama but it doesn't seem to hit a breaking point. It just kind of stays level from start to finish. Again, what's onscreen is compelling but it may leave some feeling a bit shortchanged by its ending. It's difficult to say what exactly could've been done to take it to the next level but the film is definitely missing that little something.
Our Score
Regardless, Judas and the Black Messiah is excellent and an early favorite here in 2021. Its cultural significance certainly resonates today and the approach taken by Shaka King and his team is much welcome when compared to filmmakers like Spike Lee and Jordan Peele. The story itself does all the work without the propaganda or ham-fisted approaches from others. Hopefully, films like Judas and the Black Messiah and One Night in Miami become the norm when it comes to African American, or any social issue or injustice, cinema in the future. There's a sense of pride, community, and hope with these films along with the obvious battles that people of other race, religions, and creed face from their opposition. In what's set to be a pretty stacked year for film, Judas and the Black Messiah should be considered a must watch for everyone here in early 2021.
*Judas and the Black Messiah is currently playing in theaters and streaming on HBO Max for subscribers.*