With the Academy Award nominations being announced just two days ago, movie lovers find themselves in a completely new situation when preparing for Hollywood's biggest night. In recent years, streaming services, namely Netflix, have found themselves with greater representation at the Oscars with films like The Irishman and Marriage Story getting much praise from fans and critics alike. Of course, with the COVID-19 pandemic, filmmakers and studios have had to embrace new ways for audiences to access their product. In turn, the upcoming 93rd Annual Academy Awards is dominated by films currently available for streaming on services like Netflix, Amazon Prime, HBO Max, and Hulu. One such film that has gained a lot of buzz recently is Chloé Zhao's depressingly stunning look at life on the road in the form of the simultaneous theatrical/Hulu release, Nomadland.
The film centers on an aging widow named Fern (Frances McDormand) who spends her days working at menial jobs while living out of her van. Following the shutdown of the US Gypsum plant in Empire, Nevada, in 2011, Fern loses everything and, ultimately, takes up life on the road. Her seasonal travels have her bounce around to various locations and working at places like Amazon, Wall Drug, and Badlands National Park. Over the course of her nomadic life, Fern makes friends while also losing some, navigates the harsh lifestyle while refusing to throw in the towel, and somehow manages to still witness some of the beauty during her journey.
Nomadland is sort of a difficult film to categorize as there isn't much of a story nor is there anything that it can really be compared to in terms of narrative filmmaking. The film is shot more like a documentary than anything. Chloé Zhao, who also produces, adapts the screenplay, and edits in addition to directing, treats the subject matter as a snapshot of life in the American West where seemingly few call a permanent home. Perhaps it shouldn't be a surprise that Zhao chose to tell the story in this way since the film is an adaptation of the non-fiction book Nomadland: Surviving America in the Twenty-First Century by Jessica Bruder. Needless to say, it's pretty unconventional for a narrative film of this nature to come from a non-fiction source and that's probably what makes Nomadland such a powerful and poignant piece of experimental filmmaking.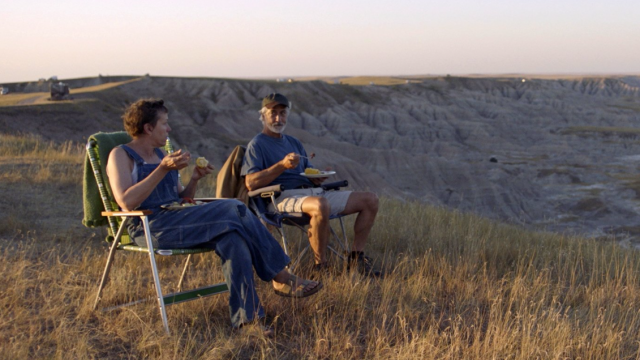 So much of this has to do with Frances McDormand in the lead role as Fern. Not too far removed from her Oscar winning role as Mildred Hayes in Three Billboards Outside Ebbing, Missouri, McDormand transforms herself once again as she becomes more than just a character onscreen in Nomadland. In fact, McDormand actually adopted the lifestyle for part of the shoot by sleeping in the van and even performing some of the jobs that nomads do. McDormand, even with two Oscars to her name and a nomination for Nomadland, continues to be underrated in Hollywood but is always impressive. Though, her portrayal of Fern may be one of her best as she simply tells the story of the character on her face in every scene. The loneliness, loss, and overall aimlessness she feels is only ever temporarily forgotten during brief interactions with other characters.
David Strathairn's Dave is maybe the closest thing Fern has to a steady relationship with anyone but there's a constant wall up between the two as well. Dave seems to have suffered just as much loss and hardship as Fern and there's something of a bond between the two. The rest of the supporting cast, full of real-life nomads like Linda May, Swankie, and Bob Wells, are surprisingly natural onscreen which is a testament to Zhao and her documentary style of filmmaking employed here. Despite their limited screentime, these are all characters that viewers won't be able to forget easily.
Just as important as Nomadland's cast of characters is its breathtaking cinematography by Joshua James Richards. There's a stark beauty in every scene as the vast emptiness of the American West envelops the characters and their respective plight. There's a harshness to the sprawling landscape that the characters, and especially Fern, have to endure through the changing seasons but there's also an element of freedom. The nomadic lifestyle allows people to really go anywhere and do anything without becoming the norm. As evidenced by the film, it's an extremely difficult, and often perilous, life but also very rewarding for those that embrace it. The film doesn't pull any punches either as it's sure to make people value their lives as is and the many things that we take for granted. In addition to the cinematography, Nomadland boasts an amazingly somber soundtrack from Ludovico Einaudi that's just as much of a highlight as anything else the film has to offer.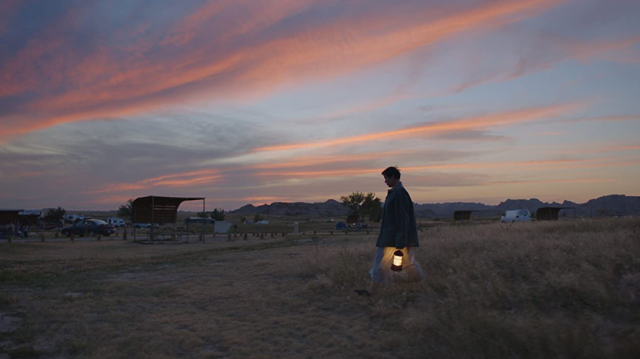 Nomadland is one of those film experiences where it's hard to find anything really negative to say about it. Cinephiles and especially fans of experimental types of dramas will no doubt love the film. The same probably can't be said for the casual moviegoer though. Given the lack of a driving plot or goal, there are many who will find Nomadland boring. It's not a criticism more than just a fact about casual audiences. It's the type of film that will affect someone because of what they take away from it and not exactly what they see onscreen. For some, Nomadland is an emotionally deep tale about heartbreak, loss, acceptance, and perseverance. For others, it's a film about people that live in vans that don't really do anything. Again, it all depends on what the viewer chooses to take away from the overall experience.
Our Score
Chloé Zhao's Nomadland is another sterling example of the power of film here in early 2021. With its unconventional filmmaking style, powerhouse lead performance, and wonderful technical achievements, it's no wonder the film was nominated for six Oscars in the acting, directing, screenplay, and cinematography categories along with the big one for Best Picture. It also wouldn't be surprising to see it clean up in each of these categories either. While Nomadland may not have as powerful of a message as something like fellow nominee Judas and the Black Messiah or be as fun as Promising Young Woman, it's still an incredibly potent piece of cinema that's as bleak as it is beautiful.
*Nomadland is currently playing in theaters as well as streaming on Hulu for subscribers.*