Over the past few weeks, we've mentioned that there had been a serious lack of standout titles in 2017. Luckily, a number of them have popped up now at the end of the year. Films like Lady Bird and Three Billboards Outside Ebbing, Missouri have helped establish a new standard for quality in 2017 that hadn't been seen much before. Well, you can add another one to the list of the year's best films with Guillermo del Toro's newest film, The Shape of Water.
Our first glimpse of the film came back in July and we mentioned that it shared company with It and Blade Runner 2049 as one of Cinema Smack's most anticipated films. While del Toro doesn't constantly deliver new work to the big screen, his films do feel special upon release. His dark tone mixed with fantasy and humor is the perfect mix. Pair those things with the stellar cinematography in all of his films and it's a recipe for quality.
The story for The Shape of Water is an original idea from del Toro and co-writer Vanessa Taylor. A mute woman, Elisa Esposito (Sally Hawkins), serves as a janitor at a 1960's research facility. One day, a creature, known simply as the "Asset" (Doug Jones), is brought into the lab by Dr. Robert Hoffstetler (Michael Stuhlbarg) and Richard Strickland (Michael Shannon). They intend to study the amphibious creature to assist them with breathing techniques during space travel. Strickland, who mistreats the "asset," has two of his fingers bitten off. They're subsequently found by Elisa and her co-worker, Zelda (Octavia Spencer). Knowing that the Soviets are also interested in scientific progression, Strickland plans to have the creature dissected. Elisa becomes enamored with the creature and wishes to save him before dissection.
Just like Pan's Labyrinth and Crimson Peak, The Shape of Water is another dark fairy tale from del Toro. With so few new ideas coming out of Hollywood, the writer/director's vision truly sets his work apart from his contemporaries. Not only is the film a science fiction drama but it's a love story as well. It's almost like a twisted version of Beauty and the Beast. It's playful, dramatic, touching, and even terrifying at some parts. All of it is done extremely well and it helps make the film feel familiar and timeless yet something undeniably original as well.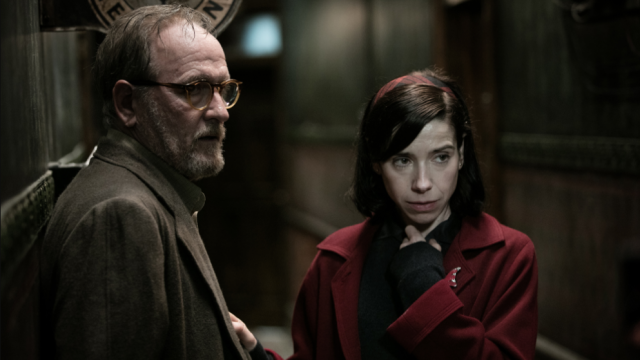 All of the characters in the film are absolutely top notch. Supporting characters such as Octavia Spencer's Zelda and Richard Jenkins' Giles add depth to the story as Elisa's two closest friends. Since Elisa cannot speak, these two characters help to establish her as a character as well. Both also have their own trials and tribulations as they go through their own troubled relationships. Even Michael Stuhlbarg's Dr. Hoffstetler proves to be a deeper character than first expected. Michael Shannon, who can be pretty hit or miss sometimes, is a standout as Strickland. He's a true villain as he belittles others and bullies the creature. He isn't quite as sinister as Captain Vidal from Pan's Labyrinth but he's still a vile character overall.
Of course, Sally Hawkins as Elisa and Doug Jones as the creature are the stars here. Jones has been del Toro's go-to guy any time some type of monster needs to be cast. He and Hawkins do an amazing job conveying emotion despite never using words. Their budding romance feels legitimate through their facial expressions, interactions, and understanding of one another. Again, this is all done without words which makes it even more extraordinary. Hawkins especially knocks her performance out of the park. In 2014, Hawkins nabbed a much deserved Academy Award nomination for Best Supporting Actress for Woody Allen's Blue Jasmine. It'd be an absolute shame if she doesn't get nominated for Best Actress for this role at the 2018 Oscars. She brings a charm and charisma to the character of Elisa that's all her own.
Obviously, we can't talk about a Guillermo del Toro movie without bringing up the special effects. As per usual, they're stunning in The Shape of Water. The look of the creature is like a cross between Abe Sapien from Hellboy, who's also played by Doug Jones, and Gill Man from Creature from the Black Lagoon. Though, it doesn't feel like a blatant ripoff of either design nor is it distracting. There are also some wonderful fairy tale-esque scenes such as the film's opening. Elisa's apartment is completely full of water and the camera whirls around it as a sleeping Elisa slowly floats down onto her couch. It effectively establishes the tone of the film and prepares you for its cinematic spectacle.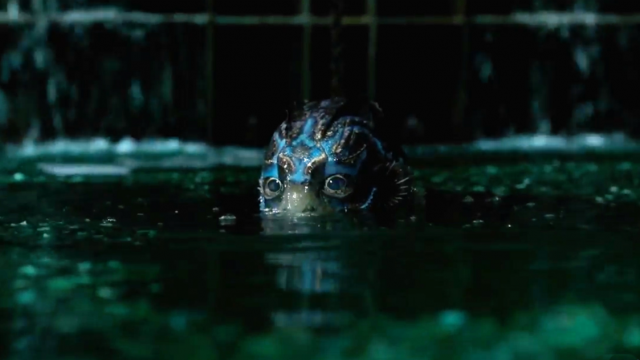 Just like the effects, the film's score is a perfect complement to the story unfolding onscreen. French composer Alexandre Desplat handles the musical duties here and does a magnificent job. There's something classic, yet mysterious, about the music. It also fits with the time period as a handful of songs from Mack Gordon and Harry Warren make their way onto the soundtrack. The most recognizable ones are "You'll Never Know" and "Chica Chica Boom Chic." Due to Elisa's affection for music and movie musicals, these songs offer a nice touch and serve as a complement to Desplat's original score.
Our Score
Simply put, The Shape of Water is for film lovers everywhere. It has a little bit of everything to which moviegoers of all kinds should be entertained. As for negatives, the only thing worth mentioning is that the film does drag ever so slightly around the middle. It doesn't drag enough to take away from all of the excellent things about it though. After a year filled with many good, but not great, films, this one is superb. It boasts a spellbinding and original story with wonderful acting and characters. There's really not much more you could ask for. The Shape of Water succeeds as one of the gold standards in 2017 and proves that there's still some original filmmakers out there.