Another year has passed which can only mean one thing. It's time for Cinema Smack's Best of 2017! Here, we'll take a look at our personal favorite television shows and films of the year and rank them accordingly. We've already said that this year has been crammed full of good films but not especially great ones. Now, let's break it down to the cream of the crop for the year. As was the case with the Best of 2016, just because something makes it onto our list doesn't mean that it's the most quality or technically sound of the year. Filmmaking is a subjective medium and should be treated as such.
---
Cinema Smack's Top 5 Best Television Shows of 2017
*Disclaimer: As is always the case, we weren't able to get to every show this year. Sadly, shows like Narcos (once again) and The Deuce won't appear on this list.*
5. The Punisher Season 1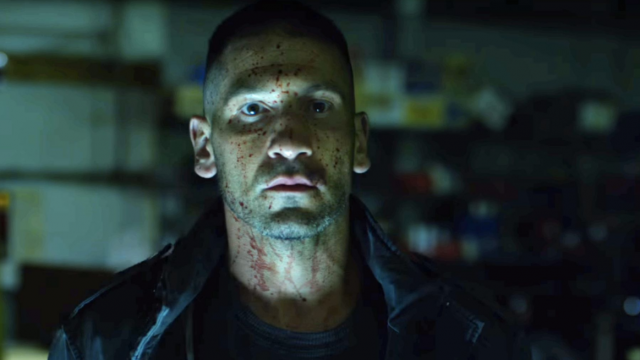 We're starting our Best of 2017 list off fresh with a television show that we actually didn't provide a wrap-up for. Frank Castle (Jon Bernthal) AKA The Punisher is thought to be dead following the events of Daredevil Season 2 and lives a quiet, yet tormented, life. Frank, under the alias Pete Castiglione, is lured back into his old, murderous ways following some of his construction co-workers botching the robbery of a loan shark connected to the Gnucci crime family. Frank is then contacted by Micro AKA David Lieberman (Ebon Moss-Bachrach), a former NSA agent who also faked his own death. Throughout the show, they work together while being trailed by Dinah Madani (Amber Rose Revah), a Department of Homeland Security agent who knows Frank is still alive, to uncover a larger conspiracy behind Frank's family's murder.
Netflix's The Punisher is exactly what a show based on this particular character should be. The streaming video giant has dabbled with an edgier group of Marvel comic book heroes in their shows based on Daredevil, Jessica Jones, Luke Cage, and Iron Fist. Though, The Punisher is the new gold standard for Marvel television. The show doesn't really pick up until mid-season but, once it does, viewers are in for a brutally fun ride. Jon Bernthal is a perfect Frank Castle as a man who isn't a superhero. He simply believes in right and wrong and isn't afraid to exact his methods. Where the films in the Marvel Cinematic Universe are big and bombastic, their television has shown the grittier side of their universe. For those looking for something a little more barbarous from the MCU, look no further than The Punisher.
4. Black Sails Season 4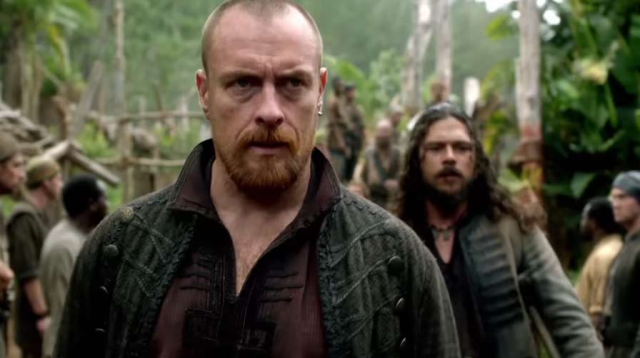 For four seasons, the pirate drama, Black Sails, was one of the best kept secrets on television. Tucked away on Starz, the show hasn't gotten nearly the amount of praise it deserves from audiences. Set during the Golden Age of Piracy, the show follows the exploits of Captain James Flint (Toby Stephens) and his quartermaster, Long John Silver (Luke Arnold), twenty years before the events of Robert Louis Stevenson's book, Treasure Island. In its fourth and final season, Black Sails sees the pirates of Nassau butting heads with one another while also battling Governor Woodes Rogers (Luke Roberts). The biggest issue is the growing rivalry between the on-again off-again friends, Flint and Silver.
The best part of Black Sails has always been its slew of great characters. Among the fictitious ones like the two frenemies, real-life pirates like Jack Rackham (Toby Schmitz), Anne Bonny (Clara Paget), Edward Teach AKA Blackbeard (Ray Stevenson), and Charles Vane (Zach McGowan) all have important roles to play. Unlike the usual swashbuckling pirates that you tend to see in media, Black Sails was a more brutal and realistic look at piracy. While there are definitely some lighthearted moments, Season 4 also boasts some heartbreaking scenes and an emotionally heavy final moment between Flint and Silver. In its swansong season, Black Sails never strayed from what it set out to be: a show about pirates and their quest for riches and fame. It will definitely be missed. Let's just take one more time to listen to its epic theme song before moving on with the list.
Read our original Season 4 wrap-up here.
3. Peaky Blinders Season 4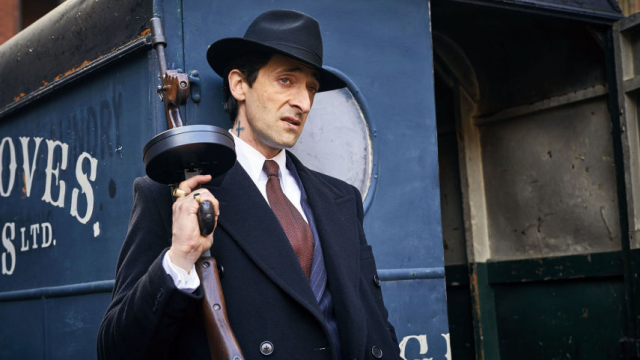 That's right. Another show that we didn't have a wrap-up for but that's because this one just came out in the United States. Luckily, we had just enough time to squeeze it onto our best of 2017 list. Peaky Blinders has flown somewhat under the radar here in the US as it's primarily a British show that airs on BBC Two. In the US, Netflix has released each of the show's four seasons at somewhat inconsistent intervals. Regardless, this fourth season of the show may be the best yet.
Tommy Shelby (Cillian Murphy) heads the Peaky Blinders gang in Birmingham, England. The family has since gone into numerous legitimate businesses with Tommy at the helm. On Christmas 1925, Tommy, along with his brothers, Arthur (Paul Anderson) and John (Joe Cole), his sister, Ada (Sophie Rundle), his aunt, Polly (Helen McCrory), and Polly's son, Michael (Finn Cole), all receive black hand death sentences from Luca Changretta (Adrien Brody) in response to the Shelbys killing two of his family members. The entirety of the season focuses on the Shelby and Changretta clans trying to murder one another while Tommy continues to proceed with business as usual.
One of the most commendable things about Peaky Blinders is that their seasons run for a mere six episodes each. Make no mistake, though, those six episodes are jam packed with important events and no time is wasted whatsoever. Every episode of Season 4 is a cliffhanger and you never know what's going to happen. The cast, as always, is absolutely stellar with all the main players returning. Even the supporting cast seems to always have a big impact on the show. Tom Hardy returns as Alfie Solomons, the unpredictable Jewish gang leader, and is electric as always and Aidan Gillen makes his series debut as a gypsy bounty hunter. It's Adrien Brody as Luca Changretta that absolutely steals the show though. He's cold, calculating, and menacing and proves to be a legitimate threat to the Shelbys.
2. Better Call Saul Season 3
As a spin-off to one of the greatest television shows of all time in Breaking Bad, Better Call Saul has really come into its own. The show's third season sees Jimmy McGill (Bob Odenkirk) and his brother, Chuck (Michael McKean), reach a point of no return in their relationship. While Jimmy is responsible for forging documents to help his girlfriend/associate, Kim Wexler (Rhea Seehorn), he does so at Chuck's expense. Chuck stops at nothing to expose Jimmy's illegitimate ways and ends up getting burned in the process. Meanwhile, Mike Ehrmantraut (Jonathan Banks) is approached by a familiar face from Breaking Bad and everything begins to heat up for all of our characters.
Like Peaky Blinders and Black Sails, it's the characters that drive Better Call Saul. As sheisty as Jimmy can be at times, you still want to see him succeed. It's a rare character arc that only someone like creator Vince Gilligan can pull off. We also get to see the true birth of the Saul Goodman moniker as well as a number of Breaking Bad alum making their return. Characters like Saul's receptionist, Francesca (Tina Parker), his pickpocket/bodyguard, Huell (Lavell Crawford), and Los Pollos Hermanos owner, Gustavo Fring (Giancarlo Esposito), are welcome additions to the already superb cast. In typical Vince Gilligan fashion, Season 3 ends on a massive cliffhanger so expectations are already soaring for a fourth season. Don't be surprised if Better Call Saul lands on our Best of 2018 list next year if the show keeps up its current quality.
Read our original Season 3 wrap-up here.
1. Game of Thrones Season 7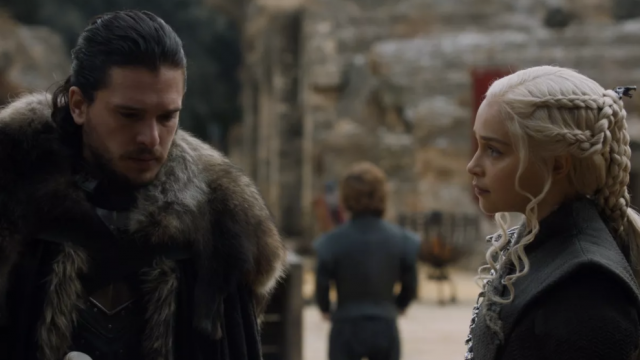 For the second year in a row, how can it not be #1? Game of Thrones is one of the greatest television shows of all time and nothing comes close to it right now. There's no way to summarize everything going on in the show but, simply put, winter is here. In Season 7, we finally get to see the meeting of Jon Snow (Kit Harrington) and Daenerys Targaryen (Emilia Clarke). In addition, Cersei Lannister (Lena Headey) has begun her reign of terror with none of her children left alive and Season 8 will certainly be a nonstop thrill ride once it airs. The Night King, who leads the white walkers north of the wall, has made his presence felt as all of Westeros is put on notice. On top of that, he has an ice dragon.
Again, to cover everything that has happened in Game of Thrones would be doing the show a disservice. If you haven't started watching it yet, you probably won't. Just know that you're missing out. While some have criticized some of the previous seasons, mainly 5 and 6, as being slow, Season 7 has ramped back up. There was a ton of buildup in those seasons and now we're getting the payoff. With only six episodes left in the series and a rumored 2019 premiere date, it's anyone's guess as to how this show will end. What we do know is that the show is an absolute phenomenon and entirely worthy of all the praise showered upon it. On another note, if Season 8 doesn't premiere until 2019, we'll have a different #1 on our Best of 2018 list. If it premieres in 2018 though, all bets are off.
Read our original Season 7 wrap-up here.
---
Cinema Smack's Top 10 Best Films of 2017
*Disclaimer: Again, it's impossible to make it through every film of the year. Films like Lucky and Phantom Thread didn't play at theaters in the area so they won't be seen on this list.*
Honorable Mentions
Of course, we have to start off with a few honorable mentions. As was mentioned before, 2017 was a year with a lot of good films but there weren't many that were exceptional. That being said, it was a great year for superhero movies as Logan, Wonder Woman, Spider-Man: Homecoming, and Thor: Ragnarok are all more than worthy for consideration on end of the year lists. In addition, John Wick: Chapter 2, Beauty and the Beast, and The Beguiled were all in contention for the #10 spot on our list.
10. Guardians of the Galaxy Vol. 2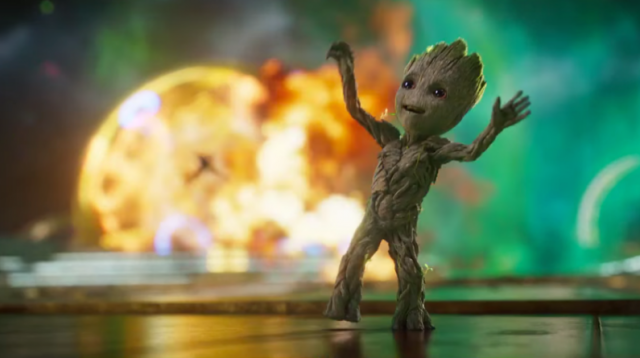 Dance it up, Baby Groot. Guardians of the Galaxy Vol. 2 made this list for one reason. It was just too much fun not to include. Of all the superhero films listed in our honorable mentions, this one was pure joy mixed with a legitimately emotional ending. The Guardians find themselves at odds with the Sovereign after Rocket Raccoon (Bradley Cooper) steals their valuable batteries. The group splits as Peter Quill/Star Lord (Chris Pratt), Gamora (Zoe Saldana), and Drax (Dave Bautista) go with Quill's father, Ego (Kurt Russell), to escape the Sovereign. Yondu Udonta (Michael Rooker) and his excommunicated ravagers are hired by the Sovereign to locate the Guardians. Rocket and Baby Groot (Vin Diesel) are captured by Yondu's men after a mutiny.
The Guardians of the Galaxy are arguably the greatest Marvel characters on film right now. While they will team up with the Avengers in Infinity War, their two namesake films have been wonderful. The team is such a motley crew of lovable individuals and the chemistry between the actors playing these characters is evident. Also, how can we talk about Guardians of the Galaxy without mentioning soundtracks? Vol. 2 has "The Chain" by Fleetwood Mac. That's all that needs to be said. Overall, the soundtrack isn't quite as good as the first movie's but it's still solid. Finally, we won't ruin the ending here but it's probably one of the most emotionally gripping moments in a big budget film this year. Guardians of the Galaxy Vol. 2 more than deserves to be on our Best of 2017 list and is the best superhero movie of the year.
Read our original review of Guardians of the Galaxy Vol. 2 here.
9. IT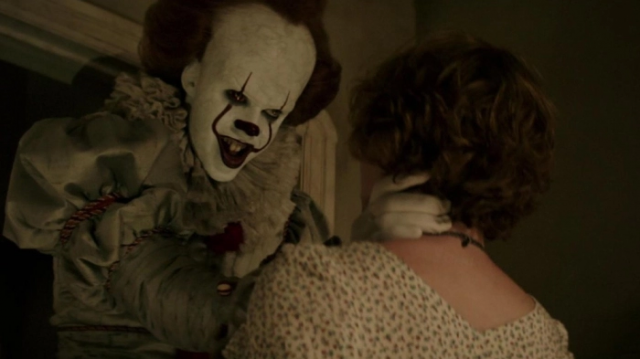 This one is very tough to put on this list. As Cinema Smack's most anticipated film of the year, expectations were through the roof and everything seemed to be in the right place. A legitimate horror director was at the helm, the film would only focus on the first half of the It story with the Losers Club as children, and, most importantly, the film had an R rating. For those who have never read the book, it's a brutal and uncomfortable read. Would we finally be seeing the book come to life on the big screen?
The plot sees Bill Denbrough (Jaeden Lieberher), Eddie Kaspbrak (Jack Dylan Grazer), Ben Hanscom (Jeremy Ray Taylor), Beverly Marsh (Sophia Lillis), Richie Tozier (Finn Wolfhard), Stan Uris (Wyatt Oleff), and Mike Hanlon (Chosen Jacobs) as they unite to battle the sinister entity of Pennywise the Dancing Clown (Bill Skarsgård). Kidnappings and murders run rampant in Derry, Maine and the kids believe that Pennywise AKA It is the culprit.
When all was said and done, It was kind of what we wanted. There are parts of the movie that do hearken back to Stephen King's original novel. It was nice to see the kids have more edge to them as they do in the book. Also, seeing things like Pennywise taking on other forms (i.e. the leper) was a nice touch. That being said, It wasn't quite as raw as we would've liked. Surprisingly, there was a lot of comedy in the film. Some of it worked but some of it fell a little bit flat. Either way, if this is the only R-rated version of It that we're going to get, it's still very good. It may not be exactly what was expected but it's a quality film nonetheless and deserves a spot on our best of 2017 list.
Read our original review of It here.
8. mother!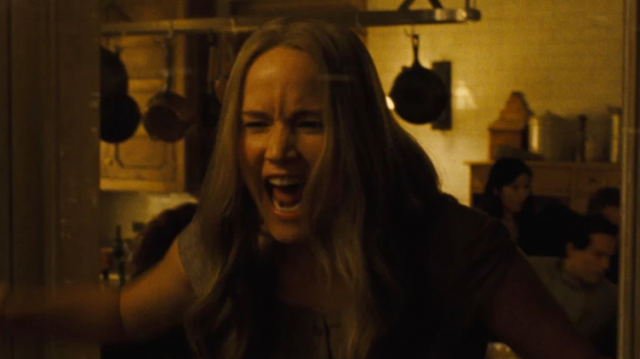 Even though it checks in at #8 on our Best of 2017 list, mother! may be the film that has left the most long lasting impression of all. The film follows Mother (Jennifer Lawrence) and her husband, Him (Javier Bardem), who suffers from writer's block. One day, a Man (Ed Harris) knocks on the door of their large, isolated farmhouse and Him invites him to stay the night. As the Man and Him hit it off, the Man's wife (Michelle Pfeiffer) and their two sons eventually arrive at the farmhouse as well. Mother's idyllic existence is turned on end as more strangers arrive and Him continuously disregards her feelings.
The appeal of mother! is that it's like descending into someone's worst nightmare. As strange as that may sound, you simply can't look away while watching the events unfold onscreen. Jennifer Lawrence gives an emotionally draining performance as the lead and you feel for her every step of the way. If you're going into this film blind, you may be taken aback by it. Though, it's not difficult to understand especially if you think about the characters as metaphors or interpretations of something else. There are many biblical and ecological references that are pretty blunt when you think about it. Either way, writer/director Darren Aronofsky put together an insane cinematic experience with mother! and it's also one of the most intriguing films of the year.
Read our original review of mother! here.
7. Three Billboards Outside Ebbing, Missouri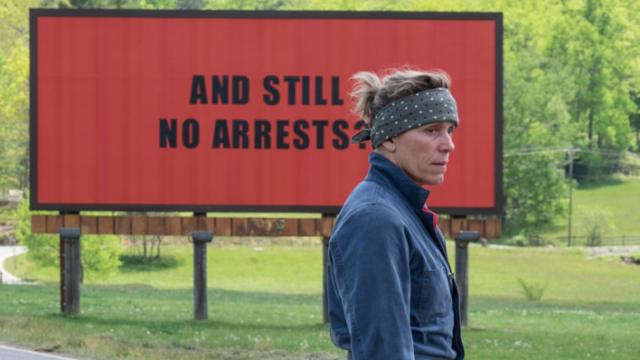 This is the only film on our list that hasn't previously been reviewed on Cinema Smack. Unfortunately, it was sandwiched between two other films (one of which also makes this list) and then the holidays and there simply wasn't time to squeak out a review. Either way, Three Billboards Outside Ebbing, Missouri is one of the most gratifying film experiences of the year. Mildred Hayes (Frances McDormand) is a divorced mother still grieving over the rape and murder of her daughter. She rents three billboards and posts a message saying, "Raped while dying. And still no arrests? How come, Chief Willoughby?" on them to attract attention to the case.
While sympathetic with Mildred, Chief Willoughby (Woody Harrelson) is dying from cancer and the townspeople find the billboards unsavory. The police, including officer Dixon (Sam Rockwell) begin causing issues for people associated with Mildred. Through it all, Mildred stays the course.
For those unfamiliar with writer/director Martin McDonagh's work, take notice. His two previous features, In Bruges and Seven Psychopaths, are brilliant dark comedies with a splash of violence. His work is in the same vein as the Coen brothers and Three Billboards is the closest he has been to their style. It also doesn't hurt that Coen regular, and Joel Coen's real-life wife, Frances McDormand is the lead. Woody Harrelson turns in a great performance as Chief Willoughby who's a sentimental character in his own right. Though, Sam Rockwell is the unsung hero of this film. He plays the vile officer Jason Dixon who's the closest thing this film has to an antagonist. Throughout the course of the film, you realize that his character has his own layers to discover. Three Billboards is an amusing yet touching portrait of a traumatic event and the pain it causes others.
6. Coco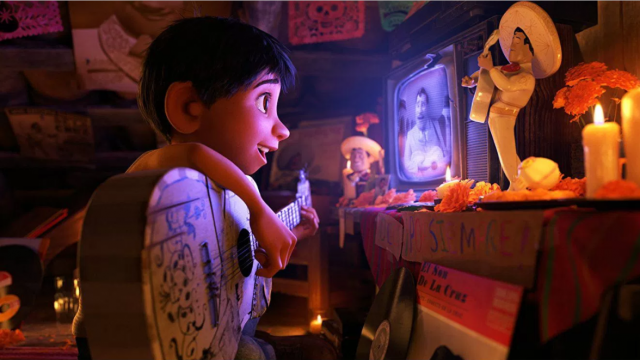 Oh man. Coco is so good. For the most part, Pixar is known for its quality. There haven't been many misfires on their end since the company's inception. Coco is easily the company's best film since 2015's Inside Out and it's good for the same reasons. The plot sees 12 year old Miguel (Anthony Gonzalez) who aspires to be a musician like his late idol, Ernesto de la Cruz (Benjamin Bratt). He defies his familial ban of music which leads his grandmother, Abuelita (Renee Victor), to smash his guitar. Miguel then breaks into the crypt of de la Cruz to steal his guitar and is magically transported to the Land of the Dead. There, he seeks out de la Cruz, along with his new companion, Hector (Gael García Bernal), to obtain his blessing to play music.
The themes of Coco center around family, heritage, and remembrance. It was bold of Pixar to focus so heavily on the Latino demographic and the film went gangbusters in Mexico upon its release. With their efforts, Pixar has crafted a brilliant story that transcends their target market and can relate to nearly everyone. At times, the story can be slightly predictable but everything else about Coco is too good to discredit it for that. Like Inside Out, the film leads you through many different types of emotions (not as literally) and focuses on the important things in life (and death). When all's said and done, Coco isn't only the best animated film of the year, it's also one of the best of 2017, period.
Read our original review of Coco here.
5. Lady Bird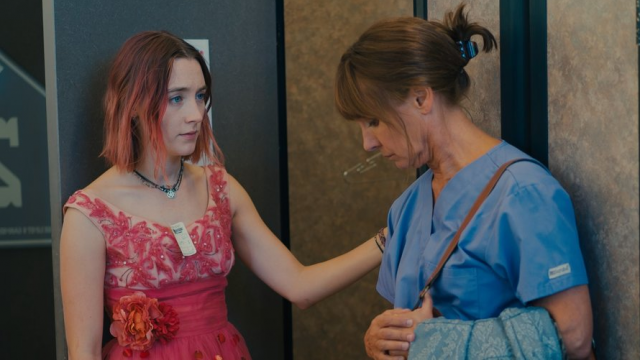 Seemingly every year there's some kind of high profile coming-of-age film that gets released. Movies like Juno and Boyhood have been all the rage in the past. Not to discredit those films but, for some reason, Greta Gerwig's feature length solo debut, Lady Bird, just feels different. Saoirse Ronan stars as Christine McPherson AKA Lady Bird as she stumbles her way from adolescence to adulthood over the course of 94 minutes. Growing up in Sacramento, California in the early 2000's, Lady Bird often clashes with her mother, gains and loses popularity between the "cool" kids and her own friends, and struggles to find her own place in the world.
What makes Lady Bird so good is that it's such a sobering look at the late teen years. As you get older, questions begin to arise about identity, future, and current reality that so many films don't focus on the way that Gerwig does with Lady Bird. The cast is stellar from top to bottom with Ronan leading the charge. It'd be appalling if this film wasn't heavily represented at the 2018 Academy Awards as it's well written, directed, and acted. Pretty much anyone could watch this film and relate to it in some way, shape, or form.
Read our original review of Lady Bird here.
4. Wind River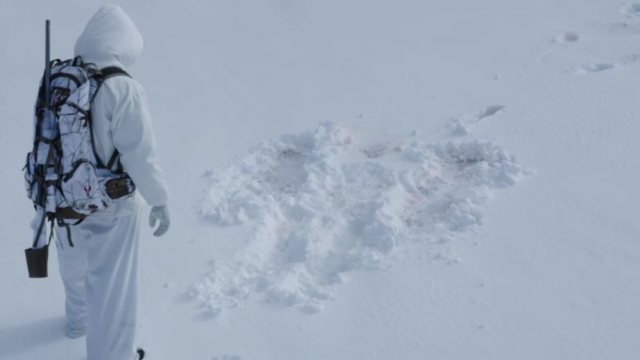 Wind River is definitely the surprise of this year as it lands at #4 on our Best of 2017. The film follows US Fish and Wildlife agent Corey Lambert (Jeremy Renner) and FBI agent Jane Banner (Elizabeth Olsen) as they investigate a murder on the Wind River Indian Reservation. Corey finds the body of an 18 year old girl while he's tracking mountain lions. Jane rules her death a homicide due to the girl's distance from shelter, her lack of shoes, and blood on her clothing. The two team up with Corey using his tracking skills to point Jane in the right direction to find the killer.
When we covered the first trailer for the film on this site, we said that the duo of Jeremy Renner and Elizabeth Olsen felt a little uninspired as the leads. Thankfully, that was dead wrong. Renner gives an emotionally sullen performance that may be his best to date. Written and directed by Taylor Sheridan, Wind River is a beautifully shot, written, and acted film that far exceeds expectations. There are plenty of murder mysteries released every year but, in 2017, Wind River is the gold standard.
Read our original review of Wind River here.
3. Baby Driver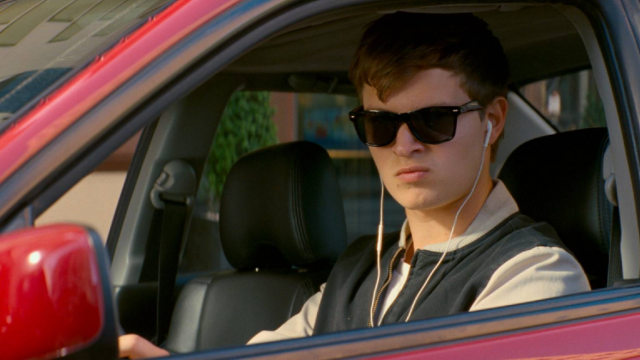 Edgar Wright's newest film, Baby Driver, was also a welcome surprise this year. Ansel Elgort stars as the titular Baby, a getaway driver with severe tinnitus indebted to his boss, Doc (Kevin Spacey). With his debts almost entirely paid off, Doc lures Baby back in for one more big money heist. Meanwhile, Baby starts a relationship with a waitress, Debora (Lily James), who Doc uses to coax Baby back in.
For a long time, this was far and away our favorite movie of the year. Everything from the stellar soundtrack, action scenes, and the comedy are done to perfection. The film is just so much fun. In a lot of ways, it's like last year's The Nice Guys as a cleverly written and acted dark comedy. In addition, the film boasts an amazing cast of characters with noteworthy actors such as Jon Hamm, Jamie Foxx, Jon Bernthal, and even Flea from the Red Hot Chili Peppers with roles. Ultimately, there's not much else to say about Baby Driver. It's simply one of the most entertaining film experiences and one of the absolute best of 2017.
Read our original review of Baby Driver here.
2. The Shape of Water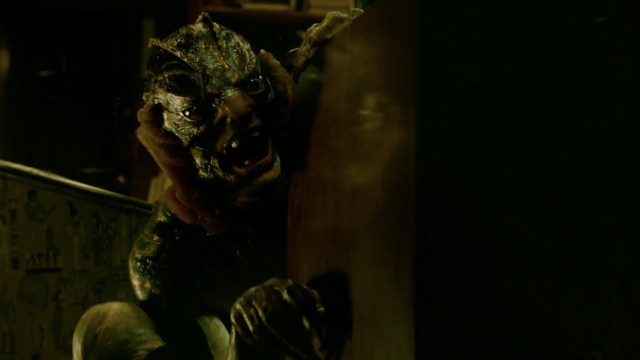 The subject of our most recent In Theaters Review also nabs the runner-up spot on our Best of 2017 list. From the very first trailer, The Shape of Water looked like it was going to be something special. The film sees Sally Hawkins star as Elisa, a mute janitor at a 1960's research facility. A mysterious creature (Doug Jones) is brought into the lab and, after being the first responder to a gruesome injury to the crass Richard Strickland (Michael Shannon), Elisa befriends the creature. Elisa discovers that Strickland intends to kill the creature to which she decides to rescue him. Soon, Elisa and the amphibious creature develop a romantic relationship.
With The Shape of Water, writer/director Guillermo del Toro crafts a darkly beautiful Beauty and the Beast type of story. The special effects, cinematography, and original score are all fantastic but it's the chemistry between the film's two leads that commands your attention. Sally Hawkins is mesmerizing as Elisa as her charm and charisma jumps off the screen. Doug Jones, even though he's covered in full prosthetics, gives an emotional performance as the vulnerable, yet dangerous, creature. The fact that neither character speaks is even more astounding given how touching their relationship is. Even though The Shape of Water comes in at #2 on our list, in any other year, this would've easily been #1. It's an absolutely wonderful experience.
Read our original review of The Shape of Water here.
1. Blade Runner 2049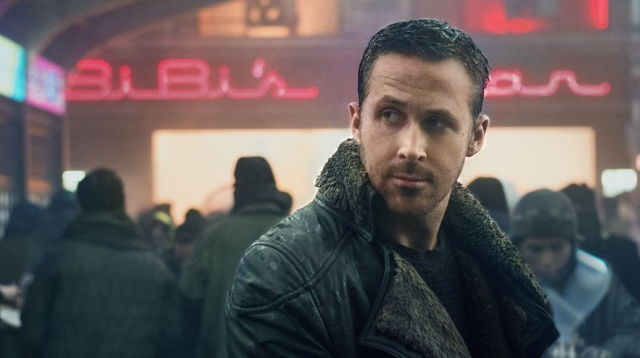 It's an extremely rare occurrence but Blade Runner 2049 is a case where a sequel exceeds the quality of its predecessor. When compared with Ridley Scott's 1982 science fiction classic, it's not even close. Blade Runner 2049 is not only the best film of 2017 but it's worlds better than the original. In 2049, new blade runner, K (Ryan Gosling) tracks down an older model replicant, Sapper Morgan (Dave Bautista). K discovers a long buried secret which sends him on a quest to locate former blade runner, Rick Deckard (Harrison Ford), who has been missing for 30 years.
That's it. That's the plot and the film is all the better for keeping it relatively simple. This is the second year in a row that a film by Denis Villeneuve has topped our list. Last year, it was Arrival. With his two most recent films, Villeneuve has proven that he's in a class of his own as a filmmaker. He has also taken the science fiction genre to seemingly new heights. While films like Gravity and Interstellar have been praised in recent years, Villeneuve's work remains a step above.
With Blade Runner 2049, Villeneuve was able to tell a completely new story within an established universe. Even though it's technically a sequel, 2049 is a completely separate story than its predecessor. Seeing Harrison Ford return as Deckard was a bonus and he excels alongside Ryan Gosling. The film is a technical marvel with breathtaking cinematography from Roger Deakins and a stellar original score by Hans Zimmer and Benjamin Wallfisch. Overall, Blade Runner 2049 is an aural and visual feast that's more than deserving of taking top honors on our Best of 2017 list.
Read our original review of Blade Runner 2049 here.
---
So, that's it for Cinema Smack's Best of 2017! As always, there are plenty more films and television shows out there that we weren't able to see but this list best represents the ones that deserve recognition in our eyes. Are there any that didn't make the list that you would've liked to see? Leave your thoughts and comments below.
Thank you for being a part of Cinema Smack in 2017 and we're already looking forward to 2018!