One name in Hollywood that many casual moviegoers and television fans may not know is that of Taylor Sheridan. The filmmaker has crafted many standout titles over the course of his career without nearly as much fanfare as one would expect. While some of his most notable work has come in the form of his impressive screenplays, Sheridan has also proven himself as a very capable director and even launched the television series, Yellowstone. Though his newest film, Those Who Wish Me Dead, surely continues Sheridan's knack for compelling storytelling and ideas, it doesn't quite live up to the lofty standards of some of his best efforts.
Sheridan got his start in the mid 1990's as a bit player on television. Most people probably recognize the actor-turned-writer-turned-director from his role as Deputy Chief David Hale in the first couple seasons of FX's Sons of Anarchy but film buffs better know him as the screenwriter of both 2015's Sicario and the following year's Hell or High Water. Sheridan also received his first and only Oscar nomination for the latter title. From there, he wrote and directed 2017's severely underrated crime/drama, Wind River, and 2018's Sicario: Day of the Soldado. After spending some time developing television shows like The Last Cowboy, the upcoming Mayor of Kingstown, and the aforementioned Yellowstone, Sheridan returns to feature films in 2021 as a screenwriter with Tom Clancy's Without Remorse and as a co-writer/director of the subject of today's review.
Based on co-screenwriter Michael Koryta's novel of the same name, Those Who Wish Me Dead follows Connor (Finn Little), a young murder witness who's pursued by two assassins, Jack (Aidan Gillen) and Patrick (Nicholas Hoult). Believing they're being targeted, Connor and his father, Owen (Jake Weber), flee their home to find Deputy Sheriff Ethan Sawyer (Jon Bernthal) but Connor is soon left alone in the Montana wilderness. However, he's found by smokejumper Hannah Faber (Angelina Jolie) who vows to protect him as the assassins draw near and a wildfire threatens to engulf the forest around them.
As evidenced by the plot outline, there's kind of a lot going on in Those Who Wish Me Dead. It's not overly difficult to follow but one of the biggest issues with the film is it seems to get sidetracked with its many characters and events. As soon as the film begins, viewers will find themselves struggling to relate to characters or get invested in the disjointed story. It jumps back and forth between ideas without ever giving the audience something to relate to. Even the tone feels a bit misguided as Angelina Jolie's Hannah pals around with her fellow smokejumpers around the same time the assassins are blowing up someone's house. Luckily, this gets better going forward but it's an early setback for what's ultimately a unique and mostly intriguing tale.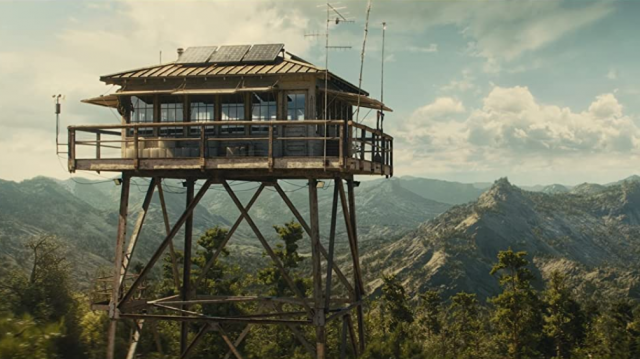 Because of all this, it seems like maybe the film is a little too short as it clocks in at only 100 minutes. Even though it feels like a decent length overall, Those Who Wish Me Dead puts too much focus on all of its characters and doesn't necessarily satisfy each of their respective stories. Hannah's tragically complicated backstory is often addressed but is lacking in constant emotional weight. The impact of her past doesn't have time to naturally develop her onscreen character and, instead, feels kind of like a throwaway moment. Jon Bernthal's Ethan has his own story with a pregnant wife at home that probably doesn't really need to exist. Yes, Ethan's wife, Allison (Medina Senghore), is heavily featured but it feels like the film could've functioned just fine with some needed tweaks and without the extra character. On the other hand, if the film was longer, these characters and backstories could've gotten more attention and, ultimately, been more essential to the main plot.
That being said, not all is lost with Those Who Wish Me Dead. What is here is all pretty good. Not counting the few missteps, the film does a pretty good job with its characters overall. Again, some of them do feel slighted but they're not poorly acted by any means. Angelina Jolie is fine, if maybe a little unspectacular, as Hannah. It seems like an eternity since Jolie was considered the mega star she once was but she certainly isn't washed up either. Jon Bernthal continues to be great in everything. Whether a bit player or the star, Bernthal always makes an impact with his performances and he does so again here. The character of Ethan is the basically the film's emotional core as he's the one with the most to lose out of all the other characters. Aidan Gillen is no stranger to playing a villainous role and does so quite well here while Nicholas Hoult is quite convincing as well. Despite the talented group around him, Finn Little as Connor holds his own as well. Young actors can be a bit of a wild card sometimes but Little fits in perfectly here as a vulnerable, yet resilient, young man who faces his problems head on.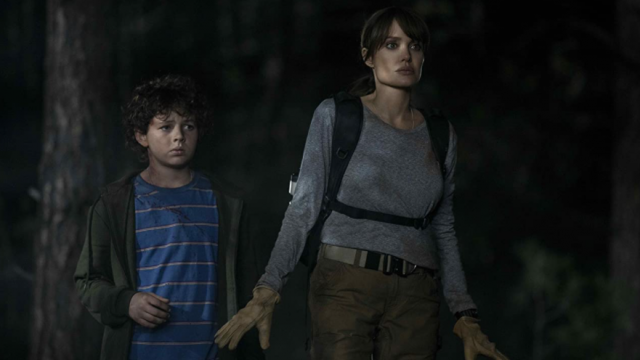 However, the biggest takeaway from Those Who Wish Me Dead is that Taylor Sheridan really knows how to make a film. Whether it's multilayered storytelling, stunning visuals, pulse pounding action, tense drama, and everything in between, Sheridan just seems to "get it." From his screenwriting to his direction, every title Sheridan is associated with will at least be worth a watch. The Montana wilderness serves as a gorgeous backdrop for the atrocities being committed by the two assassins while also posing an additional threat to those trying to navigate through it. It's reminiscent to something like last year's Alone where the conflict isn't only man versus man (or woman, of course) but also man versus nature. The wildfire effects are done to perfection and are beautifully horrifying as the flames surround the characters. Sheridan always maximizes the potential of his locations and this film is no different.
Our Score
Even though Those Who Wish Me Dead is not his best work, it's still a very, very solid effort from Taylor Sheridan and company. When it comes to his screenwriting, it's hard to trump a film like Sicario or Hell or High Water. In terms of directing, Wind River was one of the best films of 2017 with its engaging murder mystery set on a harsh, wintry Native American reservation. While Those Who Wish Me Dead certainly shares some things in common with Sheridan's past work, it just doesn't feel as cohesive or as tight. This could be due to him sharing screenwriting duties with Charles Leavitt and the novelist, Michael Koryta, instead of penning it himself. Either way, something doesn't click here as it has with the director's other films. Regardless, Those Who Wish Me Dead does eventually get going and should keep viewers thrilled to the end. Though, you may have to force yourself to focus through the film's first act to get to the good stuff.
*Those Who Wish Me Dead is currently playing in theaters and streaming on HBO Max for subscribers.*