Alright. Don't be frightened.  If you've made it this far, then either you accidentally clicked on this review or you're open-minded. If you're the latter, then that's definitely not a bad thing. With cinema, there's really no reason to be as closed-minded as some casual moviegoers are. Some people love their action movies while others may be horror fanatics. Many lose themselves within tension filled dramas while plenty like to decompress with the newest uproarious comedy. The world of cinema is a community where viewers should be able to peacefully coexist as there's something out there for everyone. In his new documentary, Reel Redemption: The Rise of Christian Cinema, writer/director Tyler Smith eloquently and impartially discusses the impact and popularity of Christianity in Hollywood and its persistence as a type of filmmaking genre.
After an amusing, yet relevant, clip from the Coen brothers' 2016 film, Hail, Caesar!, the film opens with a brief history of filmmaking in general. Legendary silent films from Edwin S. Porter's The Great Train Robbery to Georges Méliès' A Trip to the Moon to F.W. Murnau's Nosferatu are covered in a sort of crash course on film history. Soon, Smith's content gives way to the rise of biblical epics and the influence of Christianity in Hollywood before the eventual introduction and later dissolution of the Motion Picture Production Code. Religion would continue to be a topic of debate over the decades as polarizing films like The Last Temptation of Christ and The Passion of the Christ would divide religious and non-religious moviegoers. Though, Christianity would endure in cinema and find its own niche audience while still sometimes overlapping in popular Hollywood productions.
Reel Redemption isn't your typical documentary. Tyler Smith employs a "visual essay" style to weave his narrative and does so expertly. Smith, who also narrates the film, is careful not to polarize Reel Redemption's audience in the way that so many faith based films have done so in the past. As a film critic, podcaster, and college instructor himself, Smith makes the film feel less like Christian propaganda and more like an eye-opening and informative experience for even non-religious viewers. As previously mentioned, Smith's crash course of film history feels like it could open any entry level college film course and the plethora of clips from popular titles alone should grab the attention of any film buff. No one appears for any interviews nor does the film offer opinions from multiple sources. It's simply a source for information while encouraging acceptance and understanding of a genre that most wouldn't give the time of day.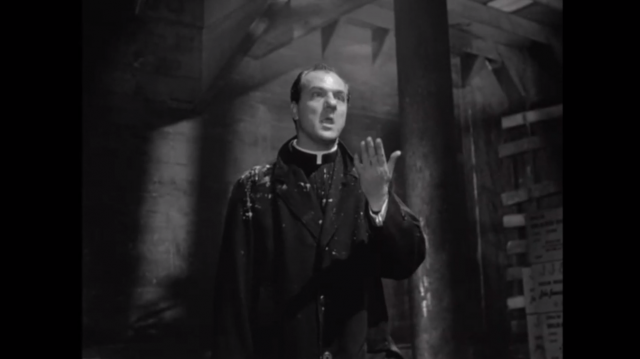 Reel Redemption often syncs up views of Christianity over the years with what's happening in the United States and the world during specific time periods as well. Just as Hollywood has had an up and down relationship with Christianity, so has the rest of the world at various times. During the Production Code years, Hollywood was quite compliant with the church. Following the installment of the film rating system by the Motion Picture Association (formerly the MPAA) in 1968, that relationship had dwindled. Since then, Christian cinema has risen from the ashes and become quite the industry in recent years. Filmmakers like Alex Kendrick and the Erwin brothers have scored massive box office returns targeting their faithful audiences against very small production budgets. Religion has become a niche market but has proven to be hugely successful among its audience. The information given by Smith in this regard is mind-blowing as a lot of films like Heaven is for Real, War Room, and I Can Only Imagine fly way under the radar and probably won't even ring a bell for most moviegoers.
Perhaps the most intriguing argument Smith makes in the film is one that categorizes Christian film as a genre. Yes, we've called it that a few times throughout this review because, frankly, Smith isn't wrong. You could maybe argue that it's more of a subgenre of drama or something like that but not all Christian films are dramas. Regardless, Smith compares this type of filmmaking to the slasher subgenre of horror. They both have specific tropes that audiences latch onto and expect in order to be fulfilled. Like these faith based films, slasher flicks are cheap and easy to produce while often netting big returns. While you can't argue that the quality is great in most of them, and some are even so bad they're good, if they follow certain guidelines, the niche audience should be pleased. Horror in general has seen an uptick in quality with the likes of Hereditary and A Quiet Place while religious films like Silence and First Reformed have been met with critical success. Though, the latter duo of films didn't have the same box office success as their horror counterparts.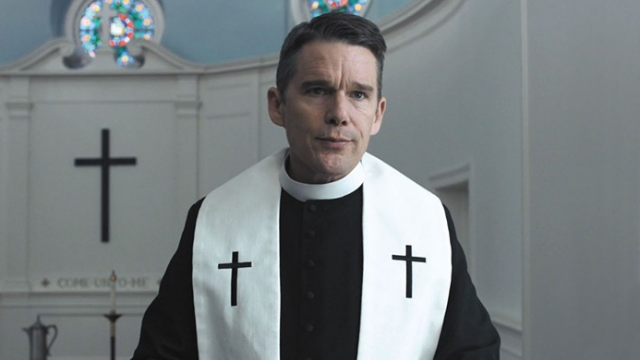 There's one part of Smith's assessment throughout Reel Redemption that does kind of stick out and make you question the legitimacy of some of these Christian titles. Smith frequently cites the success of such films as a moviegoer versus critic debate. The films that go over extremely well with the audience are blasted by critics. Whereas the ones that critics adore, such as the aforementioned Silence and First Reformed, the typical Christian viewer overlooks and/or despises. One thing that should be remembered throughout this entire documentary is that Christian cinema is still a business. Somewhere along the line, filmmakers and producers have found a way to get big returns while putting very little into some of these films. A film like Heaven is for Real earned almost $100.5 million against a production budget of only $12 million. However, Silence, a film helmed by a legendary filmmaker in Martin Scorsese, absolutely bombed with a total gross of a mere $22 million against a production that over doubled that. While propaganda is briefly addressed, it seems like it may have a little more of an effect at times given a lack of risks and bigger productions in a lot of the films spotlighted throughout the documentary.
Reel Redemption may not be everyone's cup of tea but it's far more impressive than most will expect at first glance. Tyler Smith's approach to this "visual essay" is mostly unbiased, fair, and even self reflective. Smith acknowledges that some of these popular Christian titles aren't quite the quality that film buffs and critics look for. Nonetheless, they're still ridiculously successful in that oft-mentioned niche market. At its worst, the film is a reasonable introduction to important historical moments in cinema. There are a ton of clips that just make you want to go binge watch some great movies. At its best, though, Reel Redemption is a revealing look at a largely misunderstood and ignored community of moviegoers and filmmakers alike. It embodies the power of cinema in uniting people of all different walks of life in sharing an appreciation of filmmaking. The Christian films presented here may not interest you but the documentary as a whole should reinforce everyone's love for film.
*Reel Redemption: The Rise of Christian Cinema is currently available to watch with a Faithlife TV Plus subscription. Sign up here for a free 14 day trial. Check out the trailer below.*