When it comes to family dramas and failing relationships/marriages, there are countless films to turn to. Titles like Eternal Sunshine of the Spotless Mind and Blue Valentine take different approaches to their subject matter but both have a similar message to them. Many of these films revolve around the absolute deconstruction of a relationship while few focus on how life continues after a separation. In the case of Hilary Brougher's new family drama, South Mountain, we get the latter. Instead of largely focusing on heartbreak and grief, Brougher's film looks to the future and the characters' efforts to keep their family together despite major life changes.
The film centers on a family living in the Catskill Mountains. Prior to their teenage daughters leaving for their respective summer activities, parents Edgar (Scott Cohen) and Lila (Talia Balsam) have a get together at their house. Though, Edgar sneaks off on a supposed business call to witness the birth of his son from an extramarital affair. After the daughters leave, Edgar breaks the news to Lila and subsequently relocates to Brooklyn. Frustrated, Lila adjusts to life alone while also torn on how to feel about Edgar. However, sometimes the bonds developed between people over the years exceed momentary anger and sadness.
Much of the storytelling in South Mountain doesn't really have to do with a driving plot. It's moreso the lack of a plot. Viewers are basically dropped into a snapshot of these characters' lives that lasts the course of a summer. The film chronicles an impromptu and life altering separation that maybe this couple isn't entirely ready for. It's kind of a depiction of human nature at its best (and sometimes worst) as sometimes people don't really know what to feel in these situations. At times, Lila and Edgar are angry with each other but sometimes they perfectly coexist despite their total upheaval. Hilary Brougher's very simple story is packed with deep-seated emotion that's as irritating (in a good way) as it is compelling.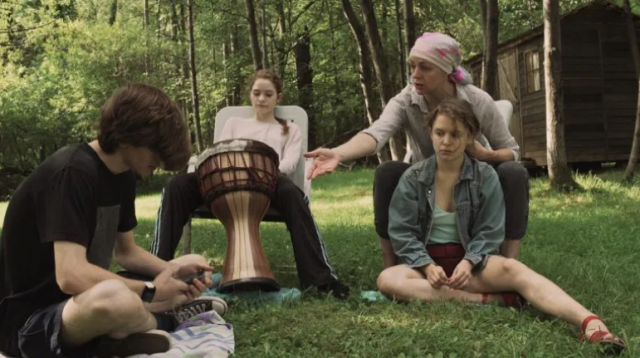 So much of this has to do with the film's realistic characters. Scott Cohen as Edgar should be a straight up villain for what he's done to Lila. Judging by Lila's words, this isn't the first time that Edgar has been unfaithful either. As a viewer, it's still hard to dislike Edgar. Similarly, Lila and later his daughters can't seem to hate him for dismantling their family. Speaking of the daughters, they're very good despite their limited screen time. Naian González Norvind's Dara is the most confused following her father's infidelity as she goes back and forth on who to blame. Macaulee Cassaday as Sam is a little more understanding, though still not happy about her parents' respective actions. Sam also has an added character arc that we won't give away here but it adds more depth to her relationship and affection towards Lila.
The star of South Mountain is, undoubtedly, Talia Balsam. Not only does she have the most screen time but viewers really experience the film's events through her character. Her anger, frustration, sadness, and also compassion are all justified as she tries to keep some semblance of the family together through this dilemma. At times, you may find her to be too forgiving and even too harsh in one specific scene. Yet, you can always understand her choices. She breaks things and lashes out when she's angry but displays forgiveness when she's sad. In her acts of defiance she disposes of Edgar's things and even seeks attention from a younger man. Again, everything that Lila does feels justified regardless of morality.
The solid character work also lends itself to probably the best aspect of South Mountain: the family dynamic. There are so many subtleties in the relationships between each of the characters that makes this feel like a real-life family. There's a tight-knit feeling of community in the mountainous region and each of the characters feel important. Even Lila's cancer-stricken friend, Gigi (Andrus Nichols), who feels like an afterthought by the end still adds a sense of realism to this group of people. Just as in real life, everyone has something that they're going through. Others may not know everything about it but sticking together helps soften the blow. The same goes for the relationship between Edgar and Lila. Even though their time together has ended, there's still a strong bond between the two and they want the best for one another. Both of them have done despicable things to the other but they still find a way to operate as a family while no longer being a couple.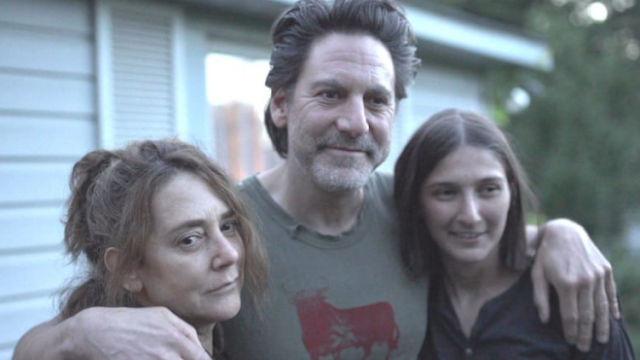 The overall message of the film can be summed up by the film's tagline, "Home is where the heart breaks." Nothing hurts more than something happening right under your nose. The film also has a "time heals all wounds" vibe to it. Edgar and Lila try their best to maintain a sense of normalcy despite their strange situation. The love and respect the two share for one another helps put the rest of the family unit more at ease. At times, the film feels somewhat reminiscent of Noah Baumbach's Marriage Story in terms of its message. Yet, South Mountain lacks the emotionally heavy gut punch that Baumbach's Oscar nominated work provides. Sure, there are sad moments in South Mountain but it often feels like there aren't really any consequences for the characters' actions. As soon as things get rough in one scene, all's forgiven in the next. This keeps the film from feeling negative but it also lacks some of the emotional depth of something like Marriage Story.
Our Score
South Mountain is still a very, very strong piece of indie cinema from Hilary Brougher. It's relatable on all levels and has a cast of characters that you legitimately care for. It's also wonderfully shot and the Catskill Mountain location gives the film a distinct small community feel. Even though the events that transpire aren't always positive ones, the film leaves viewers with a sense of hope. Edgar and Lila continue to share fondness of one another even through trying times in an effort to do what's best for their family. While many films of this nature focus on the doom and gloom, South Mountain takes a different approach. When people care for each other the way these characters do, it's always possible to make things work in some way or another.
*South Mountain is currently available for rent or purchase on video-on-demand platforms like YouTube, Google Play, and iTunes. Check out the trailer below.*