In the slasher sub-genre of horror, we've come to understand that the killer's motivation is his/her's bloodthirst. The main goal is to slice through as many people as possible within the film's runtime. This has been tried and true through franchises like Halloween, Friday the 13th, and countless others. Even in a film like The Silence of the Lambs, both Hannibal Lecter and Buffalo Bill enjoy the act of killing even though they also satisfy another agenda. Well, what happens when a serial killer doesn't necessarily want to be a serial killer? This idea is explored thoroughly in Richie Moore's debut film, Who's Watching Oliver.
The film sees social outcast Oliver (Russell Geoffrey Banks) go through the mundanity of everyday life. Every morning, he wakes up, brushes his teeth, and slicks his hair before spending the day sitting at an amusement park alone. Every night, he comes home and video chats with his mother (Margaret Roche). Though, by his mother's direction, Oliver also has a darker side. He lures young women back to his apartment by enticing them with drugs and/or money and brutally murders them as his mother watches on. Soon, Oliver meets Sophia (Sara Malakul Lane), a sweet and lonely young woman who also frequents the amusement park. From here, Oliver tries to shed his disturbing extracurricular activity and live a normal life.
Firstly, Who's Watching Oliver is a gory and vulgar piece of horror cinema. Simply put, it's not for the faint of heart. Despite Oliver's attempts to stray away from his murderous ways, there's plenty of graphically disturbing activity coaxed out of him by his mother. There are depictions of rape as well as some brutal death scenes. Again, if you're not comfortable watching some of these things, then Who's Watching Oliver isn't the film for you.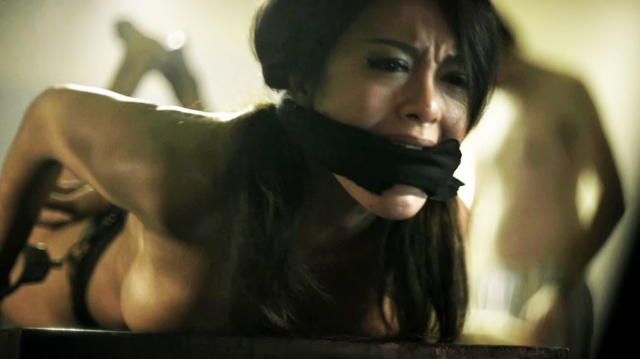 That being said, the film doesn't necessarily exploit these things as, say, a Rob Zombie film does. It isn't gory or vulgar just for the sake of being so. There's an actual story and character arc here. Oliver consistently turns to the only person that has ever been there for him in his mother. Unfortunately, she's the one that pushes him to commit such atrocities. Though, once he meets Sophia, he understands that his life could be different and he doesn't have to do these things that he doesn't want to do. Who's Watching Oliver takes this idea to the extreme with brutal acts of murder but these are truly events that you could see happening to someone. The people closest normally have the biggest influence on us and it's the same with a character like Oliver.
Russell Geoffrey Banks puts in a stellar performance as the main character. He's uncomfortable to watch due to how awkward he is in social situations. Banks is also able to bring the character to another level when need be. Once it comes time for him to perform, Banks as Oliver shows laser focus and a methodical approach to killing. The multilayered performance continues as Oliver becomes more comfortable with Sophia and tries to defy his mother. Banks runs through a gamut of emotions as Oliver displays confidence, remorse, confusion, and even complete indifference. As a viewer, you never know what Oliver is going to do next but his emotional responses to situations often make you feel for him as well. Frankly, not too many horror films have you siding with the villain but Russell Geoffrey Banks is to Oliver what Anthony Perkins was to Norman Bates in Psycho.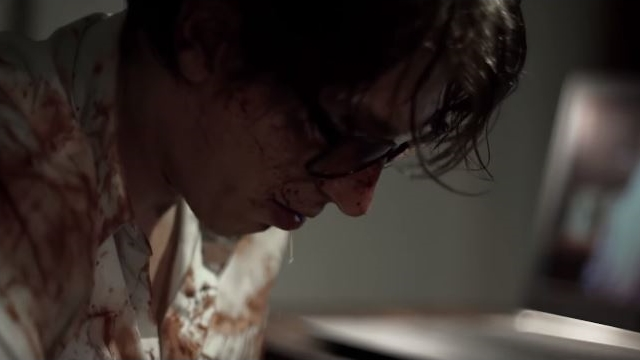 Technically speaking, the film is also impressive. Despite its microscopic cast and crew when compared to something like a big budget Marvel film, never once does Who's Watching Oliver feel small in scope. The cinematography and camerawork is excellent and perfectly defines the film. Interestingly enough, whenever Oliver isn't in the act of killing, the film is rather lighthearted. In contrast to other serial killer films like Seven, it isn't all doom and gloom. There's a chipper feel to the cinematography along with big band/swing music playing as Oliver tweaks his appearance more to Sophia's liking. The film definitely has a charm at these moments. This makes it even more shocking when things take a complete turn to the depraved and macabre.
Our Score
Who's Watching Oliver is a different kind of horror film. It feels like a lot of different movies all wrapped into one. In this regard, that's not a bad thing. Richie Moore and company take the best things from many of the aforementioned films and craft them into one unique vision. When coupled with a superb lead performance from Russell Geoffrey Banks, it's not hard to see why the film has been generating a lot of buzz on the indie scene. In a sea of paint-by-numbers horror trash, Who's Watching Oliver stands head and shoulders above the rest with its gruesome, yet endearing, tale.
*Who's Watching Oliver is available to watch on video-on-demand services like Amazon Prime. It's also available for purchase on DVD and Blu-Ray here for release on July 10th.*