With no apparent end in sight to the ongoing COVID-19 pandemic, movie theaters have closed their doors and many new theatrical releases have been postponed. Now, studios have begun trying their hand at releasing some of their biggest titles in different ways. Universal has released their recent films like The Invisible Man, Emma., and The Hunt on video-on-demand platforms like Amazon and YouTube while Disney released Frozen 2 on the Disney+ streaming service with their newest film, Onward, available for streaming on April 3rd. Obviously, no new theatrical releases means that we'll have a void to fill here on Cinema Smack as well. Instead of the usual In Theaters Reviews, we'll be dropping our take on some recent films we may have missed with our new Lockdown 2020 reviews instead! Up first is Richard Stanley's 2019 science fiction/horror acid trip, Color Out of Space.
The film is based on legendary author H.P. Lovecraft's 1927 short story, The Colour Out of Space. It follows an unnamed narrator piecing together local stories about a strange area known as the "blasted heath." Often cited as one of Lovecraft's best works, the story has been adapted a number of times in cinema. The first came in the form of the relatively unfaithful 1965 film, Die, Monster, Die!, starring Boris Karloff. Others such as 1987's The Curse, the 2008 Italian feature, Colour from the Dark, and 2010's German version of The Color Out of Space followed. There have also been short films and other works influenced by Lovecraft's story over the years as well.
The 2019 adaptation centers on the Gardner family who relocate to a rural farm in fictional Arkham, Massachusetts. The father, Nathan Gardner (Nicolas Cage), intends to grow tomatoes and raise alpaca on his deceased father's property following his wife, Theresa's (Joely Richardson), cancer treatment and recovery. Though, the couple along with their children, Benny (Brendan Meyer), Lavinia (Madeleine Arthur), and Jack (Julian Hilliard), struggle individually from the move. One night, a meteorite crash lands near their house and emits an otherworldly glow. It's inspected by Sheriff Pierce (Josh C. Waller), Mayor Tooma (Q'orianka Kilcher), and hydrologist Ward Phillips (Elliot Knight) with the latter realizing there's something very wrong. From here, each member of the Gardner family is affected in different ways as bizarre events occur which seemingly stem back to the arrival of the meteorite.
As a sci-fi/horror film, the plot is about what you'd expect but it's the execution that really drives Color Out of Space. It's one of those films where the characters simply descend into madness and viewers are unable to look away. The influence of the meteorite begins subtly enough with a horrid smell that only Nathan acknowledges. Then, vibrant colored vegetation sprouts and strange creatures make their presence known to the characters. The family members themselves begin to act irrationally and sometimes even violently. Technology falters and the concept of time is lost on the characters and their actions following the arrival of the meteorite. Simply put, something's fishy but the characters seem drawn to the chaos and are unable to escape the predicament they find themselves in.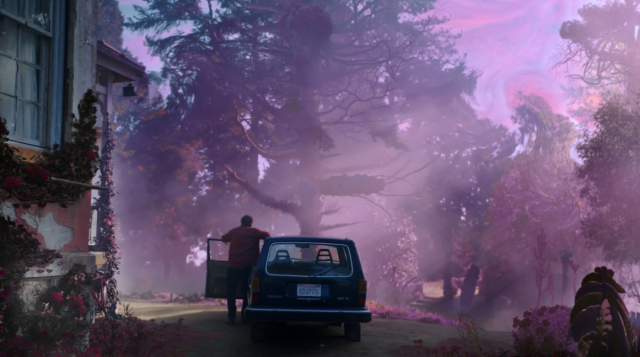 Most of the film's positives have to be attributed to the talent in front of and behind the camera. First of all, the cast is great with Nicolas Cage leading the way. His performance is a bit hammy and ridiculous but it fits very well here. In a film where someone basically loses their mind, Cage is perfect casting for an insane performance. The actor seems to have found his niche in mind-bending horror films since his stint in 2018's Mandy. Each of the child actors, Brendan Meyer, Madeleine Arthur, and Julian Hilliard excel as three distinct personalities affected by the meteorite. They all go through their own psychosis and provide memorable scenes that build up to a fantastically unhinged climax. Perhaps the standout of the film is Joely Richardson as Theresa. As the most damaged member of the Gardner family, the influence of the meteorite hits her especially hard. The most horrific scenes in the film tend to happen to her and the amount of punishment Theresa takes is unsettling to say the least.
For this, writer/director Richard Stanley deserves oodles of credit. Stanley notoriously crashed and burned during the production of 1996's critical and commercial flop, The Island of Dr. Moreau. The production was plagued with issues such as weather delaying the shoot, recasting roles, and difficult lead actors with Marlon Brando and Val Kilmer constantly flexing their egos. Stanley was fired after only three days of shooting and he disappeared from theatrical filmmaking for 23 years. Back in the director's chair after all this time, it seems as if the production for Color Out of Space went much smoother. Stanley's unique vision is fully realized with a familiar, yet unearthly, aura surrounding the events of the film mixed with competent storytelling on the page and on the screen. This film feels like a tease of what The Island of Dr. Moreau could've been if Stanley had his way.
Like his doomed 1996 film, Color Out of Space largely focuses on creatures and special effects. CGI is used tastefully throughout but nothing trumps the practical effects work by special effects supervisor Filipe Pereira and his team. The practical creature effects wouldn't be out of place in something like John Carpenter's The Thing or David Cronenberg films like Videodrome or The Fly. The cinematography is handled by Steve Annis who paints a beautifully lush and colorful landscape for horror to ultimately take over and exploit. The vivid color palette is absolutely dazzling and a strange choice for a genre film. It's reminiscent of Alex Garland's 2018 film, Annihilation, which actually takes some influence from the original Lovecraft story with its perception of time and confusion for its characters. Stanley's film still feels like its own entity despite these comparisons though.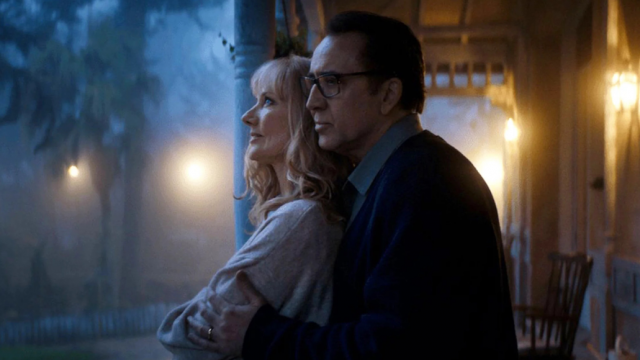 There really isn't much to get down on when it comes to Color Out of Space. Sure, you could bring up Nicolas Cage's hokey acting but, again, it seems to fit the film's sometimes playful tone. Alpaca jokes and stoner talk (courtesy of Tommy Chong himself) also litter the script. At 111 minutes, the film drags ever so slightly in spots with some long takes and uneventful sequences. Yet, these things help build the strangeness and world of the film. Ultimately, there are things that can be taken away but it's hard to say whether the film would be better without them. It would certainly be more concise but Stanley's penchant for letting some of these scenes breathe don't break the overall flow either.
Our Score
Richard Stanley's return to feature length narrative filmmaking is a huge success. His redemption story is nice to see as things went so terribly wrong with The Island of Dr. Moreau. Actually, due to the exposure he received from the 2014 documentary, Lost Soul: The Doomed Journey of Richard Stanley's Island of Dr. Moreau, it appears that the writer/director may get a second crack at creating his vision. While it's not set in stone just yet, Color Out of Space should certainly calm any nerves a studio may have in handing the reins over to someone who has been away for so long. Here, Stanley proves that he still has the talent, passion, and ability to get the job done when people are behind him. Hopefully, Color Out of Space isn't the last we've seen of Richard Stanley.