Just under two years ago, we discussed the outspoken, but legendary, filmmaker, Spike Lee, upon the release of BlacKkKlansman. That film was Lee's best in years and, while mostly a good time at the movies, was hampered by some strange tonal shifts and shameless propaganda trying to correlate the film with the state of racism in the modern day. Fast forward to today and, other than Lee nabbing his lone Oscar statue for Best Adapted Screenplay, things haven't changed much. With the release of his newest film, Da 5 Bloods, Lee gives home audiences a emotionally powerful journey of four Vietnam veterans returning to a country where they left so much of themselves. However, the controversial filmmaker can't help but muddy up the story with extra "stuff" and insert some additional propaganda for good measure.
Da 5 Bloods, originally titled The Last Tour, was written in 2013 by Danny Bilson and Paul De Meo who have most recently worked on a number of video games together. Oliver Stone was set to direct but subsequently dropped out of the project in 2016. Eventually, Lee would jump on board with he and BlacKkKlansman co-writer Kevin Willmot changing the film to an African American perspective. The film was supposed to premiere out of competition at the Cannes Film Festival but, as most things in 2020, that didn't happen thanks to the COVID-19 pandemic. Instead, the film dropped on Netflix on Friday.
The plot centers on a group of African American Vietnam veterans dubbed the Bloods: Paul (Delroy Lindo), Otis (Clarke Peters), Eddie (Norm Lewis), and Melvin (Isiah Whitlock Jr.). The men set out to locate the crash site of a downed airplane that had been carrying a large sum of gold on board during their last tour in Vietnam. Though, this mission is secret as they want to keep the spoils for themselves as they use the cover of finding their fallen Blood, Norman (Chadwick Boseman), near the crash site as their official reasoning for the trek into the jungle. Along with their guide, Vinh (Johnny Nguyen), and Paul's son, David (Jonathan Majors), the vets set out to find Norman's remains and the gold while reliving the horrors of their past in the cruel Vietnamese landscape.
Firstly, Da 5 Bloods is a lengthy film clocking in at two hours and thirty-four minutes. However, it doesn't really feel that long. The plot keeps things moving along pretty nicely for the most part. The first hour or so especially boasts some powerful cinema as these struggling vets reunite to do right by Norman. The emotional journey they go on while flashbacks of their final moments as a quintet cue viewers in on past events may be some of Lee's best storytelling ever. However, motivations quickly change from honoring their comrade to how to divvy up the missing gold. Frankly, it feels like a different film at times, albeit another very interesting one, as the friends seem to be at war with one another. At one point, it feels like you're watching a Stephen King adaptation like Stand By Me or It which focus on the power of friendship. Then, all of a sudden you're in the middle of a rat race for treasure like in Black Sails or even the Uncharted video game series. It's as if Lee and the other screenwriters couldn't decide which direction would be the best to go. Instead, they decided to use every plot element they came up with.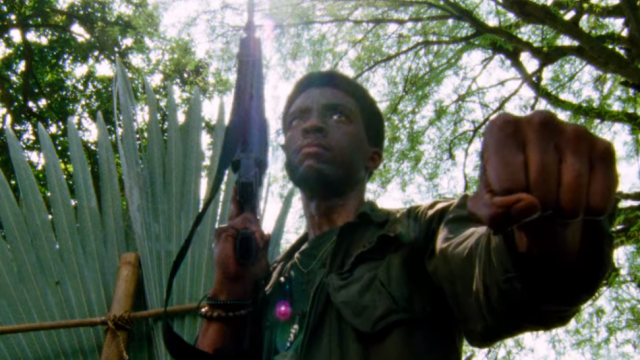 That being said, it's hard to fault those involved as everything that's here is very, very good. Yes, there are plenty of disjointed transitions but each new story element should grab your attention and refuse to let go. The same can be said for the unbelievable visuals and cinematography from Newton Thomas Sigel. Shot on location in Ho Chi Minh City, Bangkok, and Chiang Mai, Da 5 Bloods is a gorgeous, naturalistic feast of a film visually. From wide open Vietnamese fields, the treacherous jungle, and all the way to towering waterfalls, Sigel and his team give the film an eerily beautiful look. With all of the country's natural beauty, it's hard to even fathom the despicable acts that transpired there. The very thought will haunt viewers in the same way that the specter of Norman haunts his living friends.
The best part about the film, though, is in its fine character work. There are complex relationships littered across the entirety of Da 5 Bloods. The bond between the core group of soldiers, Paul's interactions with his son, David, Otis's everlasting romance with Vietnamese former prostitute, Tiên (Lê Y Lan), and everything in between provide strong cinematic relationships and instill a lot of paranoia and doubt into the characters and viewers. You're never quite sure who's on the level or who's out to make a quick buck. Of course, the five Bloods and David are the beating heart of the film. The film starts out with the four living members of the group basically going on vacation together before turning into a serious and dangerous mission through the Vietnamese wilderness. Clarke Peters' Otis and Isiah Whitlock Jr.'s Melvin are the two most likable Bloods. Unfortunately, viewers don't get as much time to spend with Norm Lewis's Eddie. In a cast of so many leads, he just feels like the odd man out at times. Jonathan Majors is the generational backbone of the story as David. He's the pseudo-future of the Bloods as the offspring of Paul. Chadwick Boseman is used sparingly but effectively in his limited time as Stormin' Norman. He's the centerpiece as he argues for racial equality and peace even in the heat of battle during the film's throwback Vietnam War scenes.
The true standout of Da 5 Bloods is, undoubtedly, Delroy Lindo as the war-torn Paul. Wow. What a performance. From the very start, viewers get the impression that something is up with Paul. He's skeptical of being back in Vietnam after all this time and makes racist remarks when put under pressure. Of the remaining Bloods, he's the one with the greatest connection with the late Norman. Being back in this environment seems to tear him apart the longer they're out searching. Paul suffers from the ongoing horrors of war and even claims to see "ghosts," a sign of the trauma he suffered during his tours. Delroy Lindo delivers, arguably, the best performance of 2020 thus far with his work on Da 5 Bloods. Despite great character work all around, Lindo trumps his peers and puts on an acting clinic in this film. It'd be a travesty if he didn't land himself an Oscar nomination for his performance. That is, if the Oscars go on as planned in early 2021.
For all the praise we've lumped on the film to this point, there's still the Spike Lee problem. We mentioned this back in our BlacKkKlansman review and it remains an issue here. The impassioned, yet contentious, filmmaker is always going to be his biggest detractor in his films. Always a proponent for social and racial commentary, Lee has a lot to say and he does a really good job at times. Instead of the constant black versus white debate that largely dominates any topic about racism, Lee goes an alternate route for much of this film. He shows that racism isn't limited to the United States but extends across the globe. In one particular scene, Paul is seen having an altercation with a Vietnamese man trying to sell him chickens. Soon, the conversation devolves into a screaming match between the two with Paul using a derogatory name for the man while the latter blames Paul for the death of his parents in the war. There's hatred and blame being pointed at people all over this world for things they haven't specifically done to someone. It's not limited to a set race or location. Later on, however, Lee returns to his documentary style news footage propaganda to talk about the death of Martin Luther King Jr. It's not completely out of left field but it seems to have little to do with the story being presented onscreen.
Our Score
That's just kind of what you have to expect from Spike Lee. There will always be some politicking in his films whether it's needed or not. The thing with films like Da 5 Bloods and BlacKkKlansman is that they're already relevant as they are. Lee is a phenomenal storyteller and doesn't need to interject somewhat off-topic footage to get his point across. It's awesome to see his career back on the upswing after all this time and he's putting out excellent work. In most cases though, less is more. This is most certainly the case with Da 5 Bloods. While it's a really powerful film, there's just a bit too much here. The relationship between the Bloods and their mission to find their brother in arms that they left behind all those years ago is the emotional crux of the film. It's not the gold, the paranoia, or the politics. You can have those things in a film like this without shoehorning them in and viewers will still get the correlation. As we've said in the past about Lee, however, nothing about the director's work is usually subtle. Regardless, Da 5 Bloods is essential viewing and definitely in the upper echelon of cinema here in a very strange and turbulent 2020. Even with some of its issues, Da 5 Bloods is Spike Lee producing in his own unique way and at a very high level even after all this time.