Horror films and thrillers focusing on people with disabilities aren't necessarily anything new in cinema. In recent years, there have been quite a few of these with titles like Don't Breathe, Hush, and A Quiet Place. Going even farther back, films like See No Evil, The Texas Chain Saw Massacre, and, of course, Misery have all focused on some form of physical handicaps usually for one of the potential victims. It's understandable in these genres as adding a disability on top of an already vulnerable/tortured character provides an even greater feeling of hopelessness. Aneesh Chaganty acknowledges and (mostly) successfully capitalizes on this in his Hulu-exclusive sophomore feature, Run.
Chaganty's name is one that has been mentioned previously on this site. His debut feature, Searching, was a surprising and well made thriller that showed off what the found footage style of filmmaking could be if done properly. Presented entirely via computer screens, webcams, smart phones, and other media devices, Searching is a unique piece of cinema that marked Chaganty as a filmmaker to watch moving forward. For Run, Chaganty reunites with his Searching screenwriting partner, Sev Ohanian, for another interesting thriller. Though, the duo lacks the stylistic touches of their previous work on this new film.
Run centers on paraplegic homeschooled teenager, Chloe Sherman (Kiera Allen), who, despite a litany of health issues, has aspirations of attending college in the fall. Her caring mother, Diane (Sarah Paulson), monitors Chloe's health closely and makes sure she has everything she needs to be successful. Yet, Chloe senses something strange as her mother swaps one of her normal medications for a new one prescribed to Diane. Confused by her mother's lack of transparency, Chloe begins to suspect something is up. This leads her on a wild bout of discovery as the mystery behind her new medication may not be the only secret that Diane is harboring.
Here in 2020, it's no surprise to see a new film that focuses so heavily on isolation. Channeling films like Alfred Hitchcock's Rear Window and the aforementioned Misery with even a splash of this year's fantastic Pacific Northwest thriller, Alone, Run maintains a feeling of confinement with present danger lurking nearby. Oddly enough, Run was actually filmed back in 2018, the same year that Searching was released. Set for a theatrical release over Mother's Day weekend this year, the film was obviously pushed back thanks to the COVID-19 pandemic before, ultimately, landing on Hulu. Since its release on November 20th, Run has quickly become the most watched original film on the popular streaming platform
Much of this has to do with the film's unpredictable fun. No, Run never really feels overly original in its story or execution but it also never feels like an homage or ripoff of something else either. Whereas a film like Disturbia is basically an updated version of Rear Window, Run borrows things from numerous titles and incorporates them all nicely into one package. Even though we've seen something like this countless times over the years, Chaganty and company always find ways to keep things interesting. Chloe must constantly find ways to outsmart her mother and also overcome her disability. She puts herself through hell in doing so and many scenes will have viewers on edge while fearing she's about to be caught in the act of going over Diane's head. The script is kept pretty tight with the close bond between Paulson's Diane and Allen's Chloe being the linchpin of the story. Diane and Chloe know each other so well that even the odd interactions they have feel like more of a misunderstanding than something actually being wrong.
As you may already assume, the cast for the film is quite small with only the two real leads. Unlike something like Leigh Whannell's The Invisible Man, Run wants to make you wonder who's the delusional one between Diane and her daughter. Diane's reasoning and responses to Chloe's questions mostly seem believable and keep you invested in Chloe's hunt for the truth. Sarah Paulson, as usual, is great as the sometimes overbearing and sometimes completely unhinged Diane. If you've ever seen Paulson in her roles from American Horror Story or Netflix's Ratched, you'll basically know what to expect. In saying that, it's hard not to think that maybe Paulson needs to step away from the horror/thriller genres for just a bit. It feels like she's around almost too much and how can viewers miss her if she won't go away? Kiera Allen is also excellent as young Chloe and a fresh face in Hollywood in her feature film debut. Allen, who's an actual wheelchair user, bangs the drum for other disabled acting talent to land big roles in films instead of able bodied talent merely pretending to be disabled. With both Allen's role here and the acclaim for Zack Gottsagen, who has Down Syndrome, in last year's The Peanut Butter Falcon, perhaps future casting decisions will be a little more open-minded.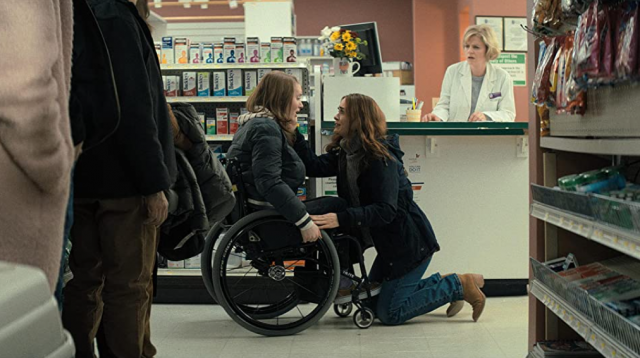 While Run is mostly an entertaining and effective thriller, it does suffer from some issues. Again, the script is pretty good overall but there are some moments that will just make you question the logic being used by the writers and filmmaker. We don't want to give too much away, obviously, but there's one scene where Chloe has to gain access to a different part of the house. Given her savvy for technology and engineering, Chloe devises a plan to use a soldering iron and water to break a window. If  she was just going to break the window anyway, why didn't she just grab an object to smash the window with instead of going through all of the added effort especially without the use of her wheelchair? It's a unique sequence but it doesn't make any sense. There are other small moments like this one that just feel more convoluted than anything. Chaganty's Searching also got a bit cute with its ending where it almost seems like there's too much overthinking going into the film and it ends up taking away from the overall experience. Also, the film's title is kind of curious to the point of not really making much sense. Even though you can kind of justify it, the title doesn't necessarily fit the subject matter.
Our Score
Speaking of Searching, Run isn't quite up to the standards of Chaganty's first effort but it's still very, very solid. While Searching felt like a different kind of smart thriller with its stylistic investigative choices, Run feels a little more like what most people would expect. It may be unfair to gauge such different stories in the same light but it's hard not to given the originality of something like Searching. Still though, Run is very good and certainly worth a watch in a year lacking standout titles. Like Apple TV+ has discovered with films like On the Rocks along with Amazon and Netflix's constantly impressive slate of original films, Hulu is throwing its proverbial hat into the ring while movie theaters continue to suffer from the pandemic. There are so many films just waiting to be released after 2020 was basically shelved and filmmakers are coming up with new ways to have their work seen. Run may not be a trailblazer or overly original but it's still a breath of fresh air in a time when movie lovers need it most.
*Run is currently available for streaming on Hulu for subscribers.*