It's crazy to think that it has been six years since the series finale of AMC's Breaking Bad. Like The Sopranos before it, Breaking Bad was a phenomenon and is still beloved by seemingly everyone. Due to its massive following, it feels like it was inevitable that the show made some kind of return. Though, rumors about a comeback had been relatively quiet up until early this year, series creator Vince Gilligan and company made waves when Netflix dropped a teaser for a new original film back in August. Well, that film just released on the streaming service this past Friday and, in typical Breaking Bad fashion, has generated quite the buzz. Everyone's favorite meth slinging sidekick, Jesse Pinkman, returns with a vengeance in the Netflix Original, El Camino: A Breaking Bad Movie.
El Camino sees Gilligan return to the series as a writer, producer, and director. He supposedly had the idea of wanting to explore what happened to the character of Jesse during the final episodes of Breaking Bad. It wasn't until the tenth anniversary of the show's premiere in 2018 that Gilligan would discuss his ideas with former cast and crew members. He reached out to Aaron Paul sometime in 2017 but the film didn't officially start shooting until November 2018. Shrouded in secrecy, the production would reunite many Breaking Bad alum while relaying Jesse's story post-Walter White. Going forward, there won't be any spoilers about the events of the film but it will be assumed that anyone reading has watched all of Breaking Bad.
El Camino, of course, stars Aaron Paul as Jesse Pinkman. The film begins with Jesse fleeing the bloody scene of Walter White AKA Heisenberg's (Bryan Cranston) last stand against the group of neo-Nazis from the series finale. Jesse escapes with Todd Alquist's (Jesse Plemons) El Camino and seeks help from his friends, Skinny Pete (Charles Baker) and Badger (Matt Jones). Suffering from post-traumatic stress disorder, Jesse struggles to shake the horror behind his lengthy captivity. Skinny Pete devises a plan for Jesse to ditch the El Camino which the police are looking for and leave Albuquerque to salvage his life. Along with showing present day struggles of Jesse trying to leave, there are many flashbacks filling viewers in on some other events that occurred while Jesse was in captivity or other important parts of his life as a meth dealer.
From the very beginning of El Camino, fans of Breaking Bad will be thrust back into familiar territory. Even after six years, it feels as if no time has passed at all. The plot is pretty basic but the story is told in an interesting and exciting way just as the flagship always was. Even though the movie is just over two hours, it doesn't feel that long and it could fit right in with any other episode of Breaking Bad in terms of quality and execution. Using flashbacks to fill in gaps of a story is always a risky venture. Sometimes they can be too on-the-nose and convenient to the plot but El Camino instead uses them for more character development moments. Some of the film's best scenes come from a weekend in which Todd enlists Jesse's help. Everything that happens in this time span is new information that viewers never got in Breaking Bad. However, it fits with the characters and tone while giving this film more weight.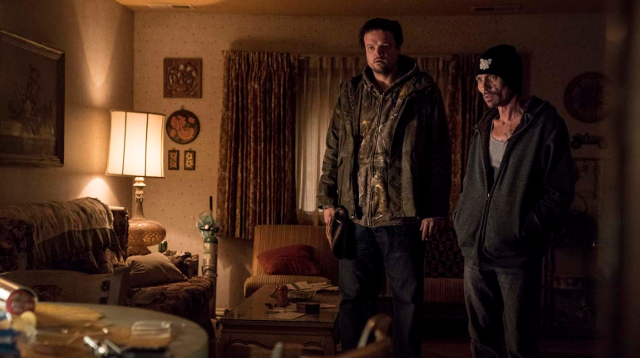 What fans of the series will likely be most drawn to is the return of characters they love. As previously mentioned, Breaking Bad is a beloved show and there are so many memorable minor characters. Spotlighting past characters is something that AMC's spinoff show, Better Call Saul, has always been good at as well. In El Camino, two obvious standouts are Charles Baker and Matt Jones as Skinny Pete and Badger. Their roles are somewhat minimal but absolutely essential to a story about Jesse Pinkman. Baker especially does a great job kind of kickstarting the plot. Krysten Ritter has a cameo in the film as Jesse's deceased girlfriend, Jane. She feels like a specter of Jesse's past and a link to his depressing story over the course of Breaking Bad that continues into El Camino. Perhaps the saddest story in terms of casting is that of Robert Forster. He puts in his final cinematic performance here as Forster passed away from brain cancer on the film's release day. Needless to say, Forster is great as always in this film and it's nice to see him one last time.
With a number of mediocre titles like Need for Speed and Exodus: Gods and Kings under his belt since his time on Breaking Bad, it has been something of a rough go for Aaron Paul. So far, he has failed to find a standout role outside the show. Luckily though, maybe he doesn't exactly need to shed the Jesse Pinkman role because he shines throughout El Camino. This is definitely Paul's movie and Vince Gilligan goes all in with this character. Paul's Jesse runs through a gamut of emotions in this film. At times, he's submissive and emotionally damaged from the trauma he suffers but there are also moments of Heisenberg-esque bravado that oozes off the character. Sometimes spinoffs and the like fail to reach the heights of originals because filmmakers and talent just can't find the same magic. This was a big problem with the recent Twin Peaks revival from David Lynch. Gilligan and Paul show that the character of Jesse Pinkman is sustainable and the magic is still there after all these years.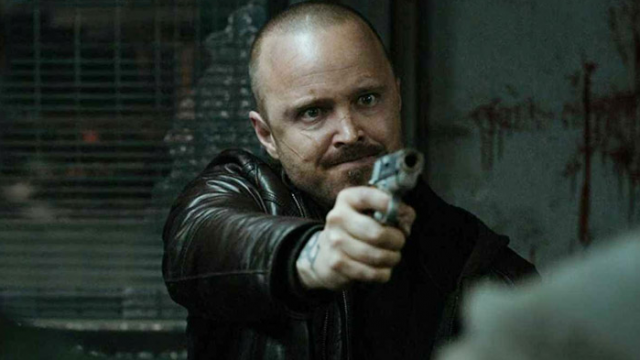 The only negative of the film is extremely minor and it's that the film does feel a little safe. While Breaking Bad and, to a lesser extent, Better Call Saul have been determined to misdirect and surprise viewers throughout their entire runs, El Camino feels less twisty. This is something that Gilligan himself has addressed in discussions about his two potential ending points for Jesse which we won't ruin here. Regardless, the film should leave most fans satisfied. Maybe this was a part of the Breaking Bad story that simply didn't need the deception of old.
Our Score
What else is there to really say about El Camino: A Breaking Bad Movie? If you like Breaking Bad, you're watching this no questions asked. For most viewers, you're not likely to be disappointed either. The film builds up tension and plot reveals just as its predecessor and brings back a number of characters fans know and love. One thing that wasn't mentioned in the body of this review is how wonderful the film looks and sounds. The cinematography from Marshall Adams captures some breathtaking views of Albuquerque, New Mexico and beyond. The music from Dave Porter is as good as it ever was as Porter has handled composing duties on both Breaking Bad and Better Call Saul as well. There's just something wonderfully mystifying that Vince Gilligan has created with his Breaking Bad universe. If this is the distinct end of the Heisenberg timeline, it's certainly fitting. You never know though, Gilligan may still have something up his sleeve for down the road.